Wan de En is a relaxing guesthouse in the mountains in the tiny, historic area of Kawada in Fukui Prefecture. Visit Wan de En for multiple opportunities to make genuine connections with Japanese people and culture.
The guesthouse's friendly owner, Mayumi Araki, describes her approach as "hospitality without hospitality." Mayumi aims to help visitors experience Japanese culture without imposing overbearing service or instilling a fear of breaking the rules. Juro Watanabe, who helps Mayumi run the guesthouse, concurs, adding that the facility truly has a family-like atmosphere.
Stay in one of the oldest houses in Kawada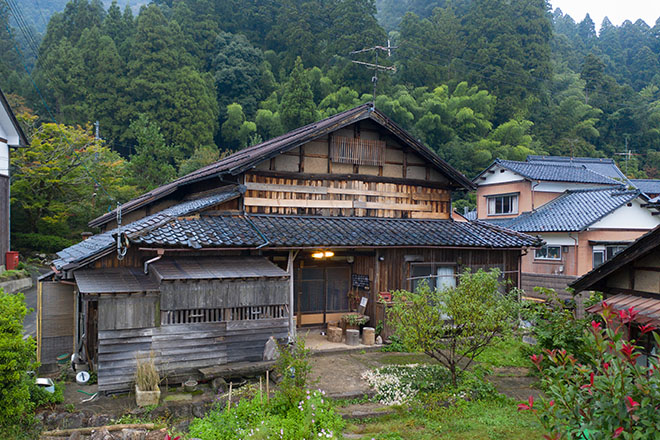 A stay at Wan de En allows you to slip back in time: The structure itself is over 150 years old, making it something of an old-timer, even among the many traditional houses in Kawada.
The building was previously the home and studio of a lacquer artisan. Kawada has a long history as a lacquerware-production hub. Indeed, the vast majority of Japan's lacquerware is produced in and around the area.
Although a car makes life easier in terms of getting around, Mayumi says many guests choose to leave their vehicle behind and explore the town at leisure on a bicycle.
The guesthouse is located near Shikki Shrine, several lacquerware studios, and a convenience store.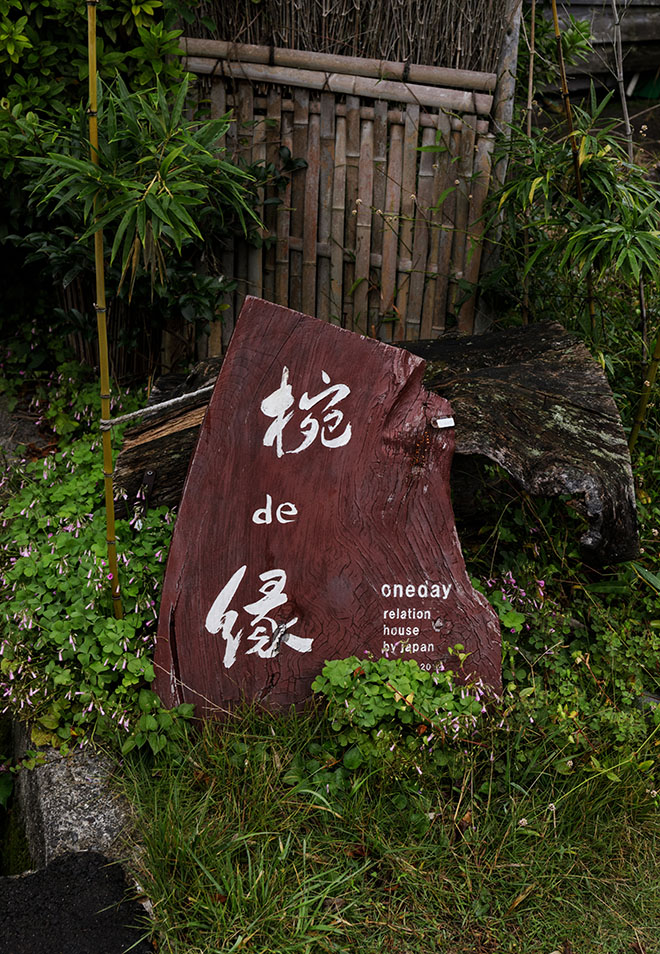 Incidentally, the name of the guesthouse, "Wan de En," is a smart play on words in both Japanese and English.
In Japanese, it means "connections through bowls."
One of Mayumi's hobbies is the Japanese tea ceremony, which she eagerly introduces to her guests.
The reference to bowls also reflects Kawada's 1,500-year history as a lacquerware production center.
In English, meanwhile, the guesthouse name incorporates the homonym for "one day," signifying Mayumi's hope that her guests will make connections with Japan - and each other - even in the space of a single day.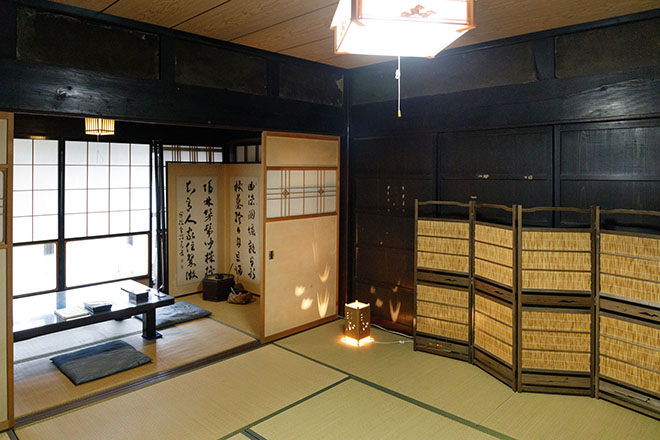 The rooms feature traditional tatami-mat floors, with futons that you roll out yourself. During the day, you can relax on floor cushions.Japanese interior design elements permeate the house, including sliding doors with decorative wood and shoji paper designs, folding screens, and lamps that cast atmospheric light patterns.
Animal lovers will feel especially at home at Wan de En.When you first arrive, Rei-chan, an adorable dog with a winsome personality, will welcome you into the house.There's also a hutch full of large rabbits outside.(Mayumi wryly notes that she keeps the males and females in separate areas lest they multiply even more.)
Don a kimono for a candlelit dinner and tea ceremony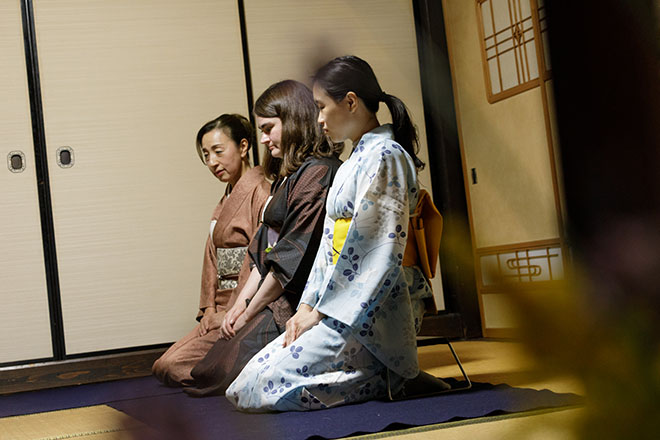 Wan de En's signature experience is a chaji, the most exclusive form of tea ceremony involving a ritualized dinner and two kinds of tea over several hours.However, Mayumi is quick to point out that the Wan de En chaji experience is nothing like true, highly formal chaji, which has complicated rules of conduct.Instead, it's a more relaxed yet atmospheric way to enjoy this Japanese tradition.
One of the benefits of an informal chaji is not having to kneel for hours in a "proper" seiza style, which can lead to pins and needles in minutes.In the above photograph, everyone appears to be in the seiza position, but look closely, and you'll see an ingenious chair that takes the weight off your lower legs.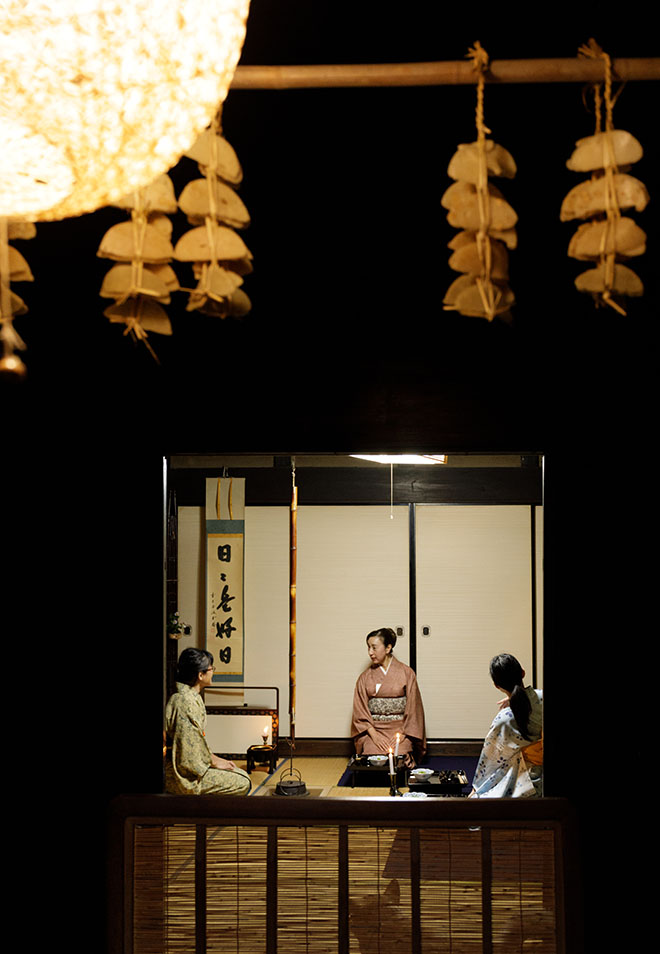 Mayumi often calls on her friend Mieko Nakamura, also a tea ceremony student, to help her perform the chaji. Naturally, they both dress in kimono.If you arrange it ahead of time, Mayumi will also dress you in a kimono or yukata, a more casual kind of kimono.
The ceremony begins with the preparation of the traditional hearth, signifying a break from the modern world of convenient stoves.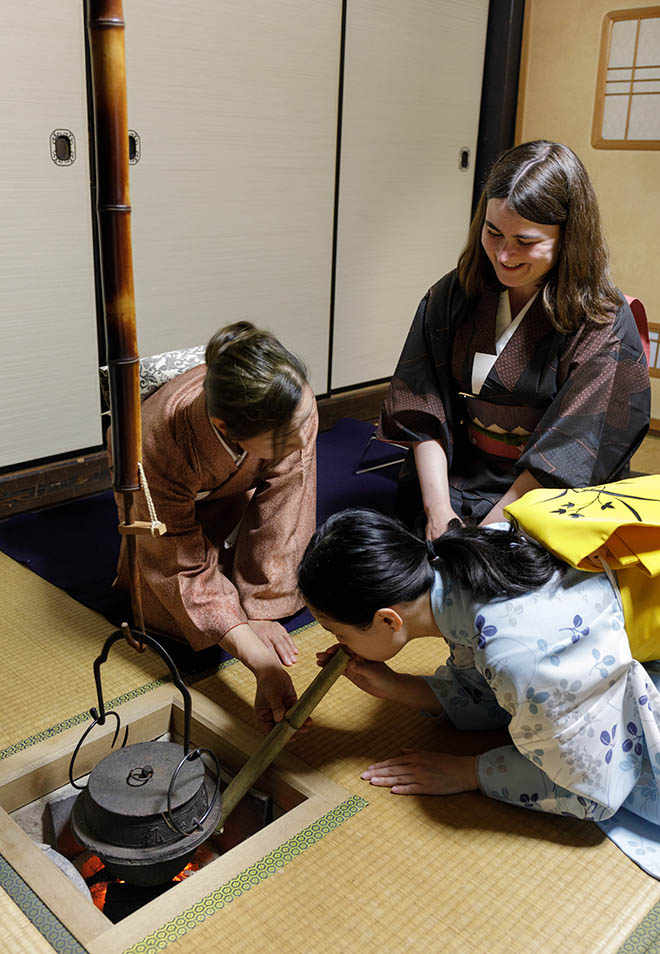 Each person takes a turn blowing through a piece of bamboo to kindle the fire.Once the electric lights have been turned off and you're sitting in the candlelight, you'll feel as though you've been transported to bygone days.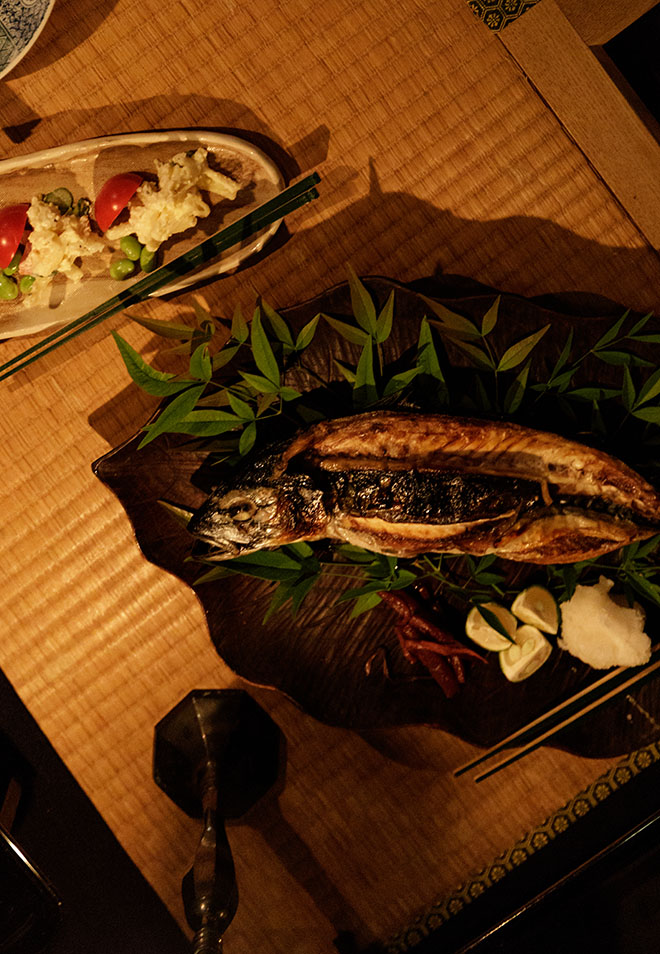 The hearty meal comprises several Japanese classics, including sashimi with grated yam, grilled fish, soup, and white rice. The tasty spread uses locally sourced ingredients and is carefully plated on Echizen lacquerware produced in Kawada.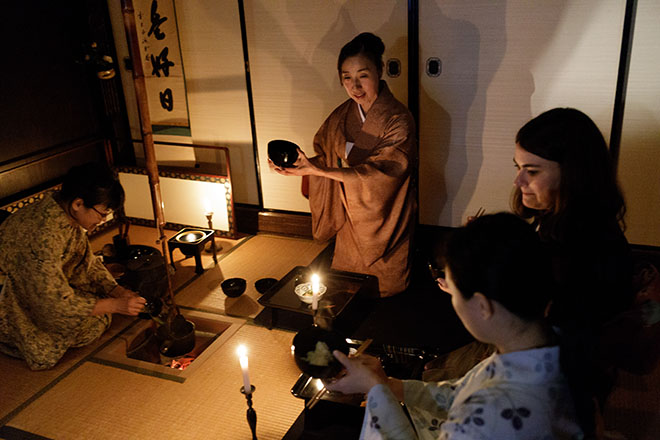 As the ceremony progresses, Mieko explains her role as the teishu (host), as well as expounding upon the ritualized movements, such as passing the bowls.
After dinner, you can enjoy two kinds of tea (koi-cha (thick tea) and usu-cha (thin tea), served with traditional Japanese sweets.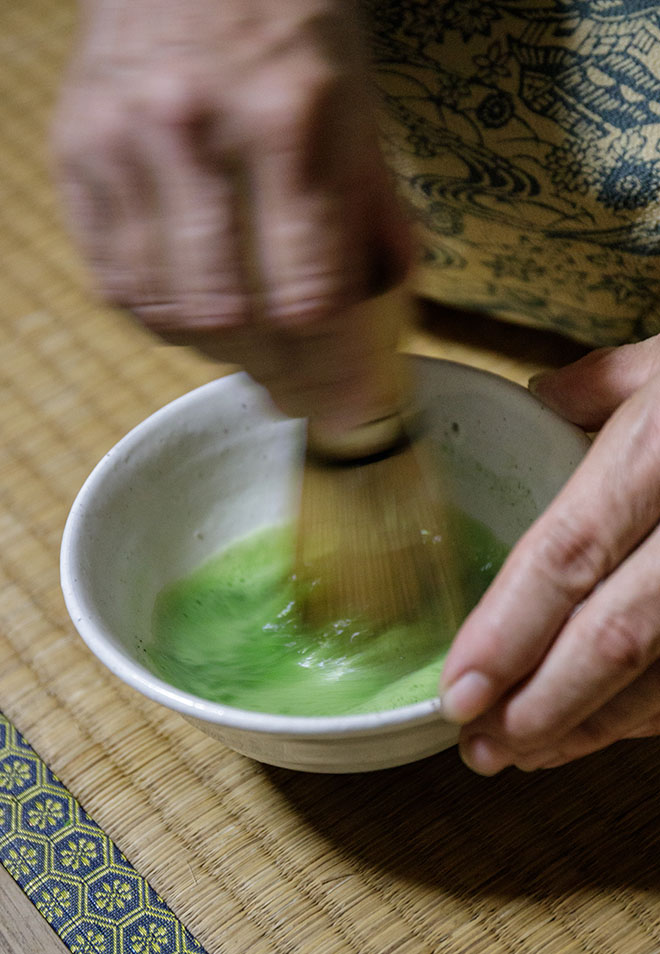 If you're a novice, be prepared for the koi-cha, which is far thicker than regular matcha. The sweets, known as wagashi, are mostly made with adzuki beans and refined wasonbon sugar. Cut the sweet with the wooden stick known as a kuromoji, which you can later take home as a souvenir.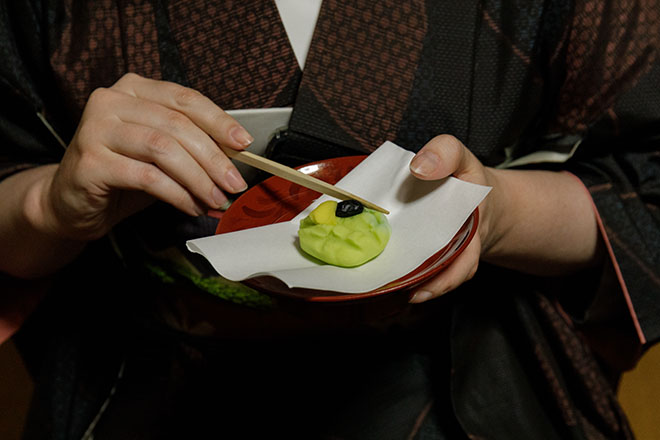 Mayumi's enthusiasm for sharing Japanese culture has led her to offer several other experiences, including a farm-based activity cultivating Wan de En's garden of organic vegetables. You can also opt for a regular tea ceremony that takes less time than the ornate chaji.
If you're athletically inclined, sign up for the firewood-chopping experience at 200 yen (tax included) per log.Mayumi recommends this activity as the ultimate in stress relief.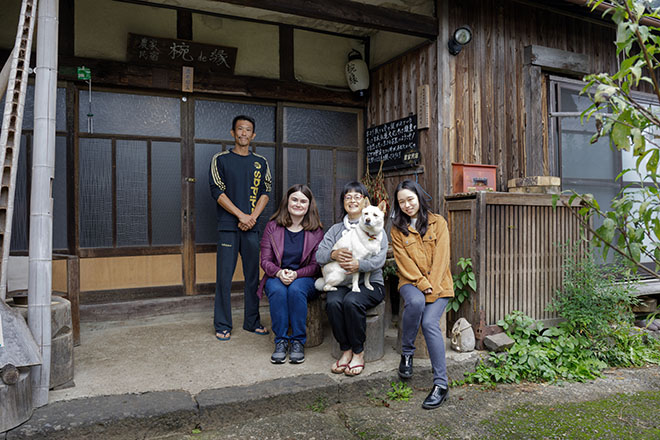 Wan de En's friendly staff, traditional setting, and chaji tea ceremony experience will leave you with a deeper understanding of and respect for Japanese culture.
Name:

Wan de En guesthouse
Address:

14-25 Kawada, Sabae, Fukui
Check in:

From 3 p.m.
Check out:

11 a.m.
Fees:

15,000 yen (tax included) for overnight stay with tea ceremony program; 5,800 yen (tax included) for overnight stay only (no meals)
Closed:

Irregularly
Languages available:

Basic English/Japanese