Located between Kyoto and Nagoya, the town of Misugi (recently merged with the city of Tsu) in Mie Prefecture has prospered since the fourteenth century. By the early twentieth century, the region had embraced forestry, planting swaths of cedar trees to support the country's rapid development. Today, that history of forestry has evolved into a new practice: forest bathing - walking through a forest and reveling in the tranquil atmosphere. Take a pleasant stroll through Misugi's quiet, verdant woodlands, and you'll feel both relaxed and rejuvenated. While here, you can also take a historic pilgrimage walk and learn about local straw craft.
Seasonal colors, forest therapy, and historical strolls - a special place in every season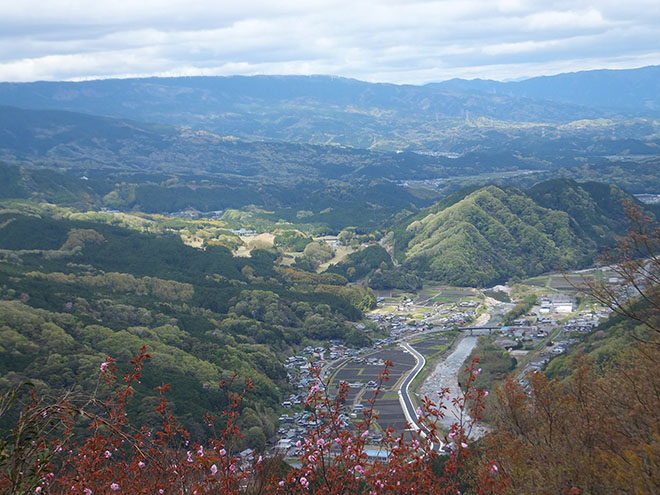 In the face of depopulation spurred by an aging demographic and urban relocation, the residents of Misugi are working together to embrace the charms of the countryside, while offering visitors the chance to experience a nature-rich, rural lifestyle. Book a stay in a traditional farmhouse and spend your days exploring serene forest paths, soothing streams, and majestic mountain views. After a break here, you'll return home with a renewed sense of vitality. The heavily wooded landscape changes with the seasons, and is particularly striking in the autumn, as red, green, and yellow leaves combine to blanket the land in striking combinations of color.
Other points of interest include the splendid Ise Honkaido Waterfall; Misugi Timber Market, which auctions lumber twice a month; Hotaru no Yado, where you can learn to catch fish with your bare hands; and Sanae Torii's Doll Gallery and Tea House, which brims with an amazing variety of hand-made dolls.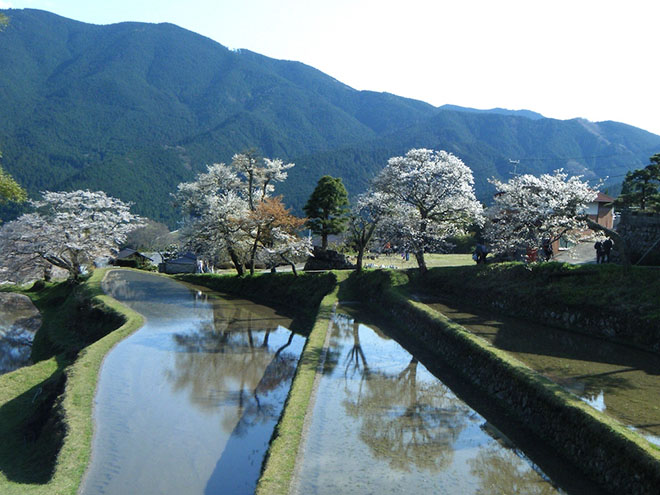 In spring, the 1.5-kilometer trail to Shinpukuin Temple in Misugi offers the best views of the area. The path is surrounded by numerous terraced rice paddies and traditional homes. By April, the cherry trees planted alongside the road begin to bloom, bathing the trail in a gorgeous, light-pink hue that reflects in the water of the paddies and contrasts beautifully with the surrounding greenery. Visit during this period, and you'll see portions of the path illuminated at night - a stunning sight.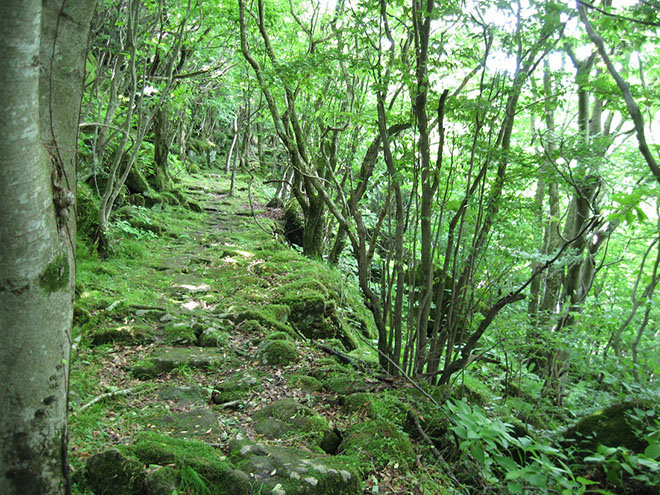 Misugi offers 12 different forest-therapy courses. Over approximately two hours, a Japanese guide will introduce you to some of the most beautiful locations in the forest, with the intention of improving your mental and physical health. The forests of Misugi are officially designated by the Forest Therapy Society. Designated forests are proven to decrease stress, improve blood pressure, and lower your pulse.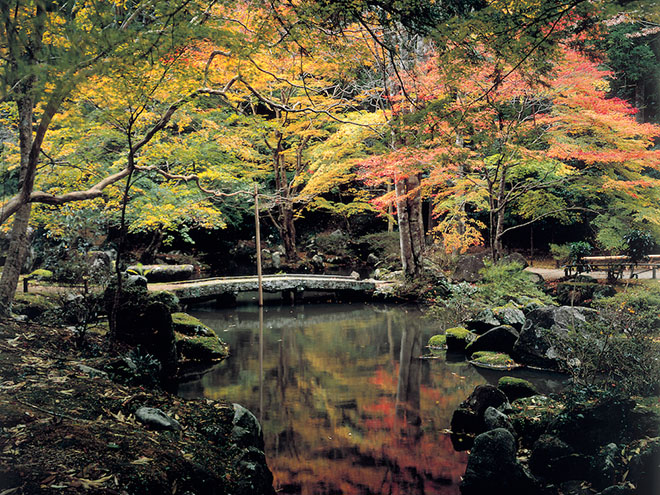 Kitabatake Ruins Park is another must-visit destination, located deep within the mountains around Kitabake-jinja Shrine. Enjoy walking around peaceful ponds decorated with ancient stone lanterns and ornately manicured foliage. Despite its tranquil appearance, however, the site is known for its turbulent history. The fourteenth-century rulers (from whom the garden derives its name) were wiped out by military ruler Oda Nobunaga. The garden is the only lasting remnant of this once powerful samurai clan.
Name:

Mitake-no-Sakura
Address:

Mitake, Misugicho, Tsu City, Mie Prefecture (Free to visit)
Name:

Kitabatake Ruins Park
Address:

Kitabatake Ruins Park: Kamitage 1148, Misugicho, Tsu City, Mie Prefecture
Park hours:

9 a.m. – 5 p.m.
Entrance fee:

300 yen
Open year round
Languages available:

Japanese
Tel:

059-246-9020 (Tsu City Tourism Association)
Unwind at a laid-back guesthouse in an idyllic woodland setting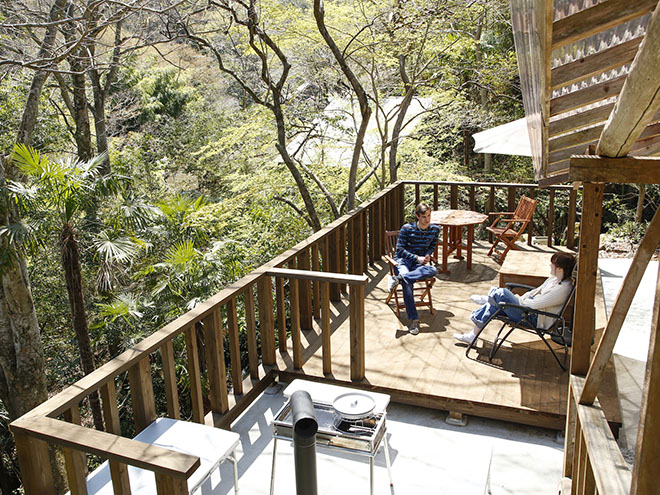 Misugi's calming forests have even been incorporated into the local accommodations. Stay at Forest Terrace "Kageyan no Ie" and experience the calming effect of soft foliage cascading through your bedroom window. Accommodating six guests in three bedrooms, the facility's biggest draw is its expansive wooden terrace, set amongst the trees. Enjoy a BBQ on the terrace as birds chirp and leaves rustle in the background. Meals comprise an assortment of foods, including deer meat and takoyaki (octopus dumplings). Alternatively, if you're keen to visit a nearby restaurant, your host will drive you there herself!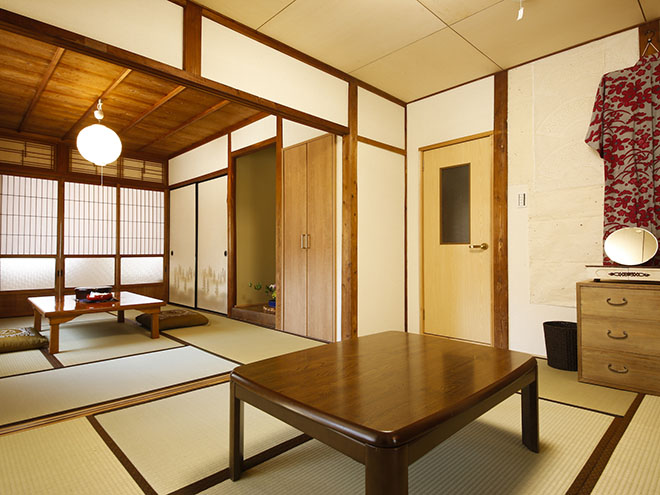 The interior features modern amenities mixed with traditional design, integrating tatami-mat floors and traditional sliding doors with modern bathing facilities and comfortable furniture. For an extra level of indulgence, visit the nearby hot spring. Furthermore, the owner is a keen masseuse and aromatherapist, adding a further degree of relaxation to your stay.
Name:

Forest Terrace Kageyan no le
Address:

8253 Yachi, Misugicho, Tsu City, Mie Prefecture
Check-in:

3 p.m. – 8 p.m.
Check-out:

10 a.m.
Price per person:

13,000 yen with breakfast
Languages available:

Japanese / English (through a translation device)
Book a guided walk and learn about Misugi's rich history of craftsmanship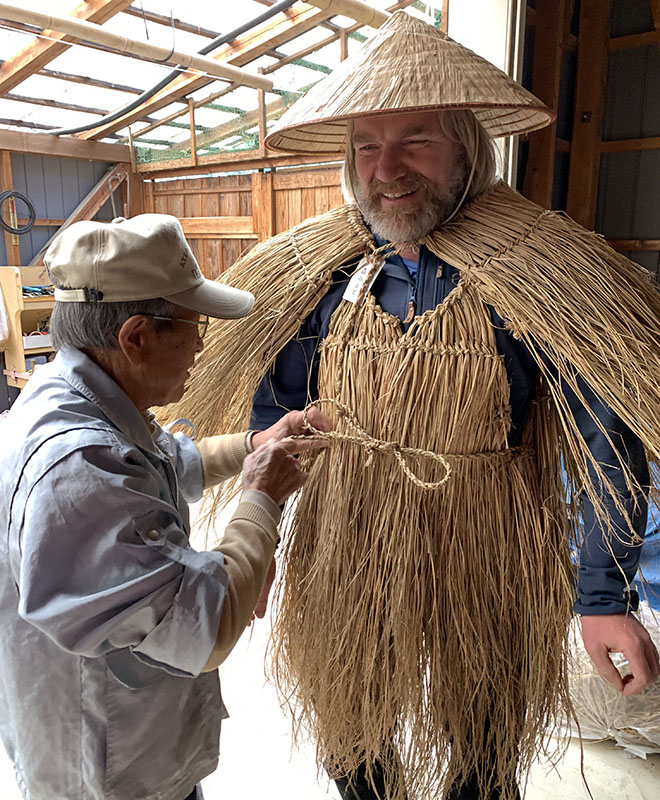 To fully experience Misugi, take a one-day guided tour that explores the area's history and traditional culture. The English-supported trip includes a lesson in local straw craft, a pilgrimage walk that documents the region's feudal history, and a riverside meal at Daikichi, where you'll enjoy recently caught fish. Having a local guide provide context and back-stories for your activities helps illuminate the region's rich heritage, and you'll leave with a more intimate knowledge of how remote villages like Misugi have thrived throughout history.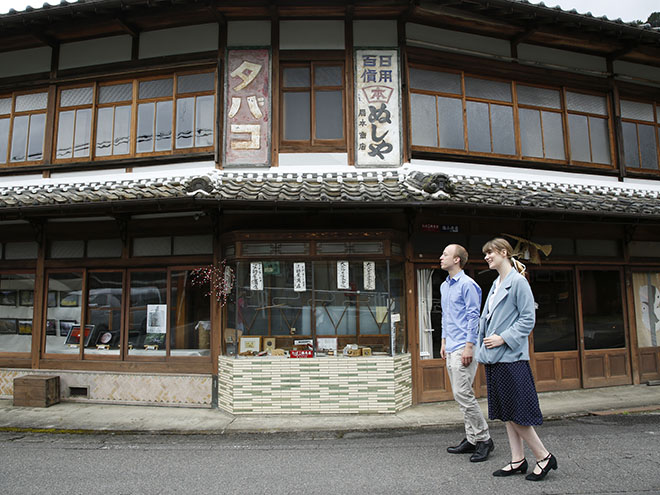 The pilgrimage tour lasts from 9 a.m. to 3 p.m. and includes lunch. Hearing about the history of the local area will transport you hundreds of years into the past, when a trip to Ise Grand Shrine was on the wish-list of many Japanese people. During the straw-craft lesson, meanwhile, you can learn how to make items such as a flower vase or rain gowns and sandals similar to those traditionally worn by visitors to the area in bygone days.
Organization name:

Inaka Tourism
Organization Address:

5990 Yachi, Misugicho, Tsu City, Mie Prefecture
Experience name:

1-day Pilgrimage Walks tour
Meeting spot:

Ise-Yachi Station
Times:

9 a.m. – 3 p.m.
Experience fee:

12,000 yen
Languages available:

Japanese / English
Tel:
Email:

reservation@inaka-tourism.com