Onomichi, a port city in Hiroshima Prefecture, is a common setting for Japanese literature and film thanks to its historical port town, lush scenery and reputation as a cultural crossroads for areas on the Seto Inland Sea. Active travelers can enjoy cycling across bridges connecting small islands on the Shimanami Kaido. For a more relaxing pace, check out Onomichi's museums, historical sites, and picturesque ferry rides.
Island-hop by bicycle on the Shimanami Kaido cycling course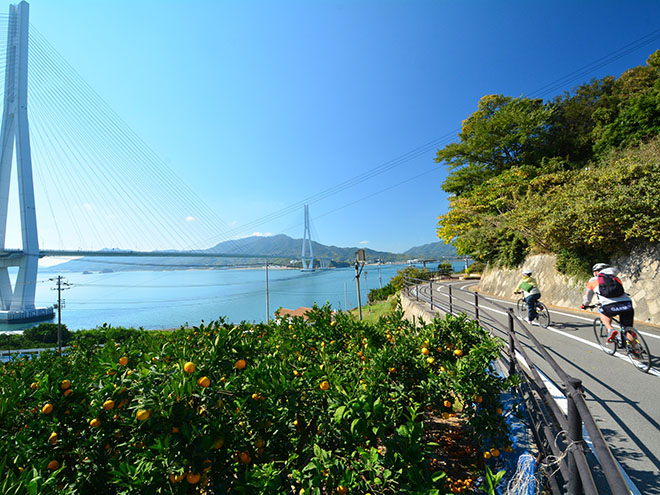 Enjoy breathtaking views, salty sea breezes, and an invigorating ride on the Shimanami Kaido cycling course. The roughly 70-kilometer course is exclusively for bicycles and was nominated as one of the world's seven best cycling courses by CNN. If you're a cycling enthusiast or feeling particularly adventurous, cycle the full length of the course from Onomichi to Imabari on Shikoku, the smallest of Japan's four main islands.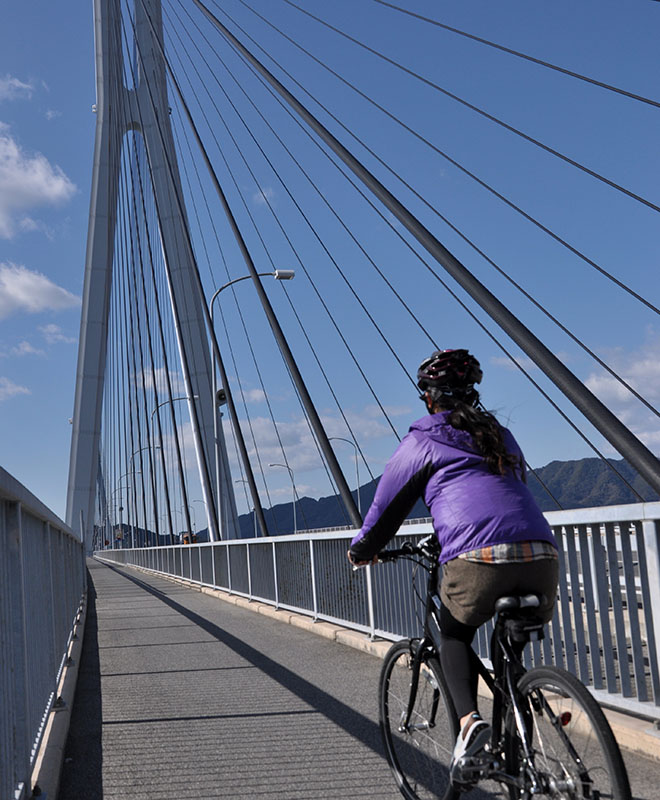 For beginners, families or those who want to take it a bit easier, substitute a ferry ride for some portions of the course and join back up with the cycling when you're ready. You can bring your own bicycle or rent one from 1,100 yen per day at various rental stations. Points of interest along the course include ruins of a pirate fort on Kurashima Island, opulent Kosanji temple, and sunset views from Sunset Beach.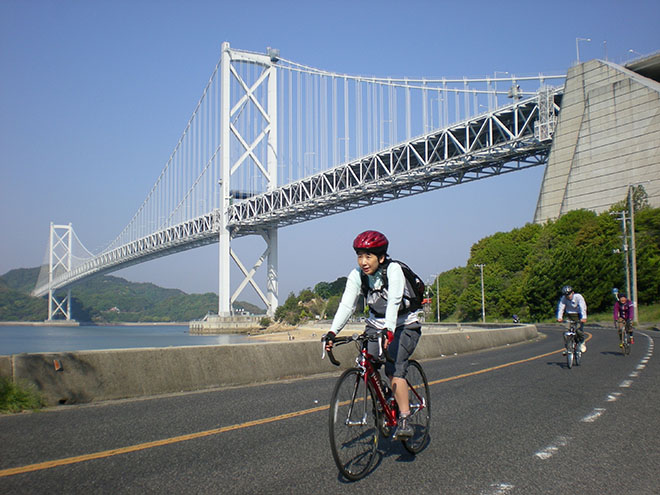 Visit Mukaishima Island, just five minutes by ferry from Onomichi, for a leisurely ride around the quaint town. Take pit-stops for retro Japanese soda or artisanal chocolate. Ask any questions you have about the course at ONOMICHI U2 (see below) before setting off.
Name:

Shimanami Kaido
Route:

From Onomichi, Hiroshima to Imabari, Ehime
Function and charm at Japan's first comprehensive cyclist center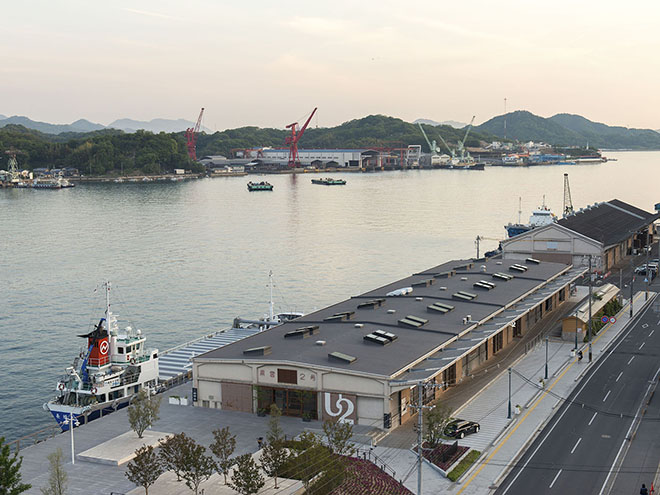 ONOMICHI U2 is a sprawling, cyclist-centric compound made up of a section of several former warehouses that stretch along the shore of the Seto Inland Sea. It includes a hotel, several restaurants, and specialized bicycle shops. Its location near the foot of the Shimanami Kaido cycling course makes ONOMICHI U2 an ideal starting point for a cycling trip through the area.
Inside ONOMICHI U2, Hotel Cycle has comfortable guest rooms, each equipped with a bicycle rack. Hotel guests can rent Giant-brand bicycles by the day for a fee and explore the area in style.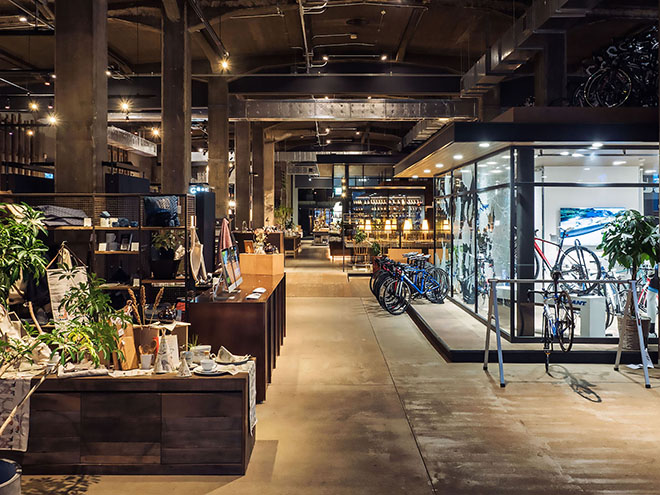 If you are planning to bring your own bicycle, the Giant store at ONOMICHI U2 is a great pit-stop for tune-ups or repairs. The shop offers rental wear and bicycles and Giant gear for purchase.
Try a wide variety of food at ONOMICHI U2, from diverse lunch buffets and wood-fired pizzas to coffee and baked goods. All eateries share an emphasis on natural, wholesome ingredients that showcase local Setouchi flavors. Sip your coffee and take in the sea view from the open deck surrounding the compound. you can also ride up to Yard Café's cycle-through order window and take your coffee to go.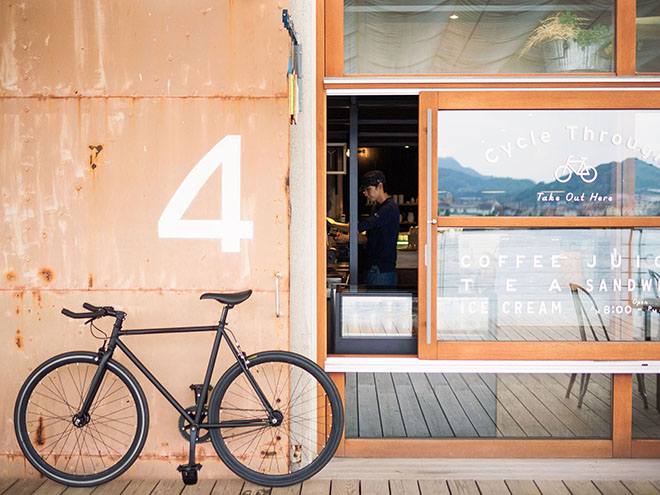 Staff are happy to chat about cycling, good food, or local sights in English. For inquiries, please call or email. Rooms at the hotel can be booked online.
Name:

ONOMICHI U2
Address:

5-11 Nishigosho-cho, Onomichi, Hiroshima
Business hours:

Varies
Closed:

Varies
Languages available:

English/Japanese
Tel:
Email:

info@onomichi-u2.com
Architecture meshes with nature at LOG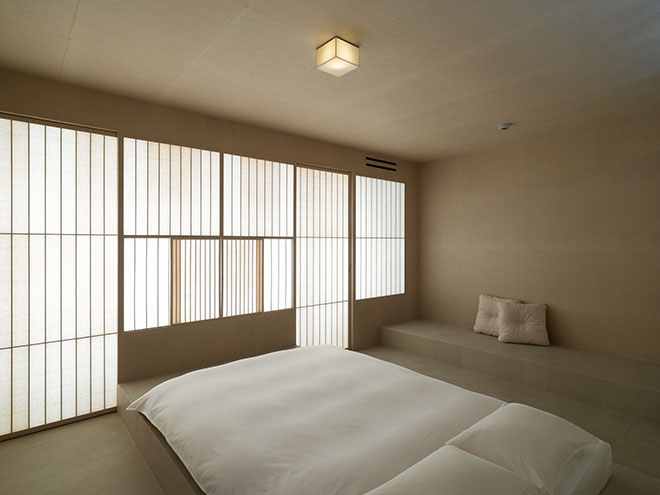 Rest your body and mind at the LOG guesthouse. A group of city residents worked with Mumbai-based architect Bijoy Jain to repurpose this 1960's apartment building into a shared space with the concept of coexistence with nature. The peaceful garden near the entrance combines with the wood furnishings and soft, natural paint colors to produce a feeling akin to being in the woods.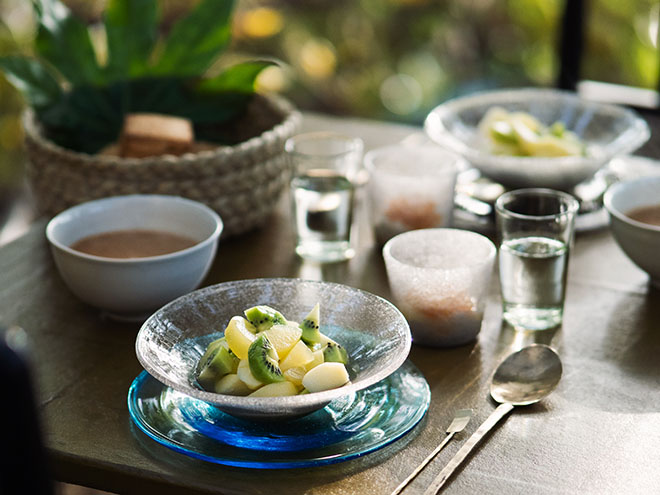 While it feels like a world apart, LOG is actually a short walk from Onomichi Station, making it a convenient base for exploring the city. The building has six guest rooms, which you can book from 35,000 yen per night, with variations in numbers and styles of beds. Reservations are available online.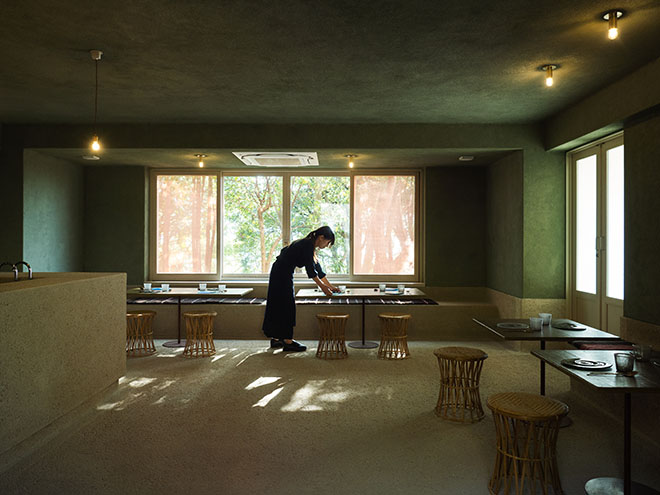 LOG also offers a restaurant and a cafe-bar. After a restful night, enjoy a tasty breakfast in the restaurant. Return in the evening for a dinner also made from local, seasonal ingredients. In the cafe, savor fresh pastries and specialty coffees from 11 a.m. until 5 p.m. After 5 p.m., the space becomes a casual bar where you can order various local brews.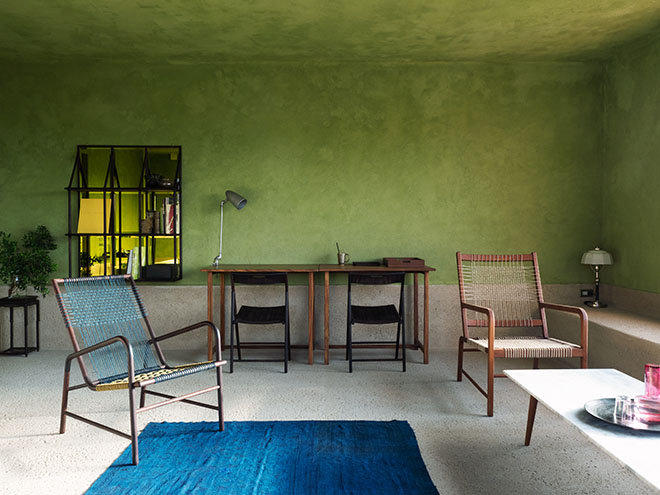 Take a moment during your stay to relax in the library and catch rays of sunlight filtering through the garden's trees. There is also a shop on the first floor to pick up all-natural housewares or souvenirs. The staff are happy to assist you in English at any time.
Accommodation:

LOG
Address:

11-12 Higashi Tsuchido-cho, Onomichi, Hiroshima
Check-in:

3 p.m.–8 p.m.
Check-out:

11 a.m.
Price per room:

From 35,000 yen
Languages available:

English/Japanese
Tel: