Yakumo is an agricultural town on the southern tip of Hokkaido, Japan's most northerly main island. It's the only place in the country with shores on both the Sea of Japan and the Pacific Ocean. This unique and open location makes it the perfect place to unwind. From vegetable harvesting to scallop farming, Yakumo and the surrounding areas offer you the chance to experience a different side of Japan, far removed from the hubbub of city life.
Pull on your gloves to harvest vegetables, string scallops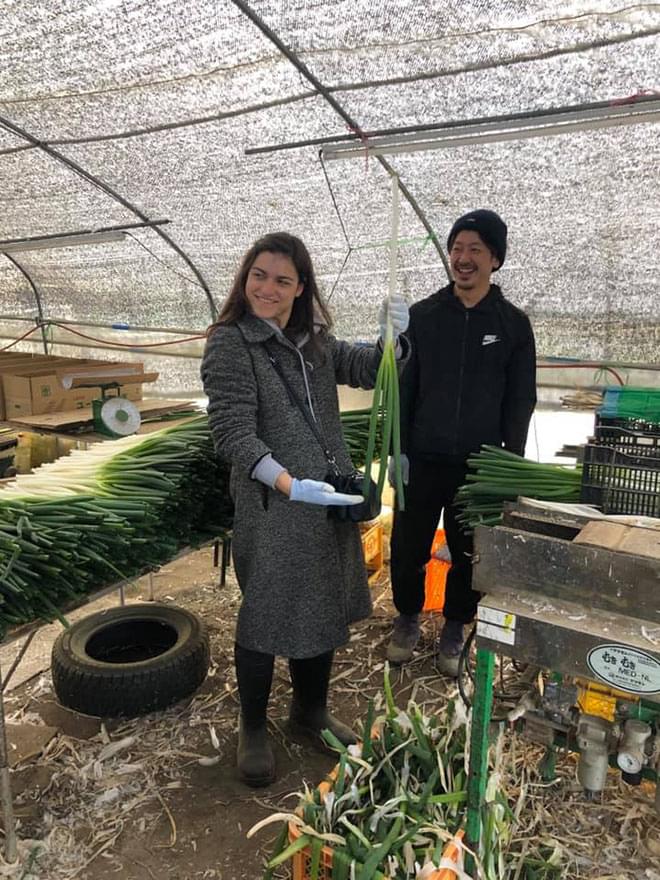 While in Yakumo, take the chance to learn about traditional farming practices from local experts. English-speaking staff in the Yakumo Village Information Center can help you sign up for one of the courses, which focus on harvesting food that you can later eat. Try pulling up nanpakunegi, a tasty strain of spring onion unique to Yakumo.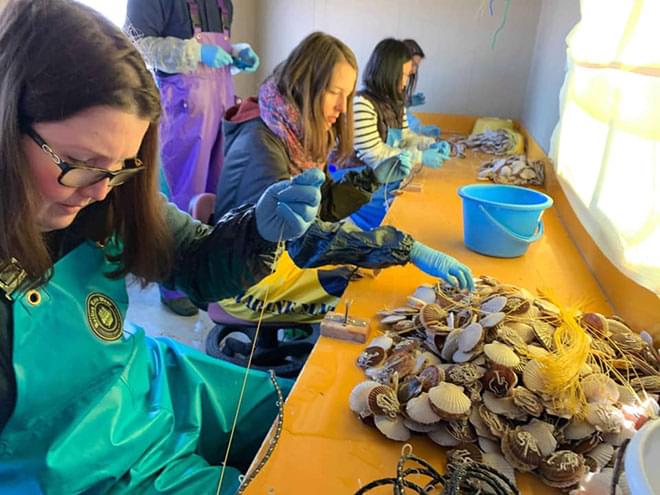 If you're a lover of seafood, try timing your visit to coincide with the springtime scallop harvest. Japan is a world leader in sustainable scallop aquaculture, and scallop farming is a key industry in Yakumo. The entire town pitches in to help with a process called "ear hanging," in which the shells of young scallops are strung together to make harvesting easier.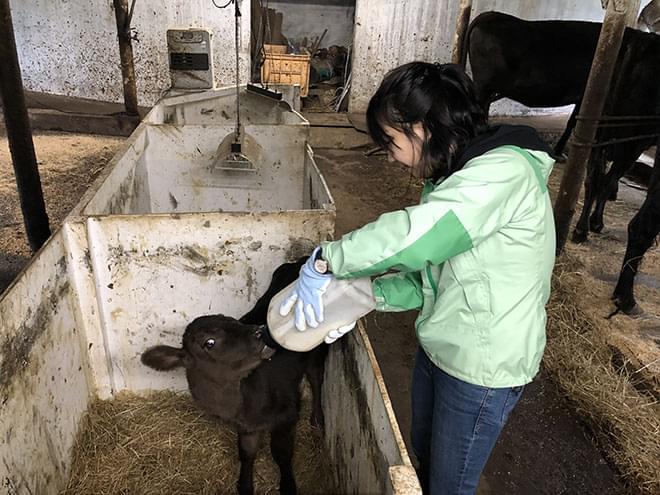 Yakumo's climate is perfect for dairy farming, too. Indeed, the Hokkaido dairy industry is said to have its beginnings in Yakumo. The town is the ideal place to learn all about Japan's famous Wagyu beef cattle. Sign up for the one-hour-long Wagyu Cattle Care program for the chance to tour barns, bottle-feed young calves, and spread feed for the more mature animals. You'll learn all about the love, respect, and care that goes into making one of Japan's most celebrated foods.
Organization name:

NPO Yakumo Genki-Mura
Organization address:

273 Higashi-cho, Yakumo-cho, Futami-gun, Hokkaido
Program:

Scallop farming, Wagyu beef cattle tour, Nanpakunegi harvesting
Address:

30 Suehiro-cho, Yakumo-cho, Futami-gun, Hokkaido
Operating hours:

Scallop farming & Wagyu beef cattle tour operates year-round; Nanpakunegi harvesting held September to April
Fees:

Scallop farming (9 a.m.–12 p.m.) is 3,000 yen for adults and 2,500 for children; Wagyu beef cattle tour (one-hour long) is 2,000 yen for adults and 1,000 for kids; Nanpakunegi harvesting is 2,500 yen for adults and 1,500 for children
Requirements:

Wear warm comfy clothes for scallop farming; reservations required (three-person minimum) for Wagyu beef cattle tour & Nanpakunegi harvesting
Languages available:

English/Japanese
Tel:
Bathhouse atmosphere thrives at Sento guesthouse and restaurant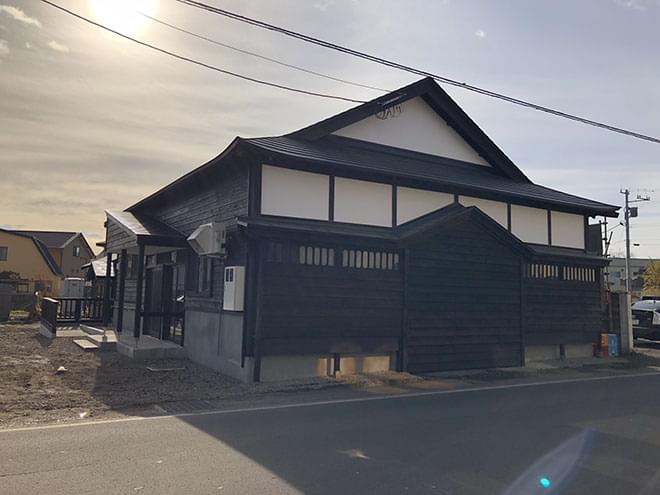 Sento is a former bathhouse - built over 100 years ago - converted into a traditional kominka (folk house) guesthouse and restaurant. In Japanese, sento means bathhouse. Before built-in baths became common in people's homes, the sento was a place for locals to congregate and gossip, while washing away the stress of the day. Sento's owners are keen to create a space where people can gather and interact, similar to the role public baths played in bygone days.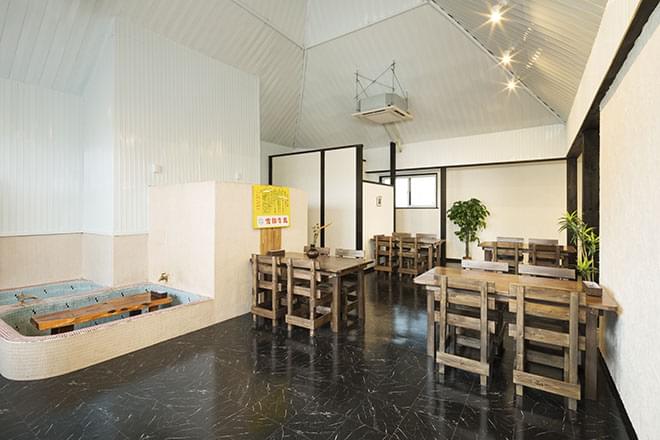 The restaurant is styled to reflect the atmosphere of a public bath, and serves tasty dishes featuring local ingredients. Try ordering local dishes such as Yakumo beef or pork, or white omelette rice - made using locally sourced white egg yolks - then enjoy your meal at a table installed in an old, tiled bath - a charming way to keep the original spirit of the bathhouse alive.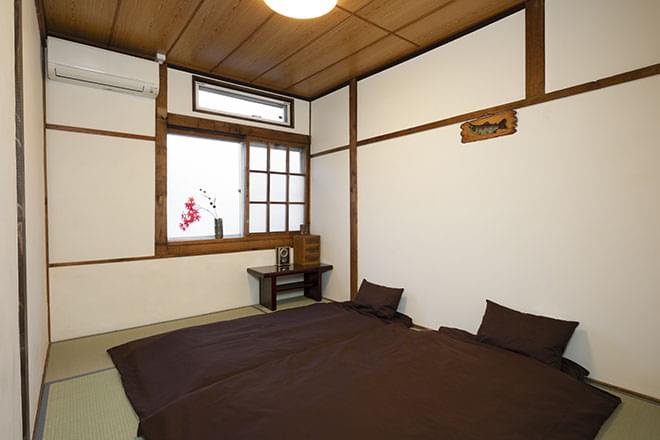 When it's bedtime, head to the Sento guesthouse and snuggle into fluffy futons in the mixed or women-only dormitories. A private room is also available. The sweet smell of the tatami mats and the elegant decor of old-world Japan will lull you into a peaceful sleep.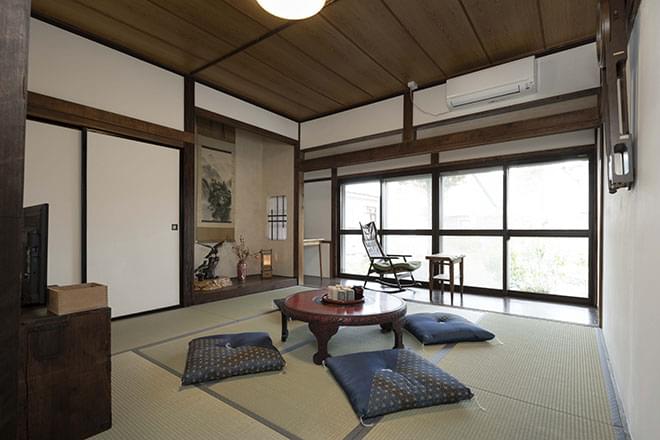 Whatever your needs, English-speaking staff and foreign volunteers are available to help make your stay as comfortable as possible.
Accommodation:

Sento guesthouse
Address:

30 Suehiro-cho, Yakumo-cho, Futami-gun, Hokkaido
Check-in:

3 p.m.–10 p.m.
Check-out:

10 a.m.
Price per person:

3,000 yen for a dormitory room; 3,000 yen for three-person room (breakfast not included.) 500 yen per person for breakfast. 1,500 yen per person for dinner.
Restaurant:

11 a.m.–5 p.m.
Languages available:

Basic English/Japanese
Tel:
Look out over Uchiura Bay; gaze up at the Milky Way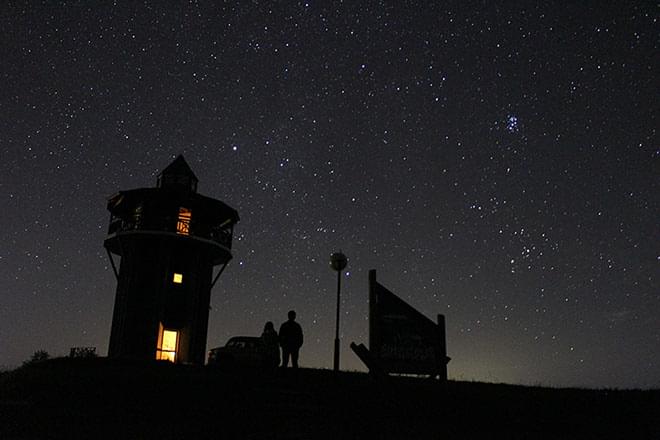 For an unforgettable view of the night sky, head south to Yakumo Dairy Farm. The town-owned ranch - a 25-minute drive from Sento guesthouse - boasts one of the best panoramic views around. Though somewhat tricky to find (be sure to fire up your GPS), the journey through the beautiful countryside is well worth the effort.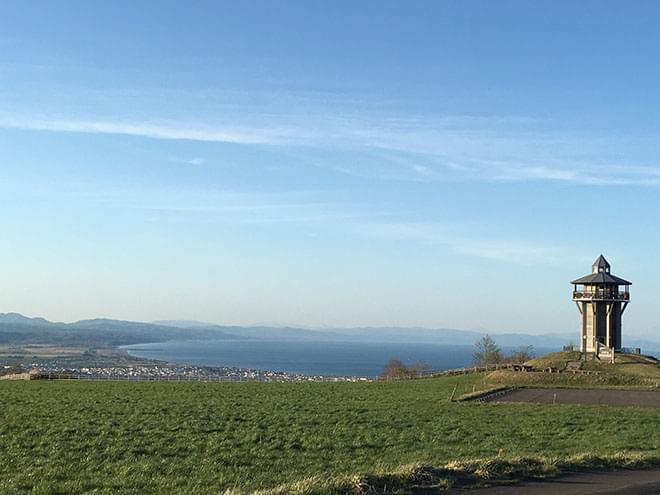 Upon arrival, head for the octagonal observation deck behind the main ranch buildings for a spectacular view over Uchiura Bay. On clear days, you can also spot Mt. Yotei and Mt. Usu at the opposite side of the bay.
Name:

Yakumo Dairy Farm
Address:

380 Oshin, Yakumo-cho, Futami-gun, Hokkaido
Languages available:

English/Japanese
Tel:

0137-66-5526(Yakumo Village)