The year-round beauty of the Shirakami Mountains in the western part of Aomori Prefecture inspires fiercely protective attitudes from local residents. The lush mountains, which cover parts of the town of Ajigasawa, make up part of a UNESCO World Natural Heritage Site recognized for its unique ecosystem and rare virgin beech forest. The area's nature provides the community with opportunities for farming, fishing, hiking, mountain climbing, skiing, and a range of other outdoor activities. Spend a few days at the Shirakami Nature School and immerse yourself in the great outdoors.
Take a guided hikes through untouched beech forests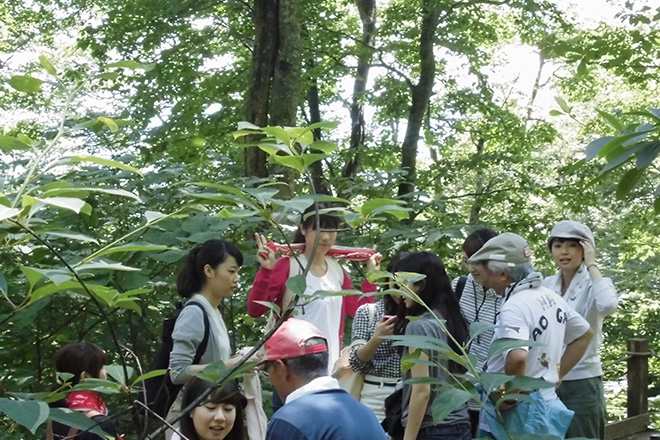 The Shirakami Mountains are home to the world's largest forests of virgin Japanese beech trees. The area has remained unspoiled thanks to passionate protection by local residents, and the unique ecosystem was designated a UNESCO World Natural Heritage Site in 1993. The rugged mountains offer a wealth of outdoor adventures among the serene nature.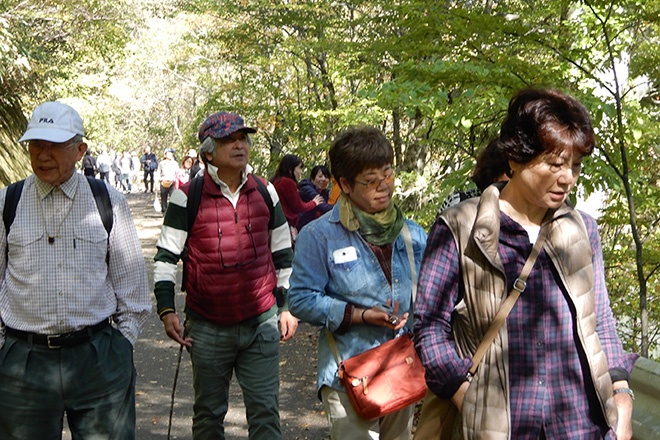 From Shirakami Nature School, hikers can join tours led by certified instructors and forest guides. Trekkers can take the six-hour-long Tengudake course up the steep Mount Tengu (30,000 yen). The difficult hike offers breathtaking views of the Shirakami Mountains and the Akaishi River. Those looking for a less intense hike can take the Akaishi Genetic Resource Conservation Forest course (20,000 yen). This course's highlight is the area's representative, protected beech trees.
Aomori's plentiful snowfall doesn't hinder the opportunity for trekking. Strap on some snowshoes and explore the mountains in all their wintry glory.
Organization name:

Shirakami Nature School
Organization address:

1-26 Yagurayama Fukayamachi, Ajigasawa, Nishitsugaru-gun, Aomori
Program:

Trekking in the Shirakami Mountains
Dates/times:

Varies depending on program
Fees:

30,000 yen for the Tengudake course; 20,000 yen for the Akaishi Genetic Resource Conservation Forest course
Languages available:

English/Japanese
Shirakami Nature School: delightfully academic accommodation
Reconnect with your inner child by spending the night in a converted elementary school. Built in the nineteenth century, the building is now home to Shirakami Nature School, a nature-learning center with an on-site farm-stay program called Kumagera no Ie. Its bright wooden interior is made up of hallways and classrooms with more windows than walls. The space is heated by traditional fire pits and wood stoves. Communal baths are filled with water lightly scented by kuromoji, a local plant used to make a sweet-smelling oil.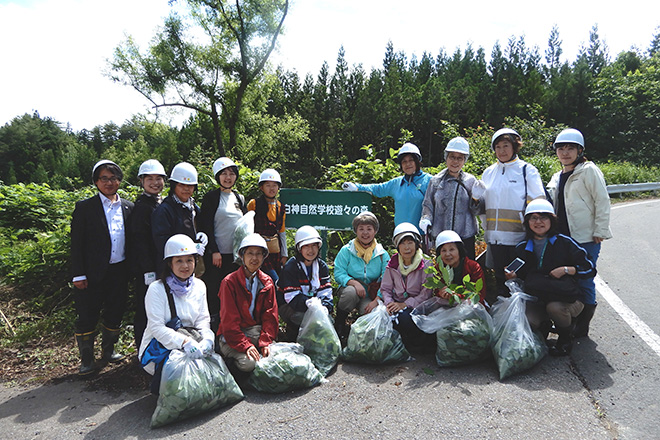 Visitors can try making the oil at the Shirakami Aroma Institute. Put on a hard-hat and waterproof boots, do some stretches, and let the teachers lead you into the forest. The teachers will show you what to look for and how to take cuttings of kuromoji. Back in the classrooms, you'll learn how to distill your own kuromoji aroma oil.
Meals often feature freshwater trout from the nearby Akaishi River, particularly delicious when salted and grilled. Enjoy the fire-roasted fish with white rice, local pickles, stewed vegetables, and mild soup. A one-night stay with two meals costs 6,600 yen per person. Accommodation without meals is 3,600 per night.
Accommodation:

Kumagera no Ie
Address:

88-2 Kamikamuro, Hitotsumorimachi, Ajigasawa, Nishitsugaru-gun, Aomori
Check-in:

3 p.m.
Check-out:

10 a.m.
Price per person:

6,600 yen for half board; 4,100 yen with breakfast; 3,600 yen with no meals
Languages available:

Basic English/Japanese
Note:

During the winter months, a charge of 500 yen is applied for wood-stove heating
Email:

school@shirakami.gr.jp
Savor a locally sourced dinner in the mountains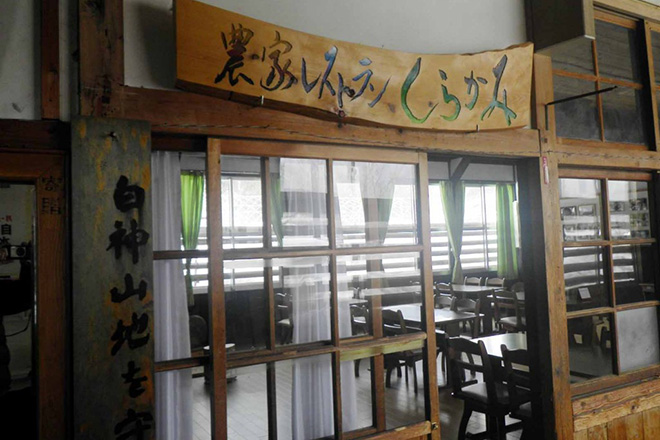 Bring your appetite to the farm-to-table restaurant Shirakami, located in the Shirakami Nature School. The restaurant's ingredients are locally sourced from the rivers, mountains, surrounding fields and nearby farms. Take a stroll around the vegetable fields before heading inside to eat their produce.
The Akaishi River teems with golden trout that are caught and served in a variety of preparations. Try it atop kamameshi, a kind of Japanese rice pilaf cooked in an iron pot; seasoned with salt and grilled; or stewed in a caramelized soy-based sauce.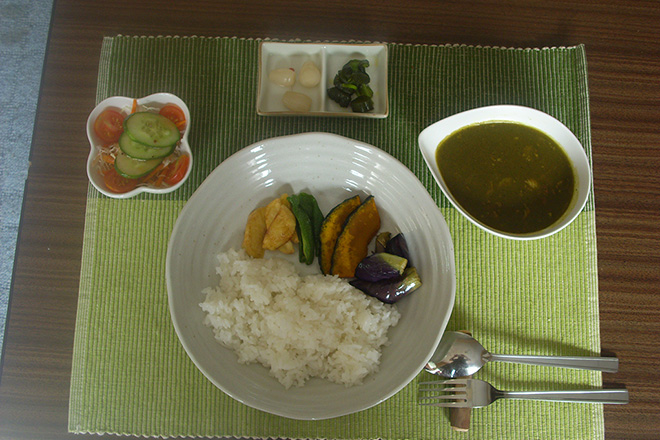 Another of the restaurant's specialties, green curry, is meant to evoke the color of the leaves of the region's beech trees. This curry's heat comes from the green chili peppers grown and harvested in the fields of the school. The potatoes, tomatoes, peppers, and eggplants are also sourced from the nearby fields, and the pork and beef come from within Ajigasawa.
Wash down the spice of the curry with a sweet red bean bun and an aromatic cup of kuromoji tea.
Name:

Shirakami Restaurant
Address:

88-2 Kamikamuro, Hitotsumorimachi, Ajigasawa, Nishitsugaru-gun, Aomori
Business hours:

11 a.m.–2 p.m.
Requirements:

Reservations are required
Closed:

Monday and Tuesday
Languages available:

Japanese, English (using a digital translator)
Email:

school@shirakami.gr.jp