Zao-machi is a rural town located in the foothills of Mount Zao, in southwest Miyagi Prefecture. The area is named after Zao Gongen, a deity worshipped here long ago. In ancient times, worshippers would climb the peaks of Mount Zao to perform ascetic rituals, then descend and recuperate in the natural hot springs dotting the foothills of the mountain.

Over the centuries, Zao has transformed from a center of ascetic spiritual practice to one of outdoor leisure and agricultural production. Modern Zao is a haven for anyone who loves fresh, flavorful food and scenic nature. Though spirituality no longer figures in the area's culture as prominently as it once did, the old pilgrimage trails have been reincarnated as hiking trails, and Zao still affords the peaceful respite and healing hot springs so appreciated by the religious pilgrims of yore.
Make yourself at home in a private lodge with a hot-spring bath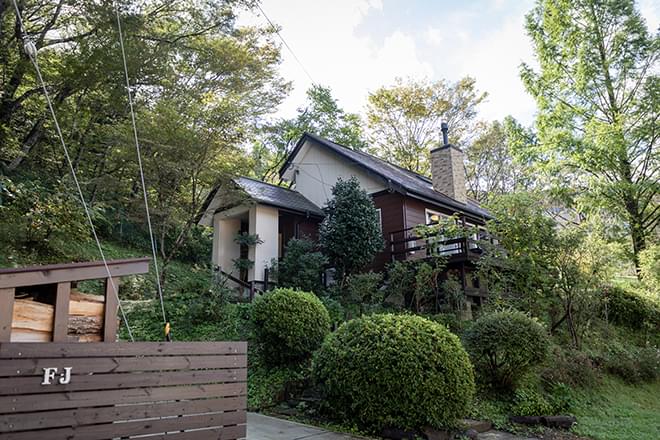 Part of the charm of the Zao countryside is its spacious accommodations. Vacation homes are available for short- and long-term stays. The Sansuien neighborhood has twenty-three vacation rentals, set among private residences. Staying at one of these properties, you'll be living like a local, with a freestanding, fully furnished house at your disposal. Sansuien also has rental bicycles for guests, a fun and environmentally friendly way to explore the area.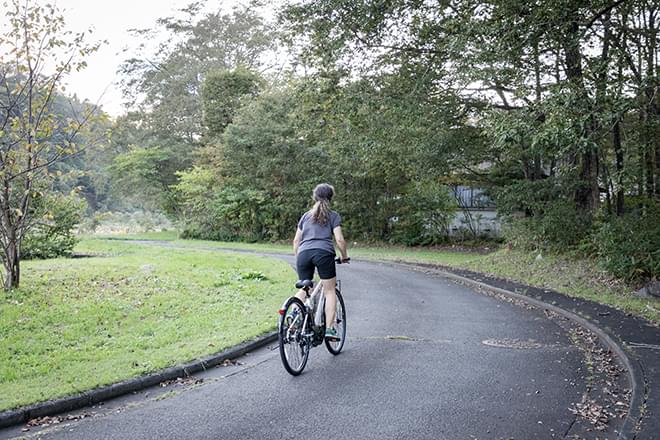 At Sansuien, you can come and go as you please without worrying about curfew or noise restrictions. And you can cook whatever you want in the full-size kitchen—a fantastic way to take advantage of the farm-fresh ingredients you can pick up in Zao. The rentals come in a variety of styles, from classic log cabins to chic and modern houses. All are largely Western-style and come equipped with the amenities of a regular house, like television and Wi-Fi, while at the same time providing the quaint comforts of a countryside lodge: cozy beds, patios, wood-burning fireplaces, and more. Some of the homes also have a bit of Japanese flair in the form of a washitsu, a traditional room with a tatami-mat floor.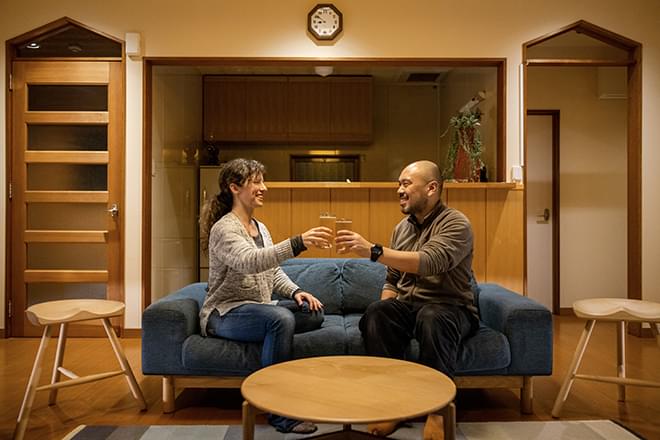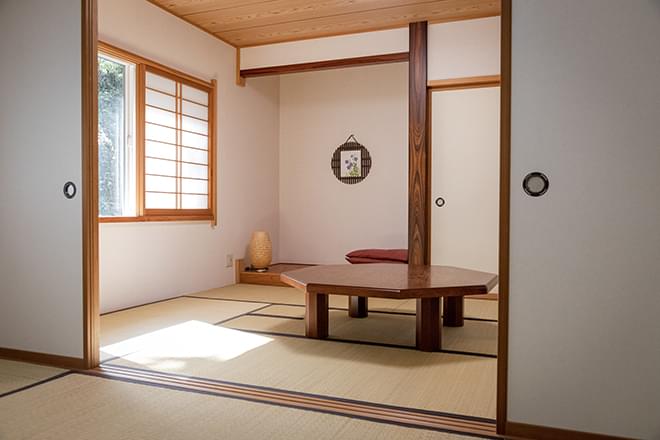 A most amazing feature of many Sansuien vacation rentals is that onsen water is pumped directly into the bathroom. That means you can enjoy the unparalleled experience of soaking in a natural hot spring right in the privacy of your "own home"—no need to get nude in a public dressing room or share a bath with strangers. Some have regular bathtubs with a hot-water tap that delivers the onsen water; others provide more atmosphere with cedar or stone baths large enough for two people.
Name:

Zao Sansuien
Address:

75-31 Kozumazaka, Togatta-onsen, Zao, Katta, Miyagi
Tel:
Availability:

Year-round private accommodation rentals
Savor local ingredients with a BBQ at Wild Zao Village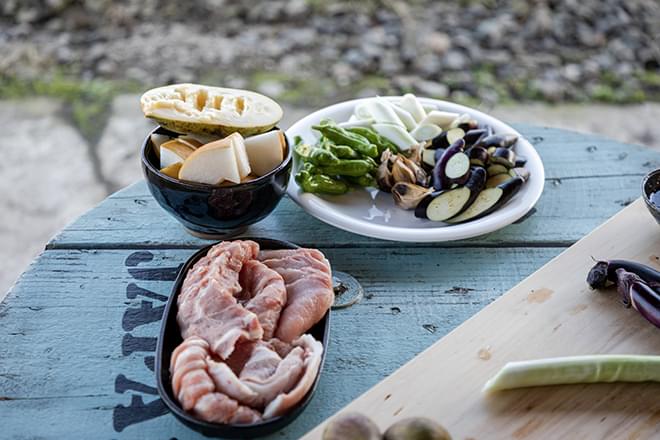 Zao is an agriculturally rich area where an abundance of fruits and vegetables are cultivated, but it is also known for its dairy, like cheese from Zao Dairy, and meat, like Japan X pork. Japan X pigs are raised on only four farms in the entire world, two of which are located in the Zao area. The lean meat is tender and mild, which allows the flavor and richness of the fat to take the spotlight.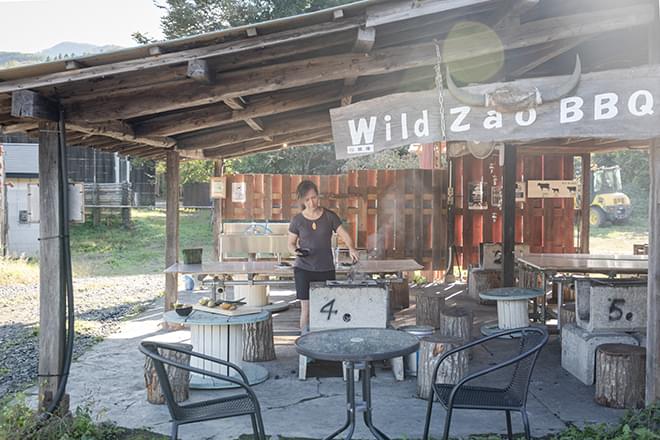 With top-quality meat like Japan X pork being produced locally, open-air grilling is naturally a popular attraction in Zao. Japanese BBQ packages offered by outfits like Wild Zao Village are geared toward empty-handed visitors. They feature platters piled high with assorted cuts of Japan X pork and include free use of the village's sturdy grills, tools, and charcoal.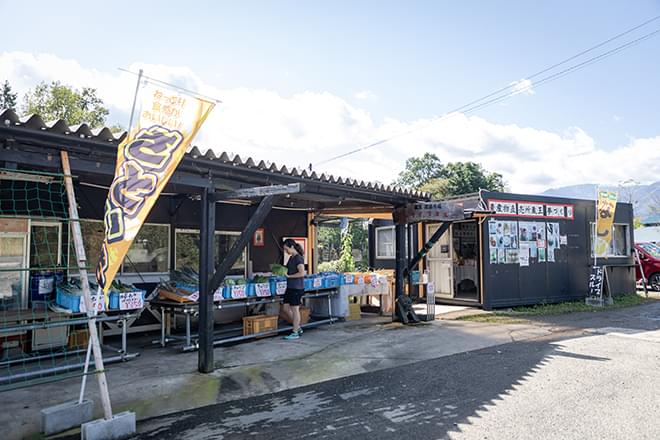 Those who want some fresh produce can pick up whatever they like at the on-site chokubai (direct sales) farmers' market, which sells fruits and vegetables harvested just that morning. Unlike some kinds of farmers' markets that are quite pricey, Japanese chokubai are very affordable, with better prices than most supermarkets charge. The selection varies by season. Vegetables range from those common in the West, like eggplant and butternut squash, to exotic satoimo tubers and shishito peppers. As for fruit, staples like grapes and apples are sold alongside the more unusual, like pawpaw and Asian pears. The produce is so fresh that it grills up juicy and tender even without added oil. If you're in Zao during fig season, be sure to throw some of those on the grill too—over a charcoal flame, they caramelize beautifully, making for a fantastic dessert.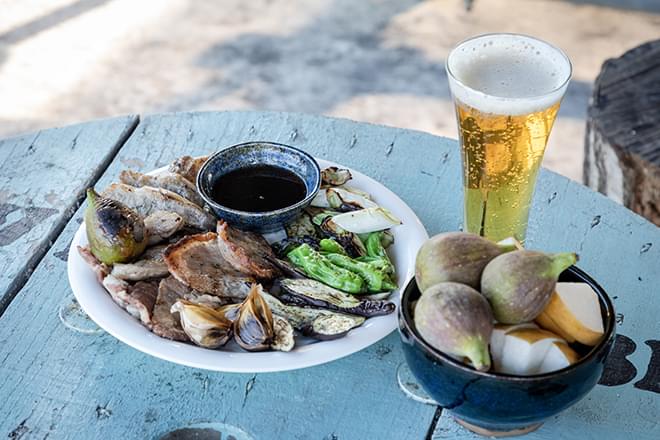 In addition to the grilling facilities and chokubai farmers' market, Wild Zao Village features a restaurant and a natural hot-spring footbath. The restaurant, called Wakuwaku Farm, serves fresh, fast fare like soup curry and pizza, made with local ingredients. The footbath is free to use and feels especially good after hiking or standing a while tending the grill.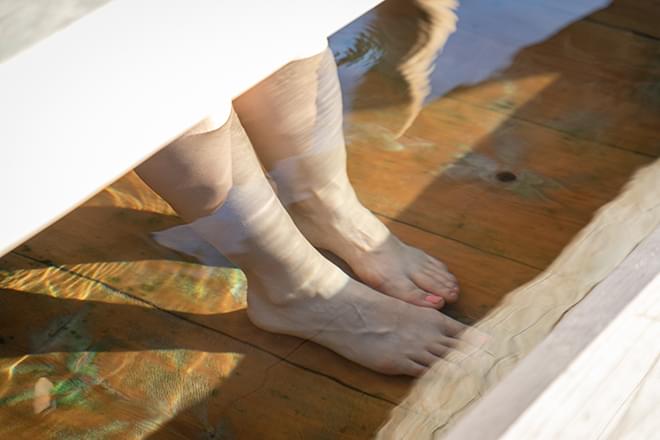 Name:

Wild Zao Village
Address:

71−1 Kozumazaka, Togatta-onsen, Zao, Katta, Miyagi
Tel:
Availability:

Japanese BBQ, footbath, farmers' market, and restaurant. Open year-round.
Dye a silk scarf the traditional way using local plants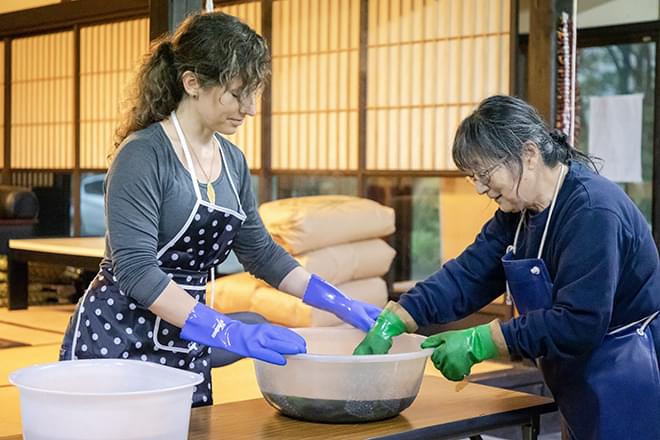 The Zao countryside is a treasure trove of traditional craft, with workshops inviting visitors to participate in crafting that mimics real artisan work. One craft that makes wonderful use of the wild Zao flora is kusakizome, the dyeing of fabric using wild plants as the source of pigment. Kusakizome experiences are offered by Oizumi-san, a Miyagi native who learned the trade as an apprentice to an elderly local woman. Her workshop is in Higurashi-no-Kan, an Edo-period farmhouse located in the Sansuien neighborhood.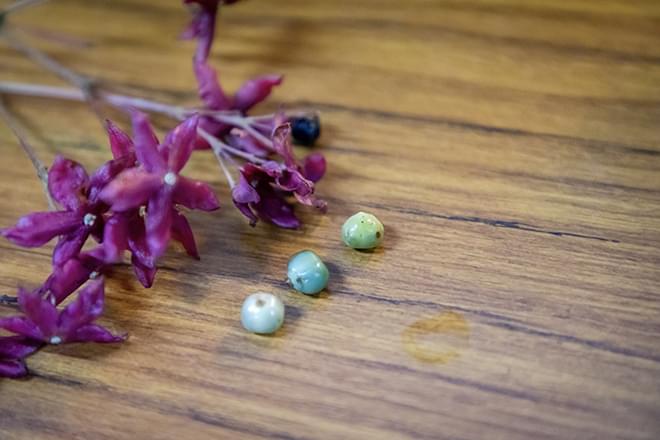 Oizumi-san adheres to traditional methods, the very same ones historically used to dye kimono and the acclaimed Sendai Hira silk. Glance around her dyeworks, and you'll see an apothecary-like repository of branches, leaves, husks, and berries, as well as bubbling vats in which these materials are being boiled to extract their pigment. Mid-autumn presents the rare opportunity to dye with kusagi, a shrub that is native to Zao and has striking magenta blossoms and bright-blue fruit. Cloth dyed with kusagi turns a pastel cyan, which is a dreamy color otherwise difficult to achieve with plant-based dyes. Parts of other plants that Oizumi-san makes use of in autumn are peach-tree leaves, which yield an earthy chartreuse, and chestnut husks, which yield a dark taupe.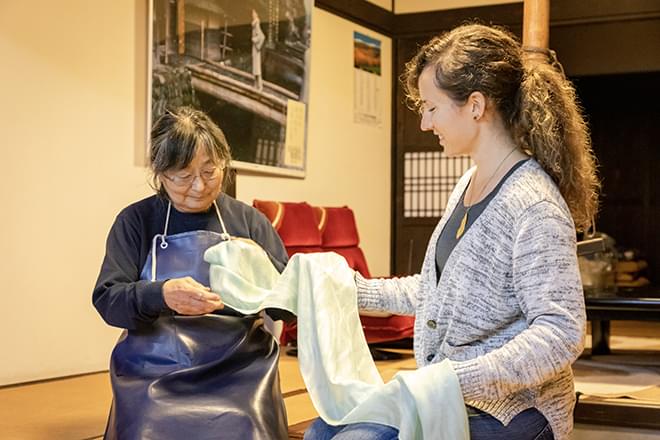 At Oizumi-san's workshop, visitors can try dyeing a lightweight silk scarf or kerchief. The silk is from Gunma Prefecture and is the same kind used in fine kimono, though woven less tightly to be softer and more forgiving for the novice dyer. The end result looks professional and attractive, something you'd actually want to wear when going out. With the silk being washable and the dye colorfast, you can really do that!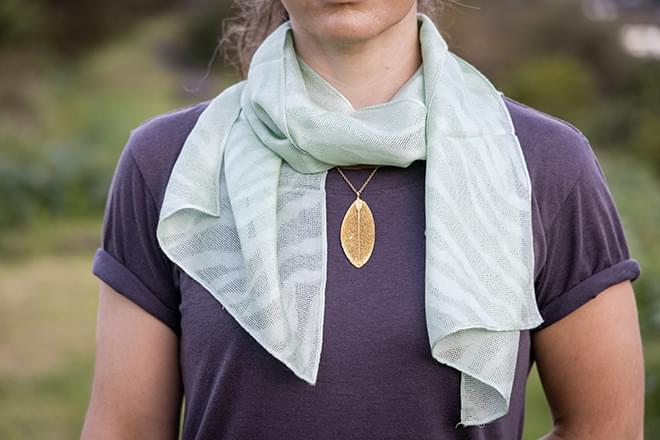 Name:

Kusakizome—Toshikoyu-bo
Address:

2-5 Senkarita, Enda, Zao-machi, Miyagi
Tel:
Availability:

Kusakizome silk-dyeing experience is available year-round.