Located a one-hour train ride from Nagoya in the center of Japan, the city of Toyota is a modern industrial hub at the forefront of Japan's automobile industry. Despite its modern amenities and industrial base, the city is complimented by a natural environment and vibrant history. Much like its ubiquitous automobiles, Toyota also boasts a competitive local agricultural industry, producing substantial volumes of rice, pears, and peaches every year. From its forests and lakes to its rich cultural heritage, a trip to Toyota rewards visitors with a diverse range of experiences throughout the seasons. Meanwhile, in fall, head to nearby Asuke for the beautiful, crimson autumn leaves.
Visit the idyllic and historic town of Asuke and the nearby Korankei Valley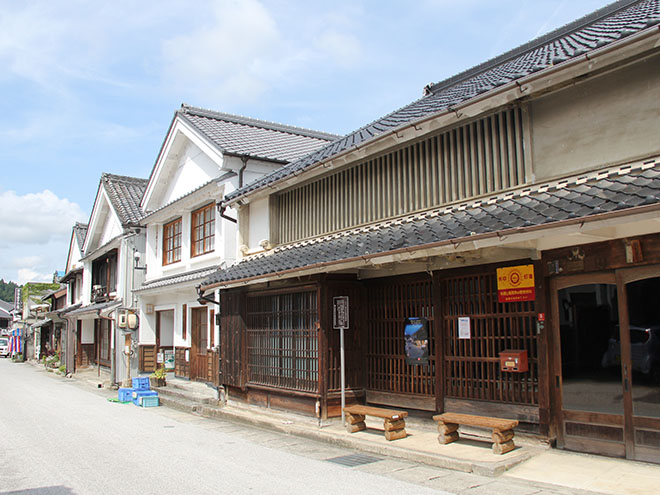 The town of Asuke is about 35 minutes by car from Toyotashi Station. This well-maintained town boasts many traditional homes, storefronts, temples, and scenic parks, making it perfect for a trip, year-round. Designated as an Important Preservation District due to its many historic buildings, the town is dotted with charming buildings from the end of the Edo period (1603-1867) and Meiji period (1868-1912.) Meanwhile, the surrounding mountains are home to some of the most beautiful sights in the region, particularly during the autumn season, when the trees collectively turn crimson red. Numerous inns, guesthouses, and hotels in the area cater to all variety of guests, whether you're looking for resort-style amenities, or Edo-period (1603–1868) Japanese hospitality.
Kojakuji Temple and the surrounding Korankei Valley are can't-miss Asuke destinations. The expansive grounds of the temple stretch across scenic terrain, with dense maple trees draping the temple paths. The stunning riverside path makes this a top choice for outdoor-oriented travelers. The red Taigetsukyo Bridge, meanwhile, is one of the most-photographed points in all of Aichi Prefecture. From mid- to late-November, these trees turn a vivid shade of red, making for a stunning sight, and attracting visitors from across the country. Standing above the temple is Mt. Iimori, a small 254-meter-tall peak accessible via two main trails near the temple. The grounds are dotted with old restaurants and candy shops, too, allowing you to enjoy a rejuvenating break during your journey.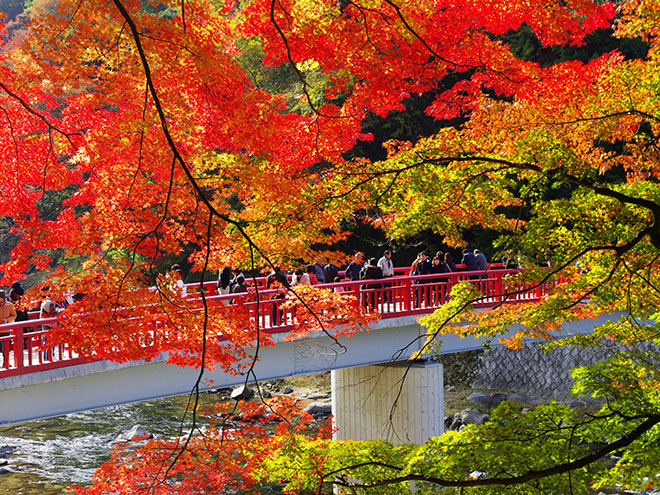 Toyota is located approximately one hour away from Nagoya by train. Once in Toyota, most major destinations can be reached by train or bus. To enjoy more scenic sights, consider renting a car or hiring a taxi.
Name:

Historic town of Asuke and Korankei Valley
Address:

Asuke Town (and vicinity), Toyota City, Aichi Prefecture
Tel:

0565-62-1272(Toyota Asuke Tourist Association)
Language available:

English/Japanese
Email:

kankou@asuke.info
Watch master artisans at work in Sanshu Asuke Yashiki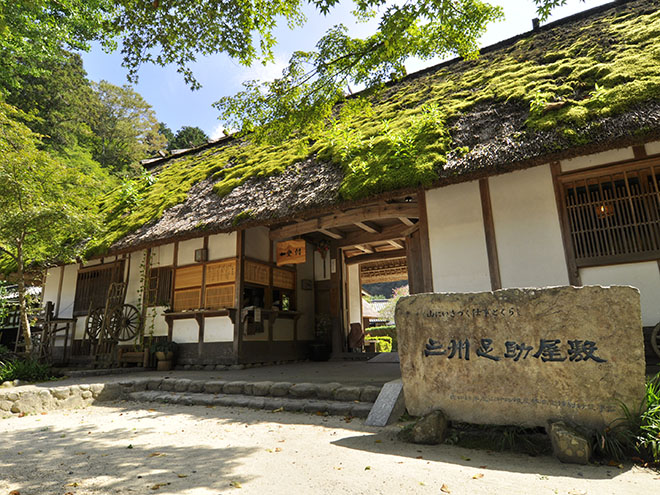 Learn about the region's rich artisanal heritage at Sanshu Asuke Yashiki. Located in the scenic Korankei Valley, a short walk from the Korankei Bus Stop, this open-air museum offers visitors the chance to see how people lived and survived centuries ago. Walking through the village, you'll feel like you've been transported back to another era. Peer inside the numerous traditional thatched-roof buildings to find skilled artisans hard at work.
Modeled after a self-sustaining village, these craftsmen are involved in everything from straw work, weaving, bucket making, basket making, umbrella making, dying, paper milling, charcoal making, blacksmithing, and woodworking. The craft workers will answer any questions you may have, and you are welcome to participate in workshops and try your hand at making something of your very own.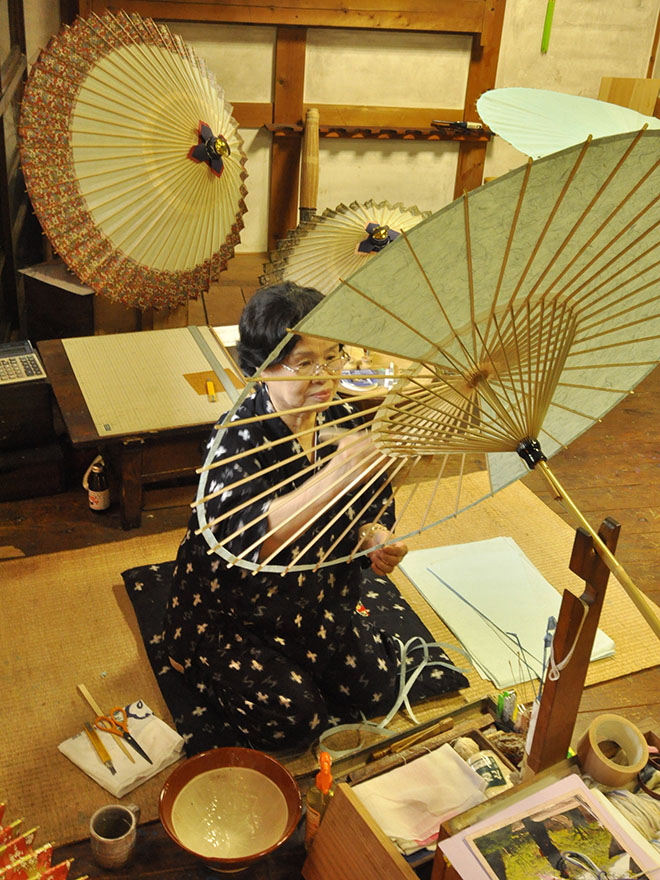 Available activities include making straw sandals, paper postcards, or sweet rice cakes. The paper knife-making lesson is particularly rewarding. Note that reservations are required, and the cost of lessons ranges from around 300 yen to 16,200 yen.
Name:

Sanshu Asuke Yashiki
Address:

Iimori-36, Asuke-cho, Toyota City, Aichi Prefecture
Experience name:

Traditional hands-on experiences
Experience hours:

Varies depending on program
Fees:

Straw sandal making (2,600 yen), paper postcard making (600 yen), sweet rice cake making (500 yen) paper knife making (1,500 yen.) All prices are tax included.
Requirements:

Some experiences require reservation (between 3-7 days prior)
Business hours:

9 a.m. – 5 p.m. (Last entry: 16:30)
Entrance fee:

Adults 300 yen, children 100 yen. All prices are inclusive of tax.
Closed:

Thursdays, Dec. 18, Dec. 23-Jan. 2
Languages available:

Basic English/Japanese
Tel for reservations:
Email:

yashiki@asuke.aitai.ne.jp
Stay in a 19th-century home that retains its traditional splendour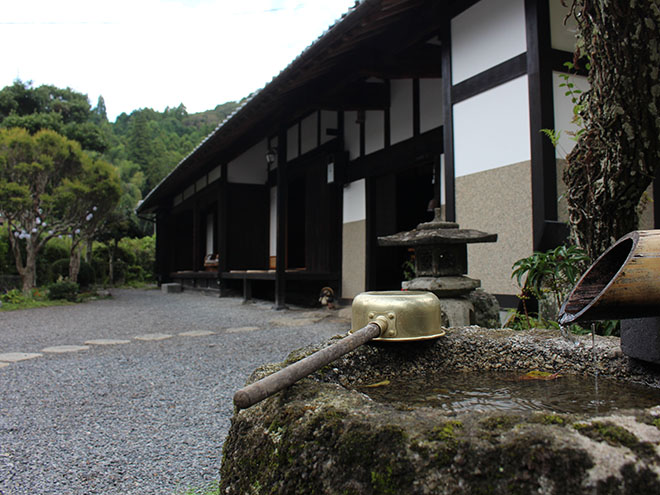 Get a glimpse into nineteenth-century Japan with a stay at the Ninja Mansion, located in the countryside approximately 25 minutes from Toyotashi Station by car. Despite its somewhat dynamic name, the home is the perfect place to relax with the family. Accommodating up to nine guests in three bedrooms, the charming property maintains its traditional design. Constructed in 1872, the seven rooms of the house are home to decorative tokonoma walls, a traditional irori hearth, a tea room, and a sunken kotatsu (a heated table arranged on the floor). True to its name, you will also find a secret ninja door hidden in the house, along with a rack for storing swords.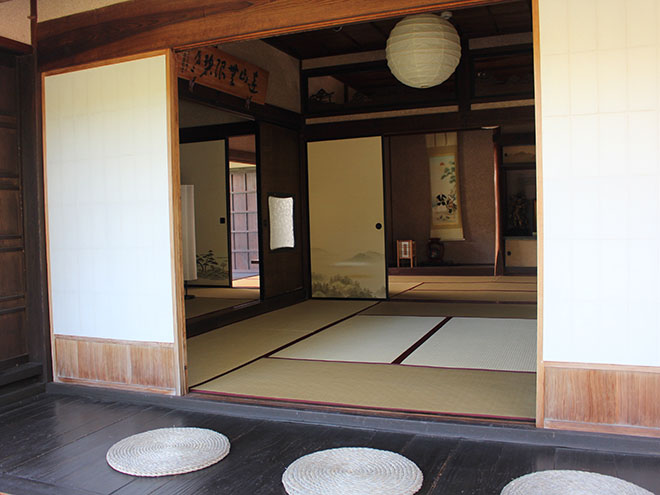 The owner, Michiko, who lives next door, is an accomplished cook. Savor her homemade dishes, which are heated on the irori stove. Her gohei mochi (grilled rice cake skewers) are a must-try delicacy for first-time visitors.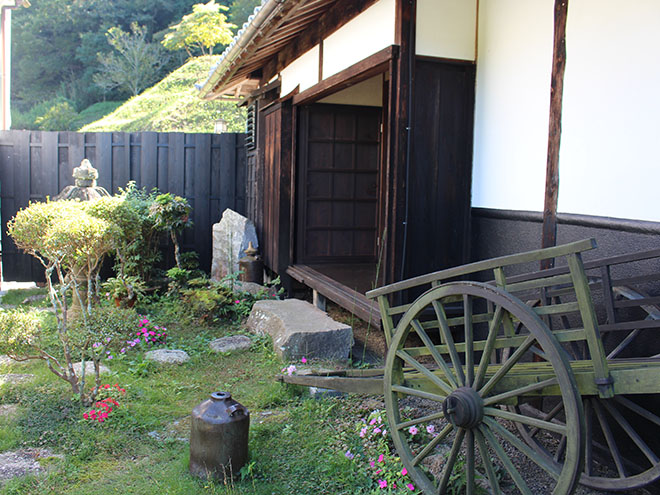 Reaching the Ninja Mansion requires a vehicle, so consider renting a car or taking a taxi.
Name:

THE NINJA MANSION
Address:

15 Hikage, Shimosagiri, Toyota City, Aichi Prefecture
Check-in:

5 p.m. – 10 p.m.
Check-out:

6 a.m. – 10 a.m.
Price:

28,000 yen (tax-included) for a group of four people. An additional charge of 7,000 yen per person (tax-included) will be applied from a fifth person, up to a maximum of nine people for 63,000 yen (tax-included).
Languages available:

Japanese / English
Tel:
Email:

info@ninjamansion.com