To truly understand something, you must experience it for yourself. Many people love Japanese crafts, but it can be difficult to gain a deeper understanding of them because of their storied histories and intricate techniques. Echizen Lacquerware Traditional Industry Hall in Kawada - which is part of Sabae City in Fukui Prefecture - offers a rare look into the fascinating world of Japanese lacquerware. The facility is much more than a simple museum; visitors can also meet and interact with lacquer artisans. These experiences are possible because the facility is spearheaded by craftspeople who belong to an organization known as the Echizen Lacquerware Cooperative, founded in 1980 to ensure fair wages and the high quality of Echizen lacquerware.
The 1,500-year story of Echizen lacquerware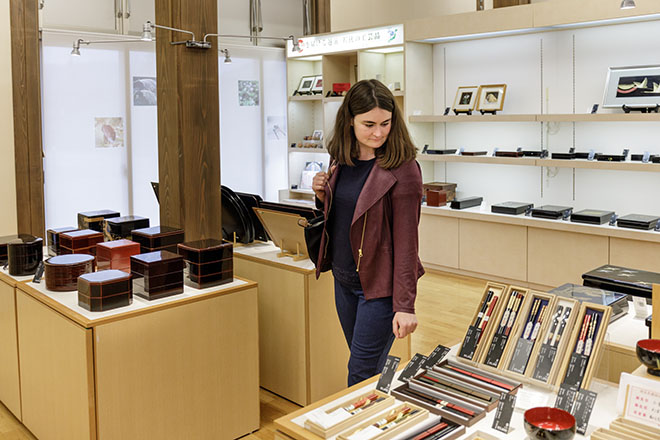 Exhibits trace the history of Sabae City - and especially the Kawada area - as a hub of lacquerware development in Japan (English translations are available by simply scanning QR codes on your smartphone). The area's lacquerware development began in around 1500, when a local artisan repaired the broken crown of the Imperial Prince (and presented him with a beautiful bowl). The Prince was so delighted that he championed the development of the local lacquerware industry.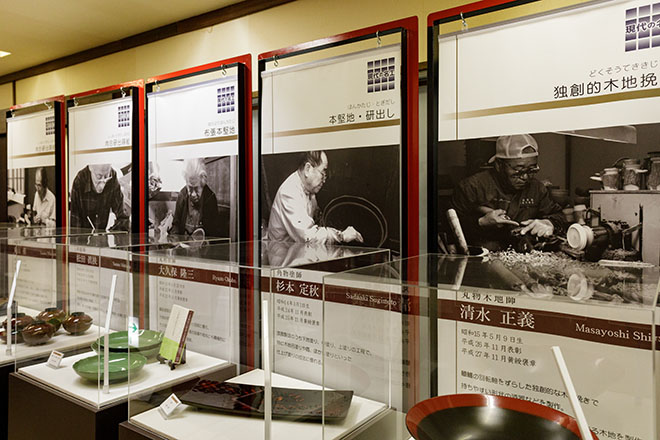 Locally produced lacquerware, known as Echizen lacquerware, has long been celebrated for its refined radiant luster and rich color schemes. In addition to traditional wooden lacquerware, the area also produces durable synthetic resin lacquerware. These hard-wearing goods account for over 80% of the lacquer used in Japan's domestic food industry, so there's a high probability you've used Echizen lacquerware if you've visited or lived in Japan.
Echizen Lacquerware Traditional Industry Hall Vice Director Yutaka Okubo emphasizes the importance of the hall as an artisan-driven facility, saying: "Most lacquer artisans in Japan work from their studios, which are usually off-limits to visitors. But the artisans in the cooperative come here to do actual work, providing a glimpse into their world. The artisans all have their own specialty within the production process, which spans woodworking, lacquer application, and decoration. Visiting on different days allows you to meet a variety of artisans and see the different processes and decorative techniques."
Gain newfound appreciation for lacquerware with a maki-e master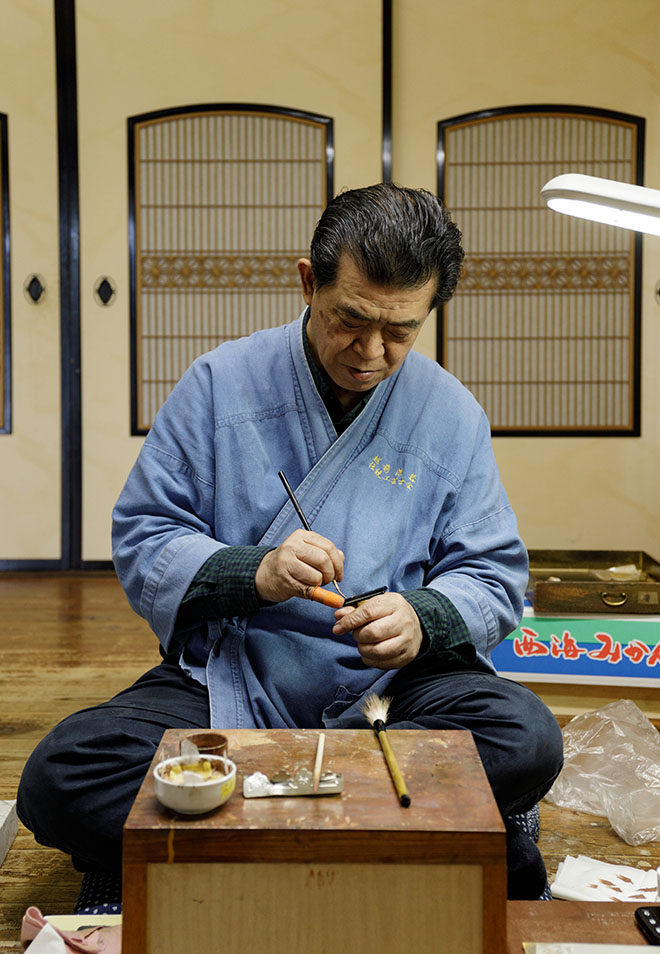 Rather than a single artisan performing all the steps involved in creating a piece, Echizen lacquerware is broken down into different roles. Each artisan undertakes years of training to specialize in one step, then receives an associated title. In one of the hall's atelier spaces, Koichiro Tsukada paints obidome - decorative accessories for the obi belts of kimono. He introduces his craft without missing a beat, explaining that he is a makie-shi, specializing in maki-e decorations created by sprinkling gold or silver powder on lacquer pieces using a special brush.
Other lacquerware-artisan titles include kiji-shi (woodworking specialist), nuri-shi (lacquer application specialist), and chinkin-shi (inlaid gold decoration specialist). Koichiro and the other members of the cooperative are designated Traditional Artisans, a title bestowed after clearing stringent requirements including an exam, over 12 years of experience, and residence in certain production regions.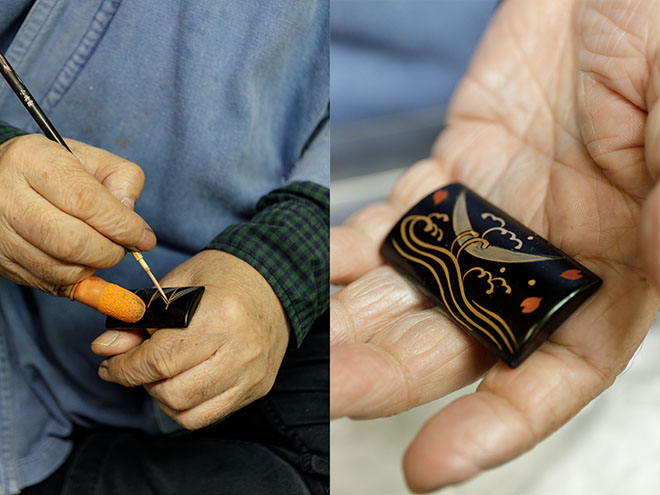 As a makie-shi, Koichiro is also responsible for creating his own designs for pieces, including bowls, trays, glasses, and watches. He draws them on paper, which he references as he works. He's noticed that Westerners tend to prefer small, simple designs on a wide expanse of solid color, until, that is, they visit the hall. "It's hard to appreciate the art you're looking at when you don't understand it," he says. "Don't you sometimes feel that way when you go to museums? But if you have a proper explanation, you can appreciate it. You learn to love it."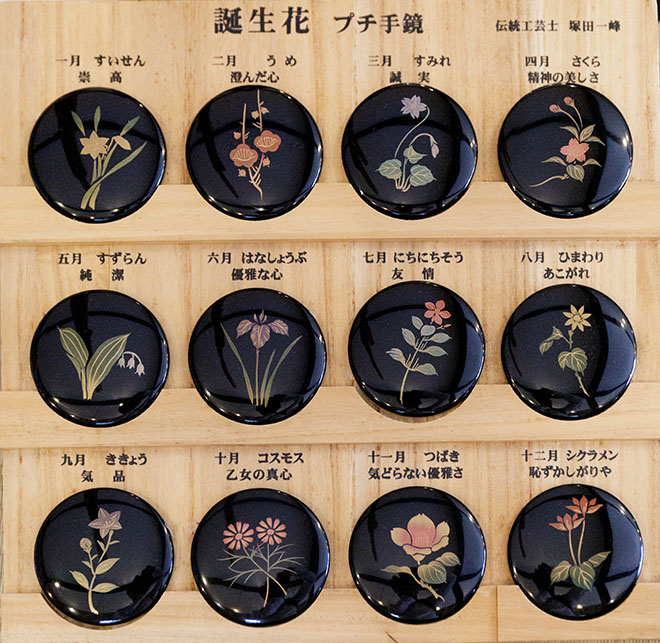 Koichiro especially enjoys creating pieces featuring shiki no hana (seasonal flowers). A culture of celebrating the seasons and their associated flowers has long flourished in Japan. Koichiro has created a series of mirrors with the associated flower for each month in Japan, as well as the putative personality type traditionally associated with people born that month. The mirrors make lovely gifts as they showcase Japanese culture.
Create your own lacquerware with help from a chinkin specialist
Try working with lacquerware yourself at one of the hall's workshops. Each workshop is taught by an artisan from the Echizen Lacquerware Cooperative who specializes in a specific skill. Choose from e-tsuke (drawing), chinkin (carving), or fuki-urushi (lacquer application and wiping). Mitsugu Sasaki is one of four chinkin-shi artisans who teach the chinkin workshop.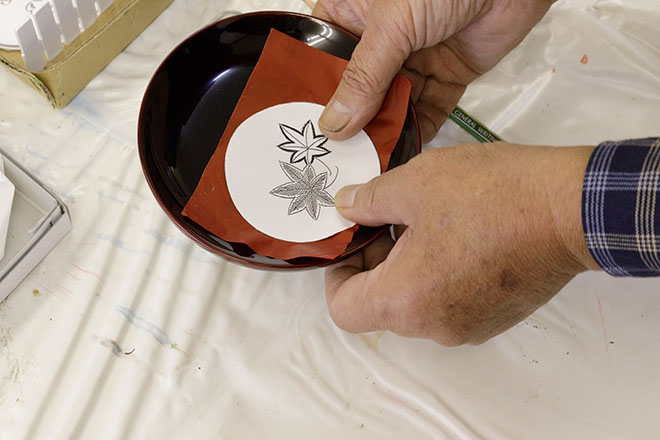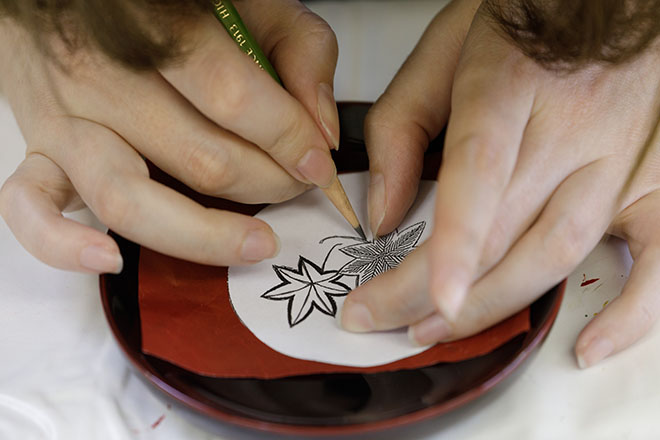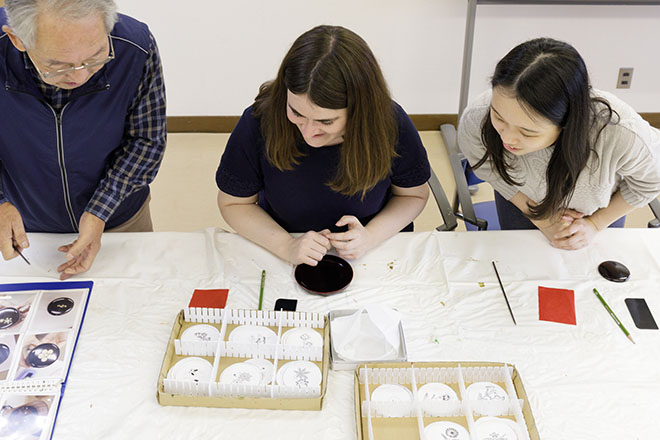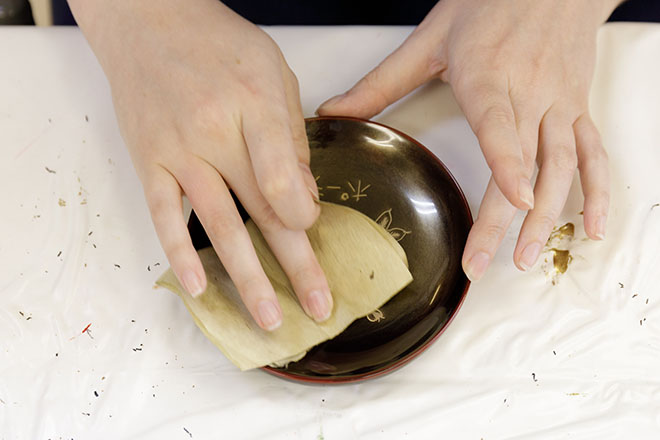 Mitsugu has more than 60 years of experience working with lacquerware, following in his father and grandfather's footsteps. He'll guide you through the steps of applying a chinkin design on a small lacquer mirror or plate using a special chisel.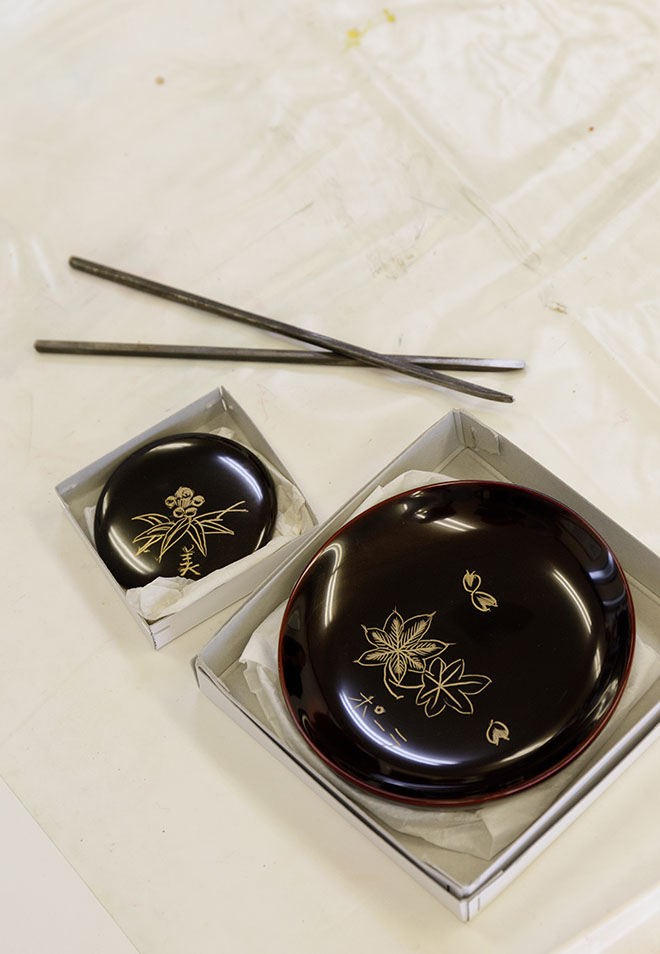 It's an eye-opening insight into a very difficult technique. If you're a little disappointed with your efforts, don't worry - Mitsugu will add a few deft strokes to your work and transform it into a pretty piece perfect as a gift or for decorating your home.
Name:

Echizen Lacquerware Cooperative
Address:

40-1-2 Nishibukuro-cho, Sabae, Fukui
Program:

Lacquerware-making
Business hours:

9 a.m.–5 p.m.
Closed:

Fourth Tuesday of each month (or the following weekday if Tuesday is a national holiday); Dec. 29–Jan. 1
Fees (tax included):

1,500 yen for painting program (e-tsuke); 2,000 yen for carving program (chinkin); 2,500 yen for applying/wiping program (fuki-urushi)
Requirements:

Reservations must be made at least two days in advance (minimum of two people; maximum of nine). For groups of 10 people of more, reservations must be made at least 10 days in advance. Please note that there may be times when the venue is not available due to special events, etc.
Languages available:

Japanese/Basic English
Email:

info1@echizen.or.jp
Enjoy lunch surrounded by beautiful lacquerware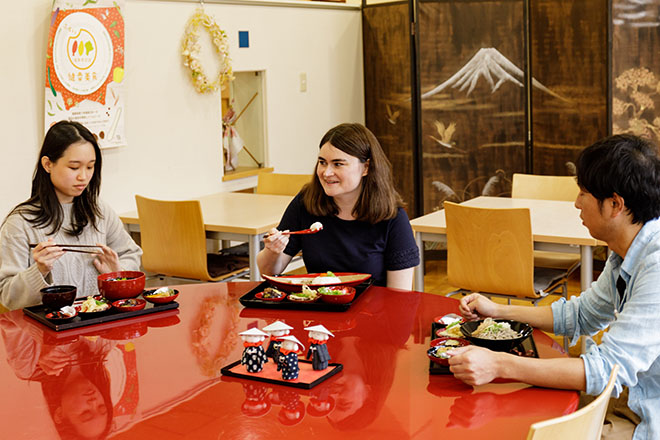 A meal at the on-site Wanwan Cafe is the perfect way to finish your visit to the hall. The cafe brims with shining lacquerware, including the plates, chopsticks, cutlery, tables, and decorations. Many of the pieces, especially the plates and coffee cups, are available for purchase in the gift shop, making the cafe an ideal spot to "try before you buy."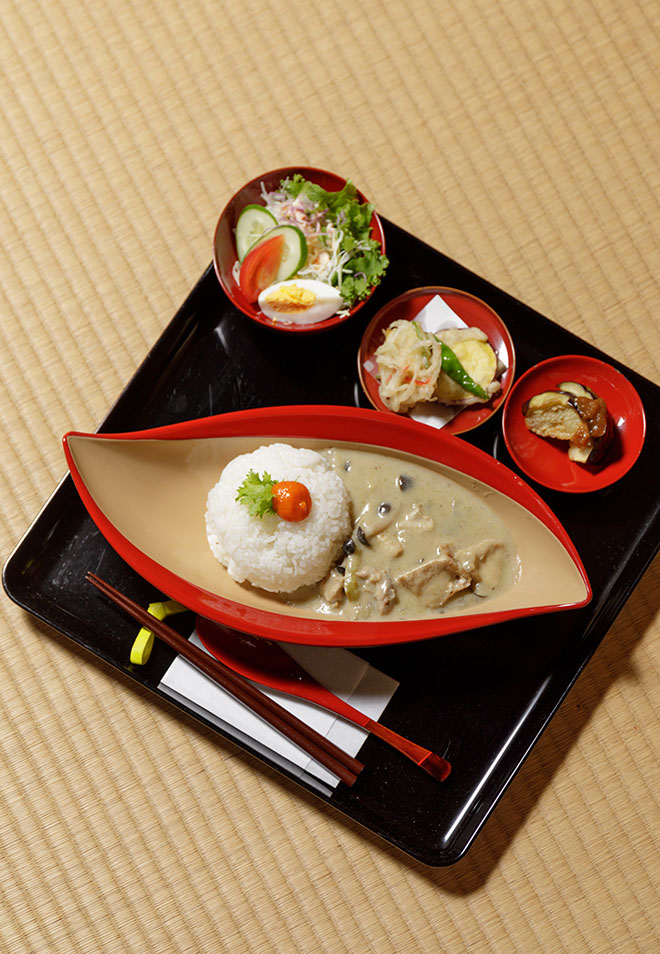 The stylishly plated main dishes include local favorites like udon, soba noodles, rice bowls, and green curry with an assortment of side dishes such as tempura, salad, eggplant, and pickled vegetables. Try the local delicacy, yama-uni, a spicy red paste made with yuzu citrus fruit and red pepper. Mix a dollop into your meal for a unique spicy citrus kick.
Name:

Echizen Lacquerware Traditional Industry Hall
Address:

40-1-2 Nishibukuro-cho, Sabae, Fukui
Business hours:

9 a.m.–5 p.m.
Price per person:

Free of charge
Artisan Performance:

10 a.m.–12 p.m., 1 p.m. – 4 p.m. Varies depending on performance.
Closed:

Fourth Tuesday of each month
Languages available:

English/Japanese
Name:

Wanwan Cafe
Address:

40-1-2 Kawada, Sabae, Fukui (Echizen Lacquerware Traditional Industry Hall)
Business hours:

9:30 a.m.–4:30 p.m.
Closed:

Tuesdays
Languages available:

Japanese
Echizen lacquerware: steeped in history, striving for modernity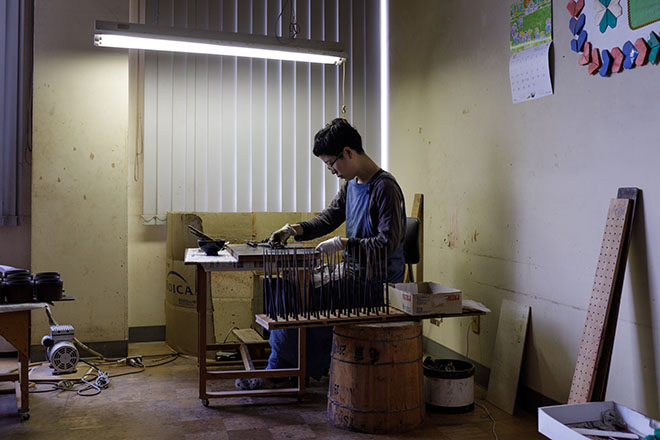 Artisans often undertake different steps in the lacquerware-making process. For example, Tsuchinao lacquerware is created by professional craftsmen who each complete a different part of the process. Young staff work under the supervision of expert technicians and craftsmen, learning traditional techniques and creating new products - often with a fresh approach. Creating attractive pieces that reflect the modern age - such as umbrella-shaped bottles and tumblers - allows those unfamiliar with lacquerware to enjoy the beauty of the craft, too. You can visit the Tsuchinao Shikki Corporation to find out more about how they create such beautiful work.
Name:

Tsuchinao Shikki Corporation
Address:

6-1-2 Katayama-cho, Sabae, Fukui
Business hours:

9 a.m. - 6p.m.
Closed:

Sundays, second Saturday of each month, summer season, New Year holidays
Languages available:

Japanese/Basic English