Located in south-central Hokkaido, Tokachi is one of Japan's most important agricultural regions. Indeed, the area is practically synonymous with such staples as potatoes, wheat, corn, rapeseed, soybeans, sugar beet and other crops. While in the area, be sure to try one or more of the many hands-on, farm-related activities on offer, including harvesting potatoes and making tofu.
Tofu: from soybean to multi-dish meal in 3 hours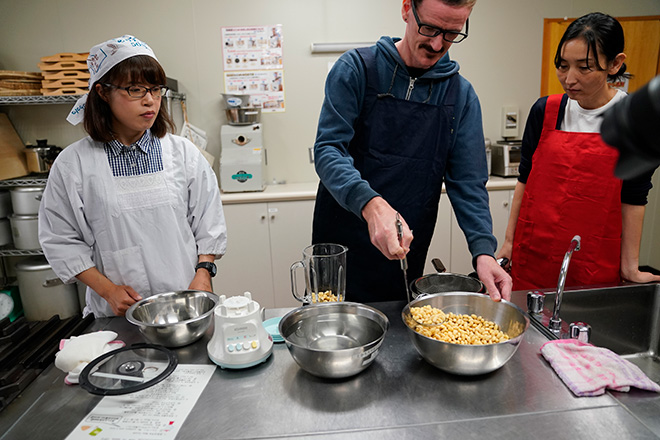 To try your hand at tofu-making at Tokachi Agriculture Museum Obihiro Visitor Center. The class (2,600–5,100 yen) is one of the center's most popular programs and uses soybeans grown on local farms, including Tokachi Toyama Farm.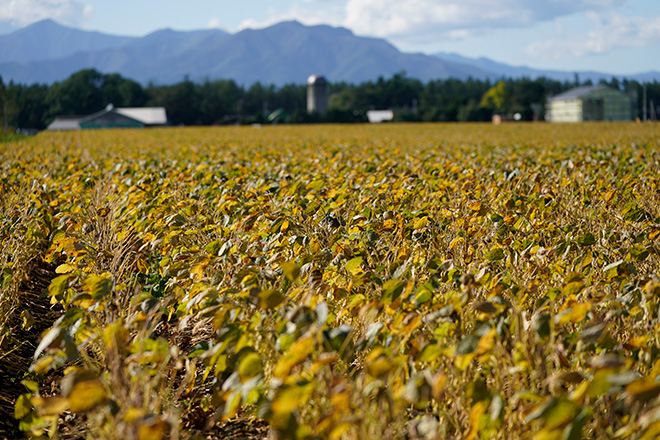 Booking ahead is necessary for the tofu-making experience, allowing staff to pre-soak the rock-hard soybeans, which consequently soften and swell to more than twice their original size.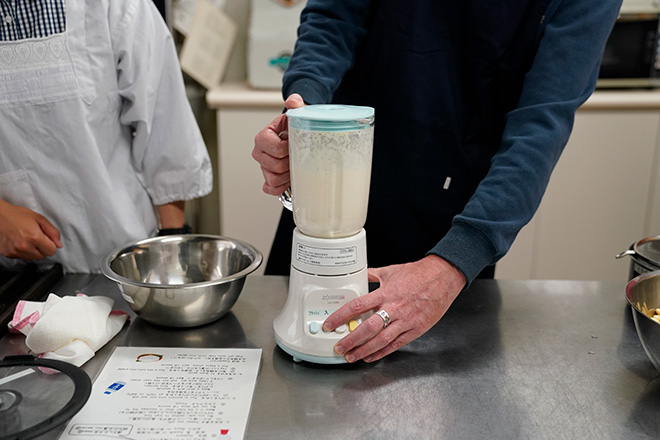 Making tofu can be a somewhat messy procedure so staff will supply you with an apron (though the mess-making is part of the fun). The next step is to use a mixer to blend two ladles of soybeans with three ladles of water, a process you'll have to repeat several times to use up the 300 grams of beans. The mixture is ready when it reaches a smooth, yogurt-like consistency.
Elbow grease required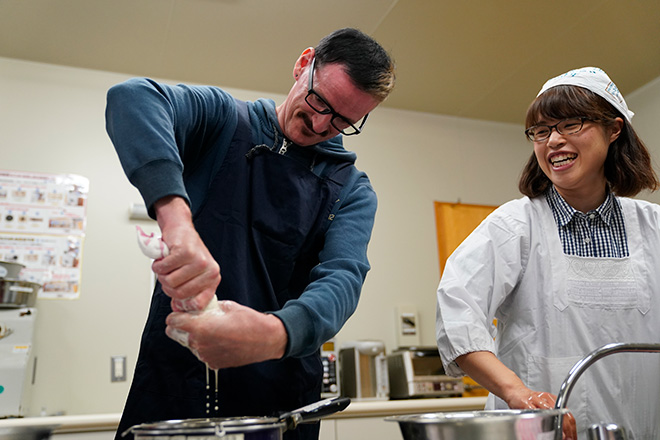 You'll need to flex your muscles for this next stage - straining the mixture through a thick, dish towel-like cloth. "Put some effort into it," jokes tofu-making teacher Narumi Oshima. "You need to try and squeeze every last drop of liquid through the cloth." (The liquid in question is soy milk, and the soft, pulpy material left inside the cloth is okara, the insoluble part of the soybeans.)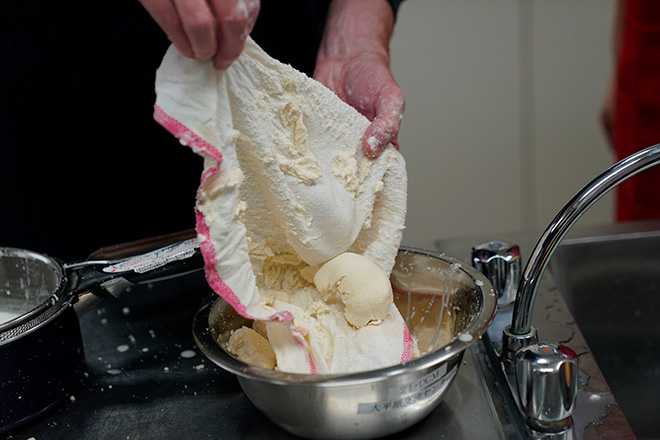 After heating and cooling the liquid, a small amount of magnesium chloride is added to help it thicken. Stick a finger into the mix and sample the flavor - you may be pleasantly surprised: Tofu-making whiz Narumi usually is. "Handmade tofu tastes different every time, even if the ingredients are exactly the same," she says. "I'm not sure exactly why, but it's probably something to do with variations in the temperature of the soy milk, and the amount of coagulant that gets added."
Enjoy the fruits of your labor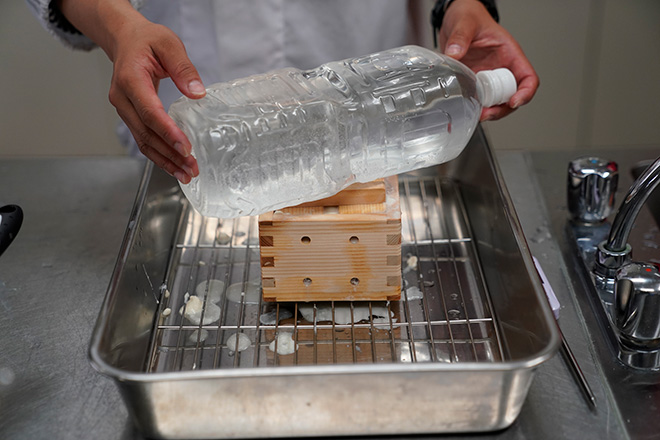 The final step is to ladle the semi-set mixture into a cloth suspended over a specially made wooden tofu box. When filled to the brim, a heavy weight (in this case, a two-liter bottle of water) is balanced on top of the box lid to compress the tofu and squeeze out the last drops of liquid. You can push down on the weight, too.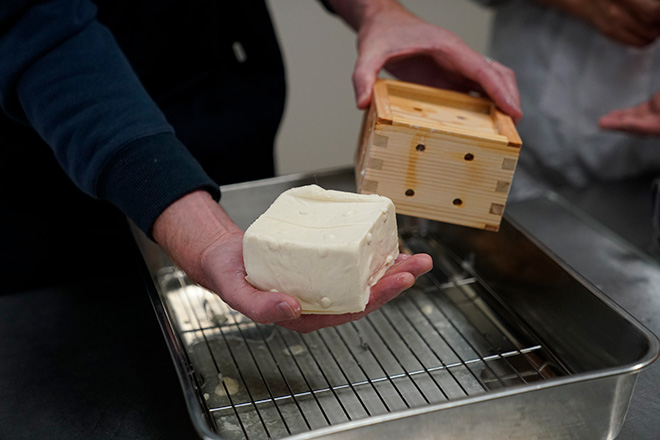 But spreading the pressure is crucial: if you push down overly hard on one side, it will cause hot tofu to spurt out over aprons, tables and floors. "Don't worry, we can fix it," laughs seen-it-all-before Narumi, who proceeds to save the day with some expert repacking.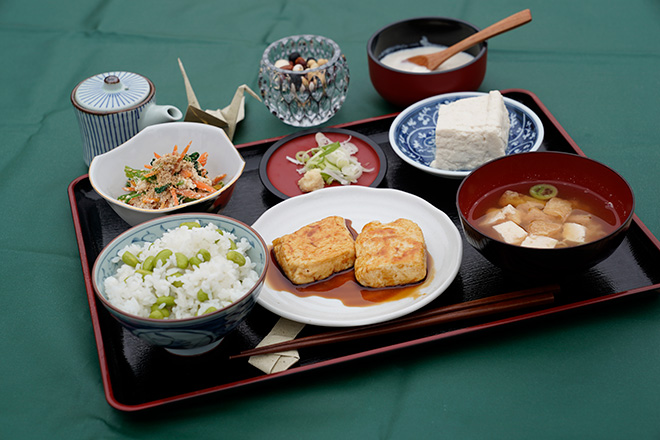 The best part of the tofu-making occurs at the very end: Staff use your tofu to craft a delicious, multi-dish, tofu-themed meal, which is included in the price. It's difficult to think of a tastier educational activity.
Digging up golden treasure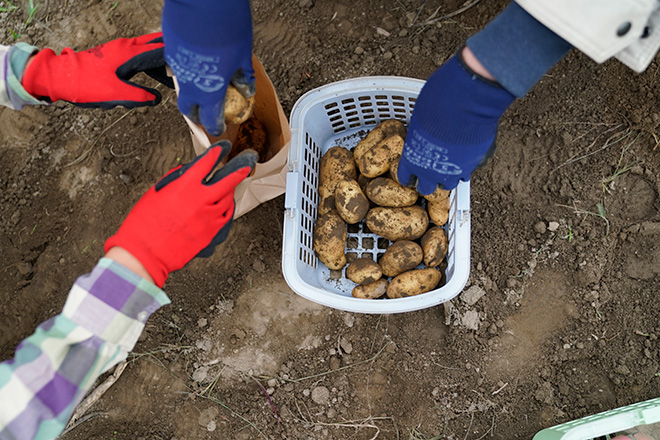 If you prefer an outdoor setting, visit the small field behind the main museum building to try a spot of potato harvesting. From the end of July through October, visitors can dig up and take home several different kinds of potato (up to around 2 kilograms) or send them as a gift. Staff will supply wellington boots and thick gloves so you don't need to worry about getting too dirty.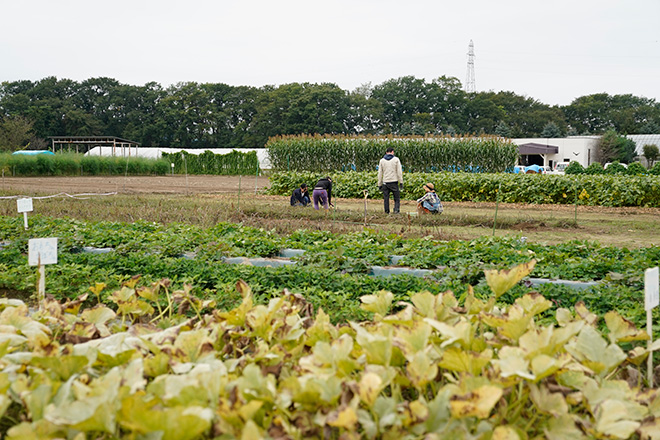 As you dig up each variety of spud using a traditional "bear-claw" tool, resident potato expert Mikiko Sawano explains its name and typical usage. "Notice the large size and roundness of these potatoes," she says as a cluster of Toyoshiro spuds is unearthed. "They're perfect for making crisps."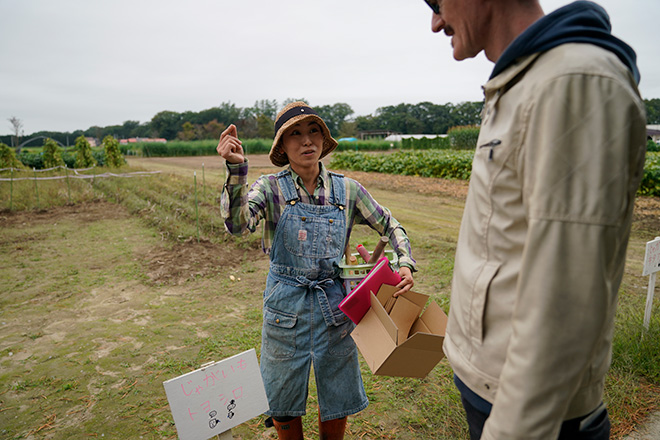 But don't expect all five varieties to conform to the round, golden-skinned image of a typical potato - two plots brim with dark pink and dark purple varieties (Northern Ruby and Shadow Queen, respectively), both of which are long and cylindrical.
Penny for one's thoughts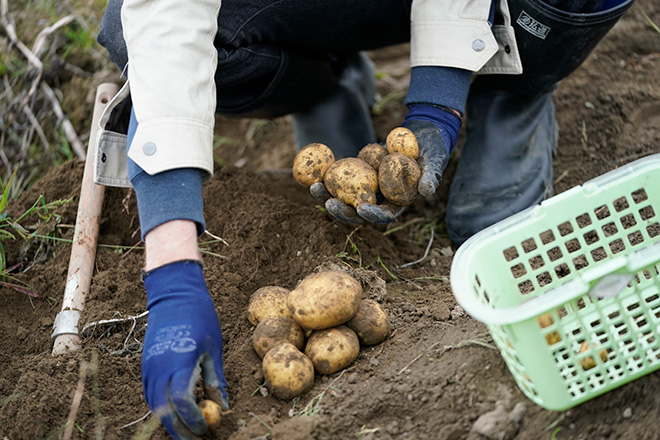 As the wind rustles through the nearby crops and birds chirp in the background, it's easy to fall into reflective mood as you dig the soil with your hands and simple wooden-handled tool. If it's something you've never done before, you may find there's a great sense of satisfaction in pulling food from the ground. It's also thought-provoking to learn that each plant and cluster of starchy tubers originated from a single potato cut in half and merely stuck in the earth.
Connecting with people through hands-on agricultural activities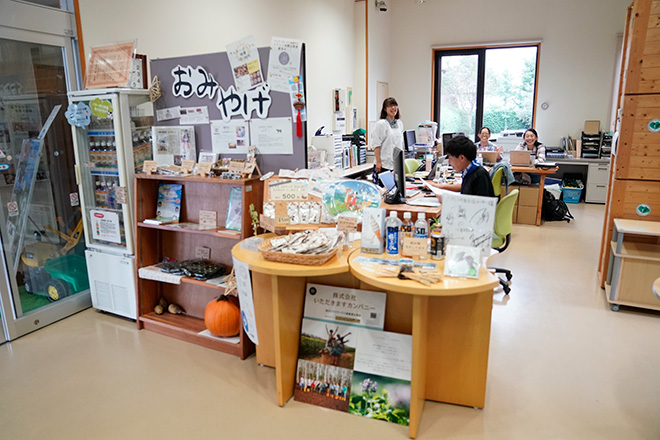 The Itadakimasu Company is a relatively new firm that is pioneering agritourism in the Tokachi area. Based in the Tokachi Agriculture Museum Obihiro Visitor Center, the company offers various experience-based learning programs, picnics and walking tours in and around the fields of working farms. Picnics are held from May through October. Founder and company president Fumiko Ida, who started the business in 2011, explains the genesis of her company: "When my daughter was around two, she refused to eat vegetables.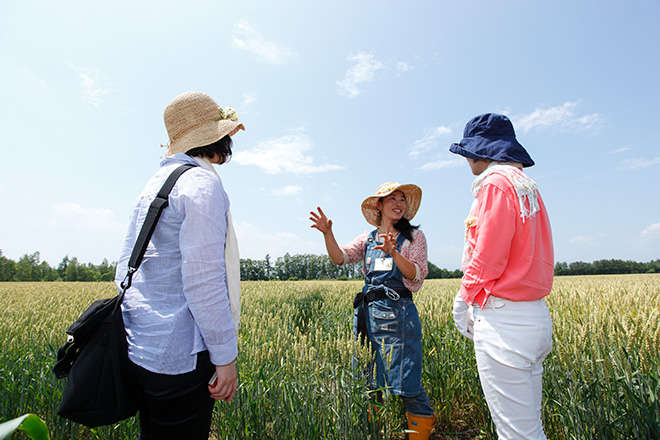 "One day, however, we were walking in a friend's crop fields and she pulled up a turnip. Later, she was more than happy to eat the food that she'd harvested herself. It was then I realized the power inherent in the fields all around us." Fumiko notes that it's often difficult for farmers and farm workers to deal with foreign-language inquiries. Her firm therefore fosters tie-ups with travel companies who can manage bookings and help bring visitors to the facility and the wider area.
Other attractions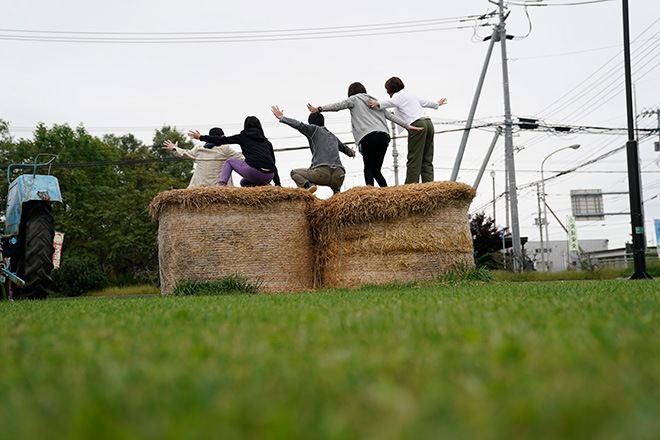 While at the Tokachi Agriculture Museum Obihiro Visitor Center, take the time to learn about the region's agricultural history by browsing the exhibits and chatting with the knowledgeable staff. Though English support is limited, staffers are happy to communicate with overseas visitors as best they can. Incidentally, the two large hay bales and vintage tractor that sit outside the facility provide the perfect photo spot to capture that rustic-Japan feel.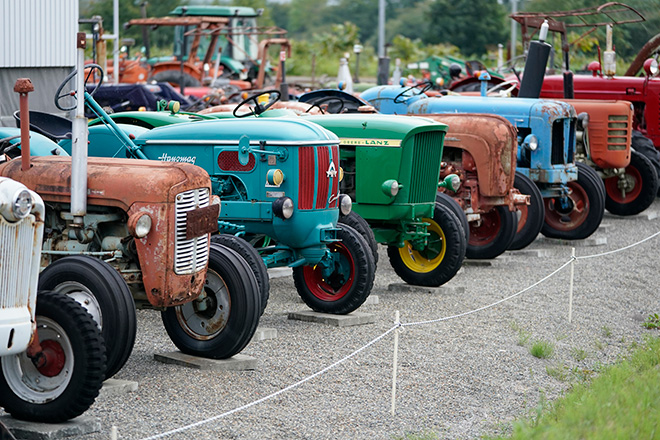 If you're feeling particularly energetic, it's permissible to climb atop the hay bales to mug for the camera. But be warned - getting up is much harder than it looks. You can also enjoy a unique insight into Obihiro's farming past with a visit to the adjacent Tokachi Museum of Farm Machinery and Implements. Guided tours are available, and, if you book ahead, you can even try your hand at tilling a field with a horse-drawn plow.
Organization name:

Itadakimasu Company
Organization address:

29-2-5 Nishi 12 Jominami, Obihiro, Hokkaido
Activity address:

Tokachi Agriculture Museum Obihiro Visitor Center, Kisen-61, Kawanishicho, Obihiro, Hokkaido
Activity:

Tofu-making
Dates/times:

9 a.m.–5 p.m. (Closed Monday, public holidays)
Price per person:

3,100 yen (tax-included) (no lunch); 5,100 yen (tax-included) (lunch included)
Notes:

Reservations must be made at least three days in advance
Activity:

Potato harvesting
Dates/times:

Late July through October, 9 a.m.–5 p.m. (Closed Monday, public holidays)
Price per person:

2,600 yen (tax-included)
Notes:

Reservations must be made at least one day in advance
Languages available:

Basic English/Japanese
Email:

info@itadakimasu-company.com