Head off in any direction from central Obihiro in the south-central Hokkaido and it isn't long before you hit the postcard-perfect scenery of Tokachi Subprefecture. To get a first-hand feel for the area's long history of farming, stay on a local farm, and interact with the family as they go about their daily lives. And, for an overview of the fantastic diversity of flora that can grow in the area, visit one of the district's most famous gardens - after a luxury buffet.
Visit an authentic working farm in Hokkaido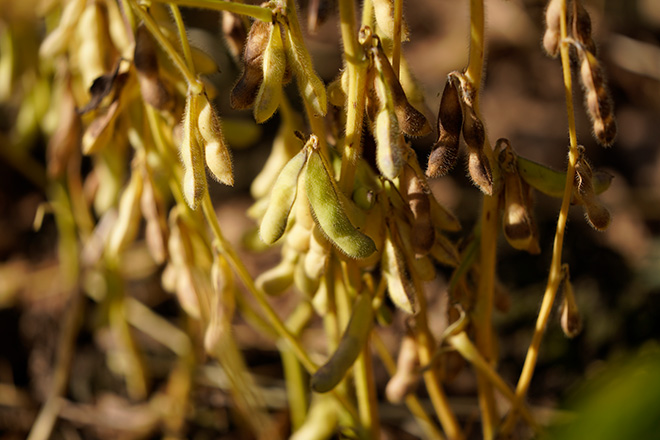 For an enjoyable and authentic farm-stay experience, take a break at Tokachi Toyama Farm, one of the area's most notable agricultural outlets. With fields spreading over 36 hectares, it's been operating for more than 100 years. To reach the farm takes about 30 minutes by car from Obihiro-Tokachi Airport. The farm, run by Takayoshi Toyama and his family, offers two types of accommodation: Guesthouse Route 55, a basic but spotless and comfortable one-room cabin, and Guesthouse Biei, a larger self-contained holiday home.
Sample the rustic pleasures of Guesthouse Route 55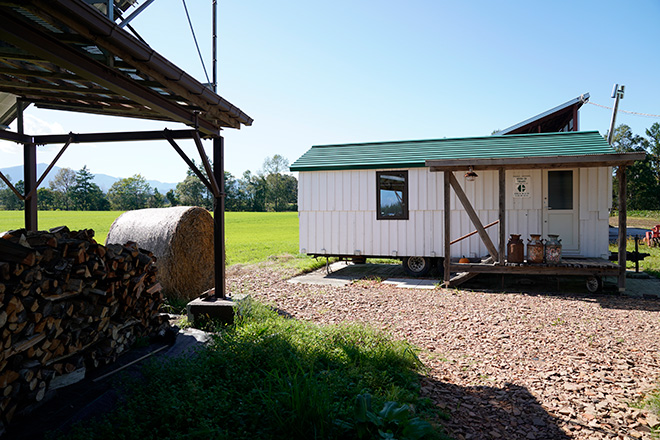 Though small and unassuming, Guesthouse Route 55 boasts an interesting history. The Toyamas hand-built it from scratch in 2013 and 2014 on the site of a horse stable that was originally constructed in 1954. To imbue the cabin with a sense of history, the family used rafters and other wood from the stable. Step inside, and you'll immediately warm to the homely atmosphere.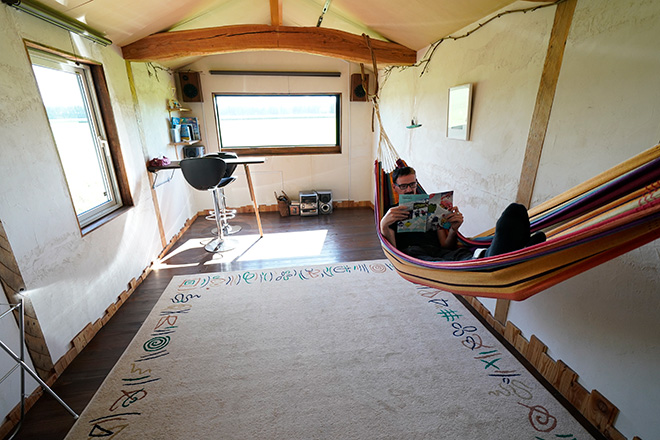 The large window at the end of the cabin affords spectacular views over the local countryside, with the magnificent Hidaka Mountains in the distance. The space is suitable for four guests. Amenities include a relaxing hammock, wood-burning stove, music system, small table and chairs, and futon for sleeping (on the floor). Shower and toilet facilities are available in the hosts' main house. Also, be sure to set your alarm in plenty of time for the 7 a.m. shared breakfast.
Enjoy the spacious charms of Guesthouse Biei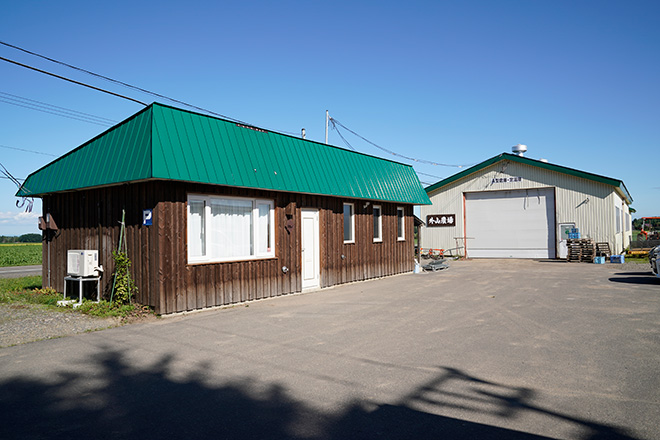 In contrast, Guesthouse Biei is a larger, two-roomed building, perhaps more suited for families with children (up to five people). The building features two large co-joined rooms: The sleeping room has two camp beds (as well as futons for sleeping on the amply sized floor), while the living-room/kitchen - built in 2018 - has a fresh and modern feel.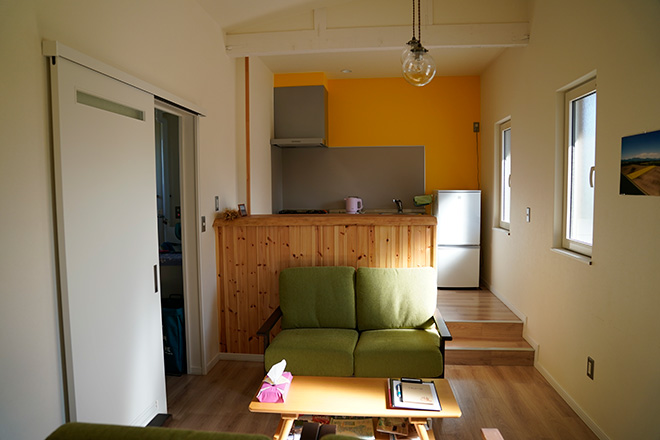 A high ceiling helps create a sense of openness, while the en-suite bathroom adds an extra layer of comfort. Guesthouse Biei allows you to enjoy as much self-sufficiency as you desire, while still having the option to spend time with the Toyamas in their family home. Before leaving, be sure to sign the Guesthouse Biei guestbook, which features comments from many satisfied visitors from Japan and overseas.
Fun, friendly, family makes for a memorable trip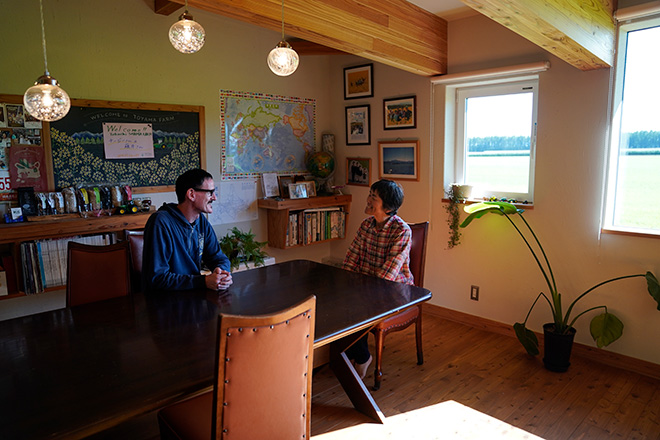 Takayoshi's mother, Seiko Toyama, has a warm and bubbly personality, and her friendly chat will immediately put you at ease. "It's marvelous to speak with different people and get an insight into different ways of thinking," she says during a typically genial chat around the large kitchen table in the family house. "I'm so thankful that people choose to spend time here." While confessing to being less-than-fluent in English, Seiko uses a translation app on her smartphone to great effect. "Most foreign visitors can speak some Japanese, which helps a lot," she adds with a laugh.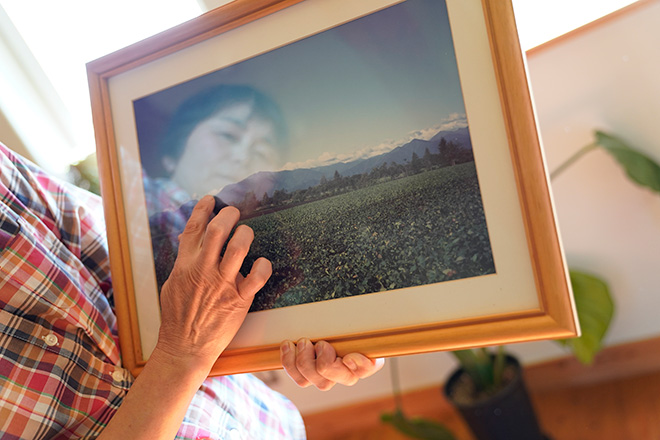 Other family members include Takahiro's wife, Akiko - who speaks some English and is happy to recommend local attractions and points of interest. The couple's young daughter, Keina (born March 2018) will doubtless bring a smile to your face, too. Keina's great-grandfather, Tokuo, meanwhile, is in his 80s, but retains a sharp wit and likes nothing better than joking with guests.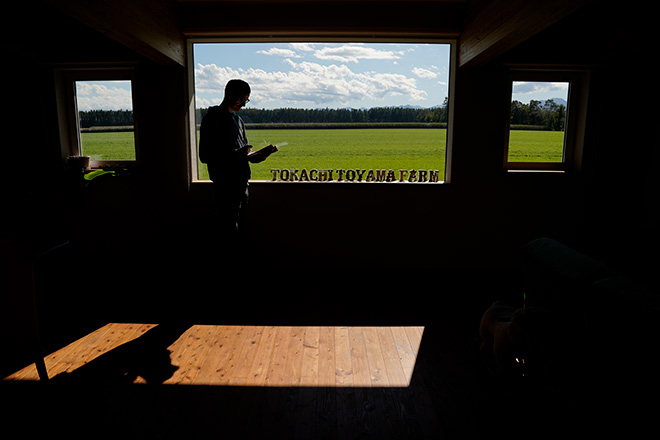 The Toyamas' home is warm and welcoming. It features a massive window that runs along one side of the living-room and commands greats views of the surrounding area, providing the ideal backdrop for photographs with your amiable hosts. (Please note that staying on the farm may not be possible during certain parts of the year when the family is busy with agricultural work.)
Name:

Guesthouse Route 55/ Biei
Address:

128, Nishi 6 Sen, Bieicho, Obihiro, Hokkaido
Check-in:

5 p.m.–10 p.m.
Check-out:

10 a.m.
Price per person for Guesthouse Route 55:

4,200 yen (tax-included) (breakfast included)
Price per person for Guesthouse Biei:

4,500 yen (tax-included) (no breakfast)
Notes:

Guesthouse Route 55 closes in September during the harvest season
Languages available:

Basic English/Japanese
Savor a sumptuous buffet and stroll around flower-bedecked grounds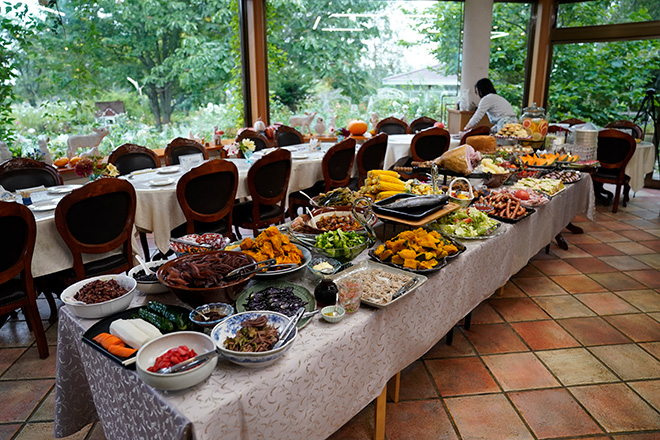 While staying at Tokachi Toyama Farm, be sure to make the short trip to Shichiku Garden in Biei, Obihiro, where you can tuck into a luxury all-you-can-eat buffet breakfast served daily in the restaurant. The foods on offer - around 40 items - differ based on the season, but flavorsome local produce is always on the menu, ranging from vegetables sourced from nearby farms to fish caught in regional rivers. Baked goods are freshly prepared on the premises, too.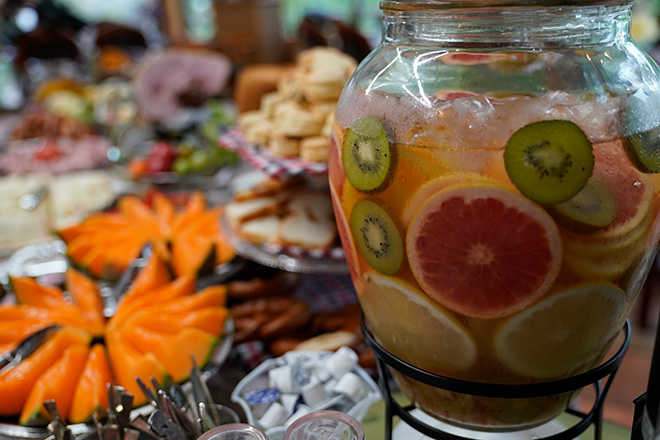 Reservations are necessary for the buffet. Restaurant staff say English-language bookings and queries are more than welcome by email but stress that replies may not be textbook-perfect in terms of grammar. Other food is available throughout the day. Tickets for the garden, meanwhile, are available on-site. After filling up on the buffet, take in the vibrant colors and fragrant smells on offer in the garden, which change along with the seasons.
Colorful flowers, relaxing walks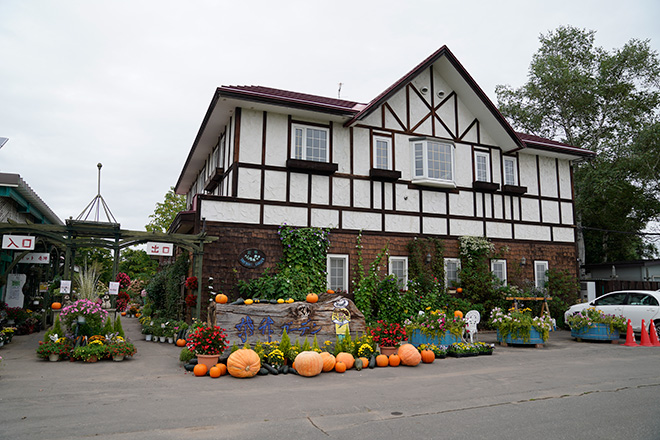 Shichiku Garden is a flower lover's paradise. The facility's grounds range across some 5 hectares and showcase over 2,500 species of flower. The garden, which launched in 1989, is the brainchild of Akiyo Shichiku. She says it was her long-cherished dream to start a flower garden in the area - a goal she finally realized when she was in her 60s. Now in her 90s, Akiyo still regularly greets guests with an enthusiastic smile when they visit her beloved garden. "People thought I was a little crazy to embark upon such a project," she says with a smile. "But I was very determined - I still am!"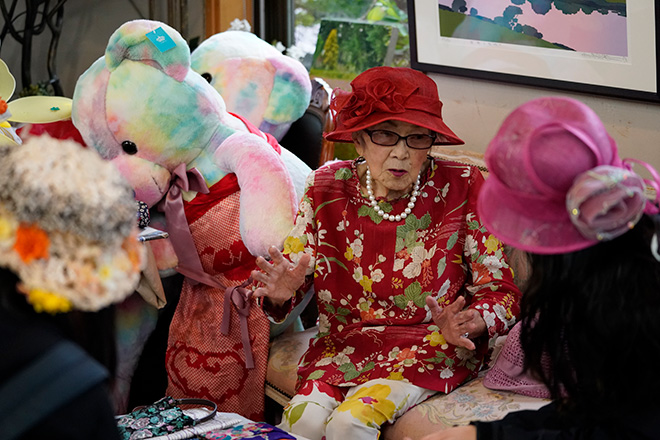 Wearing colorful clothes and invariably sporting an attractive hat, Akiyo loves nothing more than sitting at a small table in the garden's on-site restaurant and conversing with her guests. If you're lucky, you might also be present when she conducts one of her regular multi-lingual sing-alongs. (Tip: When chatting with Akiyo, it's considered polite to don one of the many hats on the table at which she sits. Not only is this a great way to break the ice, it's also great fun.)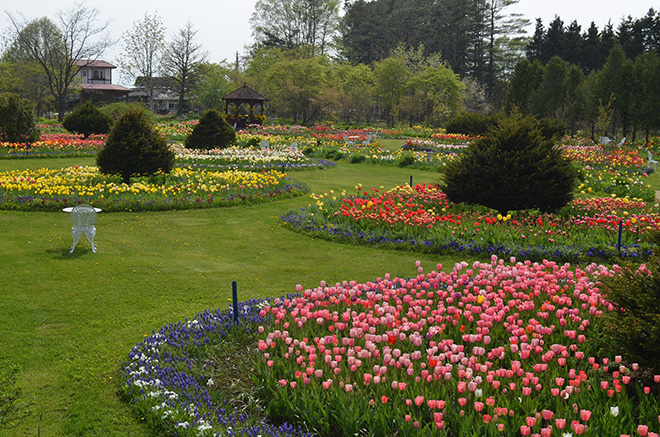 Staff advise that summer is the best time to visit the gardens, bloom-wise. Gentle music flows from speakers around the main building, further enhancing the pleasant, relaxing mood as you stroll through the grounds. In addition to the dizzying array of flowers, the garden is dotted with buildings and decorations, including gazebos, trellised arches, garden ornaments, several ponds that teem with life, and even a fenced-off dog run.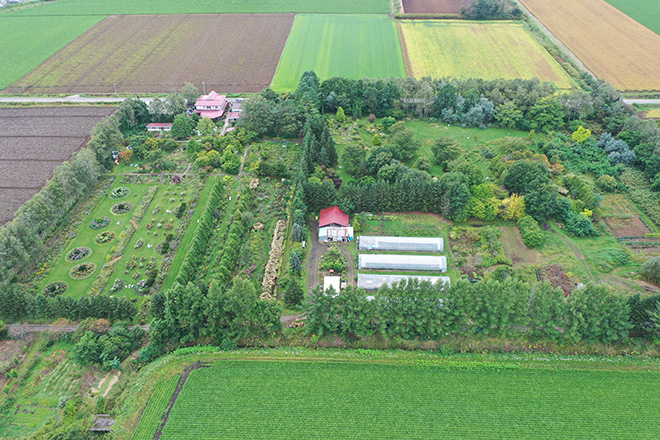 There is also a small, weather vane-topped prayer room for Muslim visitors. Round off your trip with a visit to the garden gift shop, which sells a wide variety of goods, including books, seeds, postcards, and various garden-themed souvenirs.
Organization:

Shichiku Garden
Address:

Nishi 4 Sen-107, Biei, Obihiro, Hokkaido
Dates/times:

8 a.m.–6 p.m. (Closed from November to mid-April)
Price per person:

1,800 yen for breakfast buffet (served 8:30 a.m.–10 a.m.); entry to the garden is an additional 1,000 yen(tax-included)
Notes:

Reservations required (breakfast buffet)
Language available:

Basic English/Japanese