Hotel Winery Hill sits quietly among the verdant slopes and thick forests of the Izu Peninsula in Shizuoka Prefecture. The hotel boasts many on-site amenities, including hot spring baths, an outdoor swimming pool, restaurants, gift shop, and sports grounds. The hotel is owned by the Shidax Corporation, which also operates the nearby Nakaizu Winery Chateau T.S.
Getting to know Hotel Winery Hill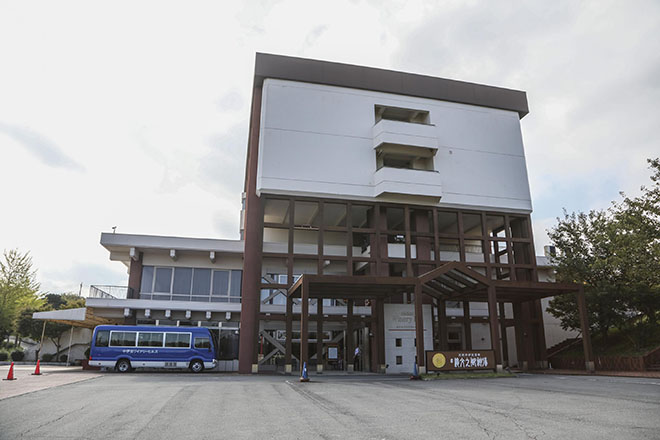 Though Hotel Winery Hill is in a relatively secluded spot, it only takes about 15 minutes by car or taxi from Shuzenji Station in Izu City, or about 30 minutes from Atami. Alternatively, hop aboard one of the regular (and free) shuttle buses that run from the Shuzenji Station. Whichever route you choose, the drive through the spectacular Shizuoka countryside makes getting to the hotel a pleasure.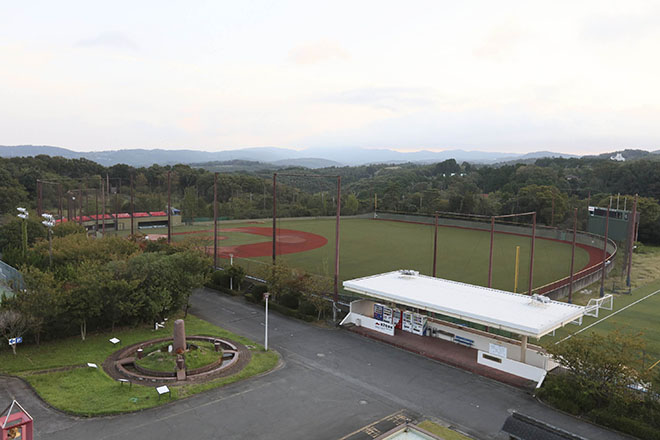 Arriving in the car park, you'll immediately notice the impressive range of sports facilities, including a baseball field, soccer/rugby pitch, and tennis courts, making the hotel a popular destination for sports clubs. The hotel's wooden-themed entranceway leads into a large and spacious open-plan lobby area, incorporating the front desk, a rest/waiting area, and a large gift shop.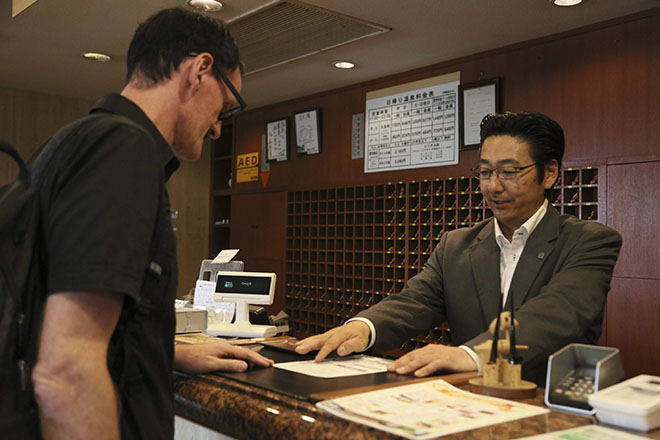 The hotel's check-in staff are happy to talk you through the various packages that are available. You can choose from various-sized rooms: The Western-style twin and double rooms are amply sized and comfortable. Some larger rooms, meanwhile, combine Western-style beds and a sitting area, with a separate tatami-floored room suitable for relaxing and sleeping.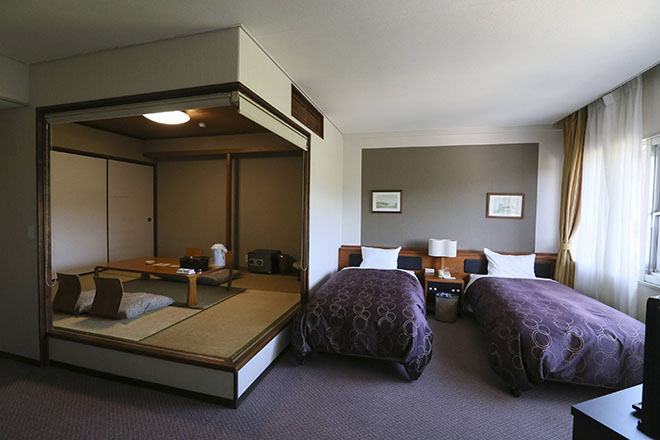 If you need privacy, you can use the blinds or sliding doors to separate the two spaces. Depending on your chosen plan, you may find a bottle of complimentary wine on the table.
Wash away your weariness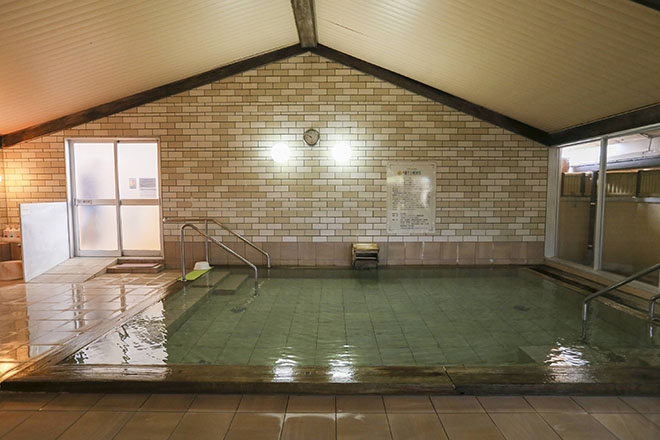 Activities such as a visit to Nakaizu Winery Chateau T.S. and/or the hotel-affiliated Sunshine Stables to learn how to ride may well leave you feeling a trifle fatigued. Hotel Winery Hill has the perfect solution, however: Rejuvenate your tired muscles and soothe your troubles away at Joumon-no-Goshinyu, the hotel's high-class onsen (hot spring) baths. Clothing isn't permitted in the baths, so there are separate areas for men and women, both of which sport indoor and outdoor bathing areas. Plastic baby baths for diaper-age children are available, too.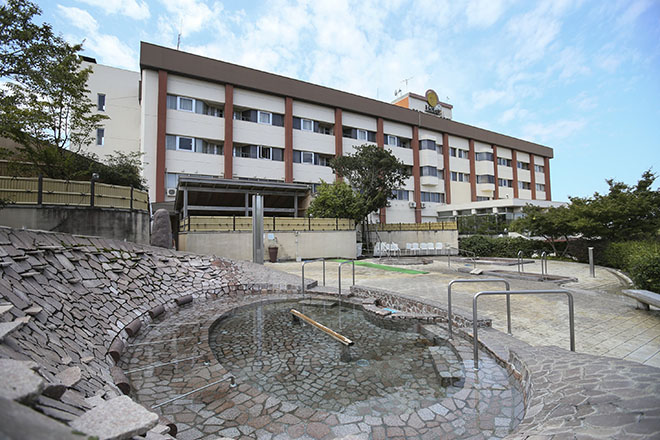 Mixed-sex groups can take advantage of the bathing costume-friendly outdoor area, which has several bathing pools, not to mention splendid views. Families and groups of friends can book one of two private bathing rooms; one large and one small. Changing-room lockers are available for clothing and accessories, but be sure to use the lockable kind when storing valuables.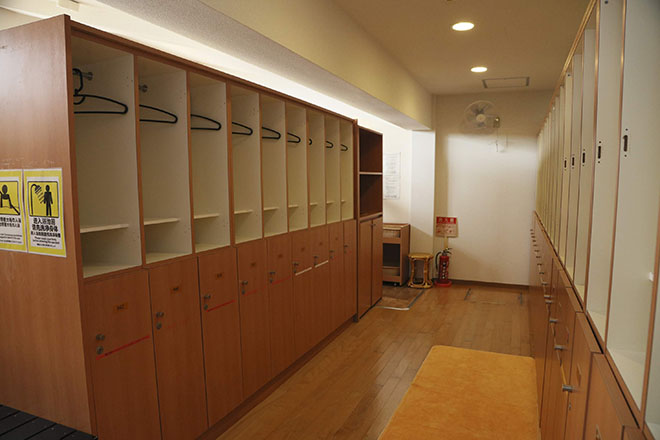 Being naked in a bath full of strangers may strike non-Japanese visitors as somewhat odd, but nudity is a great leveler, and you'll soon be chatting with fellow guests drawn from all walks of life. Busy times tend to be evenings and early mornings. A friendly word of warning though: Be sure to heed the easy-to-follow instructions in the changing room regarding hot-spring etiquette - merely jumping in after stripping off is a definite no-no!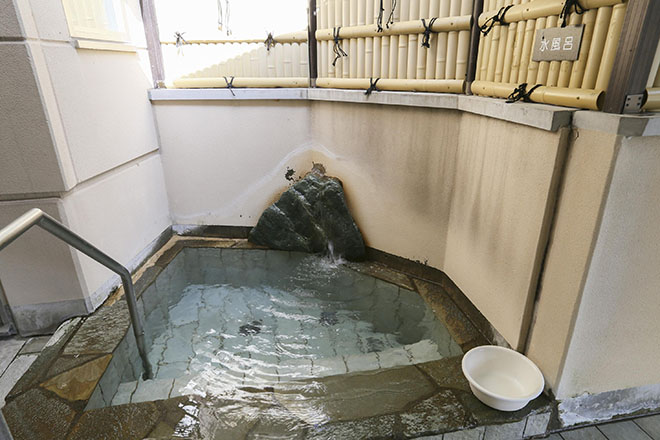 If the water becomes too hot for comfort, take a plunge in the small cold-water pool - the sudden switch from hot to cold can be as shocking as it is exhilarating. To warm up again, merely return to one of the main pools, or spend a few minutes in the sweltering sauna room, which has thick, comfortable towels spread over the basic wooden seating.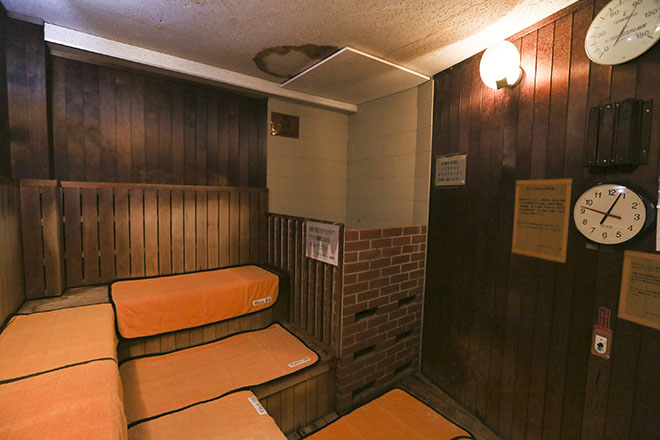 Many patrons wander around the hotel in yukata - a lighter and more casual version of a kimono often worn outdoors by both sexes in the summertime, as well as indoors at hotels such as Winery Hill.
Savor a luxurious evening buffet
The evening meal (6 p.m.–9 p.m.) in the spacious Restaurant Amaryllis is a definite crowd-pleaser, comprising a sumptuous, all-you-can-eat buffet served with unlimited house wine. For those with a more sophisticated palate, however, it's worth visiting the restaurant's bar for the 60-minute, all-you-can-drink wine deal (1,500 yen), featuring a selection of specially selected high-quality vino produced at the Nakaizu Winery (choose from three reds and three whites).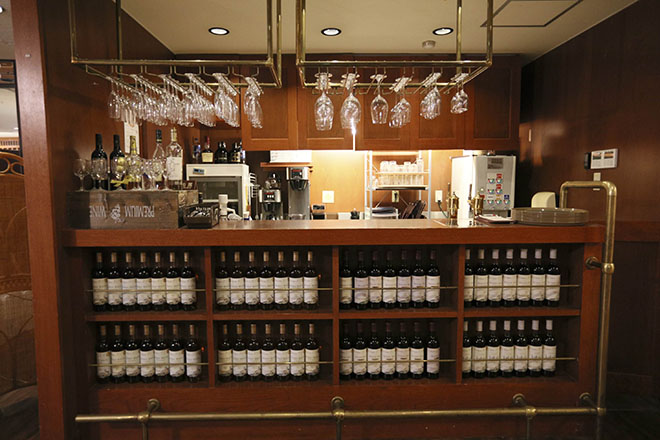 Gourmands, meanwhile, have much to write home about, too. The food - a canny blend of East and West - is based around locally sourced ingredients that change with the season, so there is always something to please all tastes. If you're overwhelmed by the vast choice of edibles on offer, why not sample an assortment of Japanese-style foods on your first trip to the table, then a variety of Western-type eats for your second? Alternatively, pile your plate high with the best of both each time you visit the buffet table.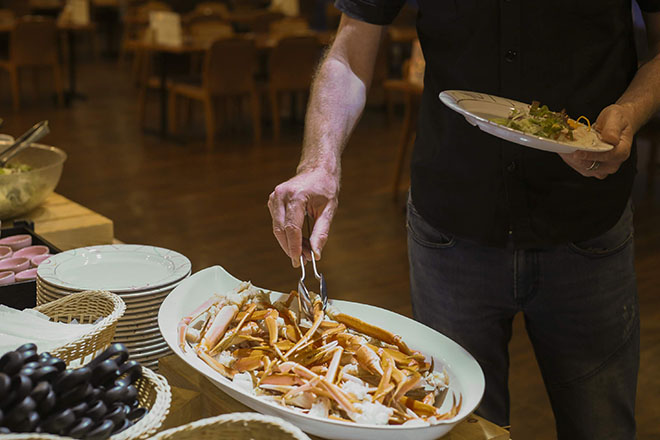 Highlights include chicken in a lemon sauté, tuna sashimi with locally sourced wasabi, and delicious crab legs, replete with crab-meat knife and scissors. Vegetables, soups, desserts - including cakes and ice cream - and a variety of soft drinks ensure no one leaves hungry or thirsty. Round off proceedings with cheese and biscuits or choose from a variety of teas and coffees.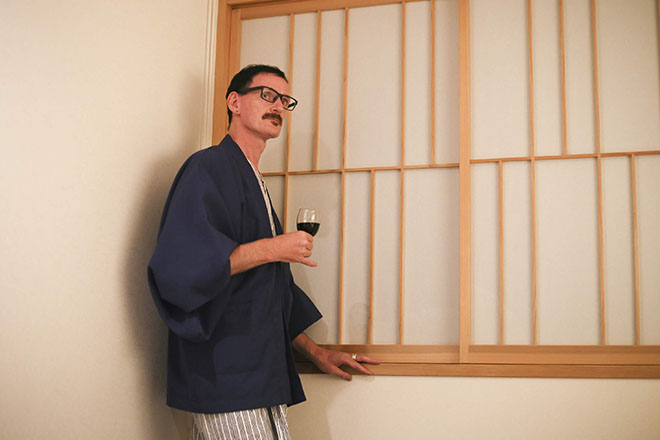 As the day draws toward a close, return to your room and unwind with a glass or two of complimentary wine.
Bite into a breakfast bonanza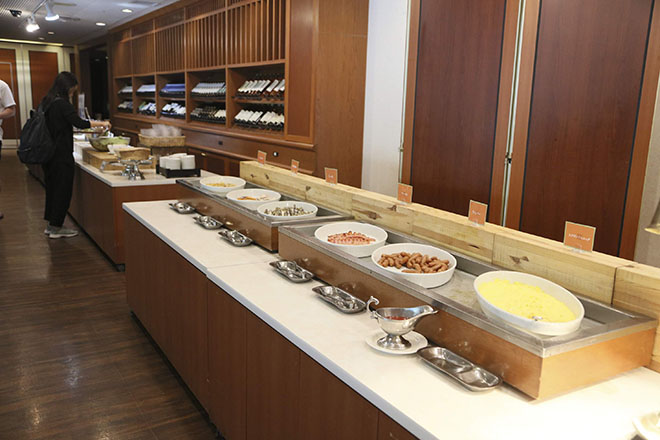 Guests who stay the night can savor a delicious breakfast buffet, too. Again, you'll be hard-pushed to choose from the vast array of foods spread out on the buffet table, including cereal, fresh fruits, salad, eggs, meat, and fish (try the delicious grilled smelt, if available).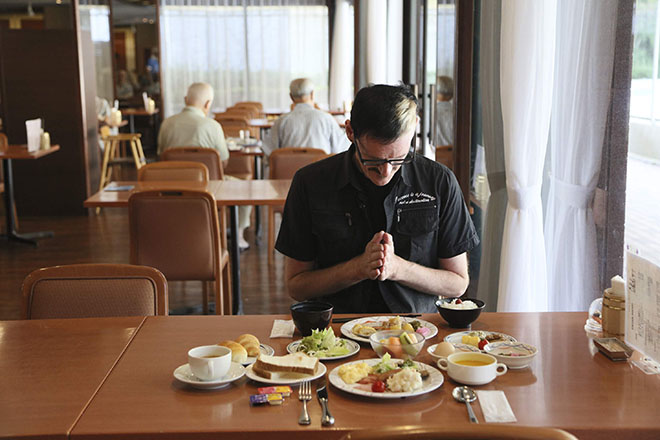 Also, don't miss out on the delicious miso soup corner, where you can create your own desired flavors by combining a variety of garnishes. Looking out across the pristine blue waters of the outdoor pool as you dine is the perfect way to start the day.
Purchase food, drink, and souvenirs at the gift shop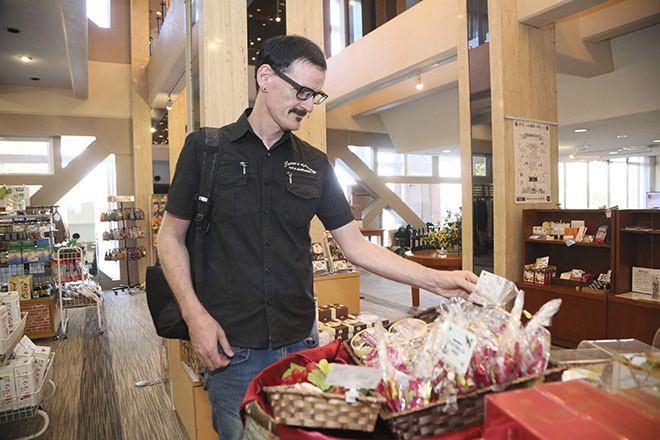 Other facilities at the hotel include a seasonal outdoor pool, karaoke, fitness area, leg-massage chairs, and numerous function rooms. If you feel the need to recharge your batteries, take advantage of the rejuvenating aromatherapy and massage services offered by the hotel's spa. The gift shop, meanwhile, sells a wide selection of wines and foods, as well as clothing and various souvenirs.
Hotel staff are happy to take English-language reservations via phone or email but stress that replies may not be textbook-perfect. Day visitors, too, can use the hotel's facilities, though an overnight stay comes with more perks, such as breakfast and complimentary wine (depending on your accommodation package).
Name:

Hotel Winery Hill
Address:

1434 Shimoshiraiwa, Izu City, Shizuoka
Check-in:

3 p.m.–6 p.m.
Check-out:

10 a.m.
Price per person:

12,800 yen for half-board (tax included)
Open:

Year-round
Outdoor pool:

Free for overnight guests; 1,500 yen (tax included) for non-staying visitors
Private bath:

1,650 yen–2,200 yen (tax included) for two people/one hour
Tennis court (overnight guests only):

1,100 yen–1,650 yen (tax included)
Languages available:

Japanese/Basic English
Tel: