No visit to Izu City in Shizuoka Prefecture is complete without a trip to Nakaizu Winery Chateau T.S., operated by the same firm that runs Hotel Winery Hill. (The limited express Odoriko service from Tokyo Station will whisk you to Izu's Shuzenji Station in just 1 hour 38 minutes.) In addition to savoring delicious food and wine in the indoor and outdoor restaurants, you can also enjoy a free tour of the winery; take horse-riding lessons (separate fee applies); and purchase wines, foods, and other goods in the gift shop. It takes 15 minutes by car or taxi from Shuzenji Station in, or about 30 minutes from Atami. Alternatively, you can ride one of the regular (and free) shuttle buses that run from the Shuzenji Station.
Regular shuttle buses also run between Hotel Winery Hill and Nakaizu Winery Chateau T.S. and the journey takes around 15 minutes. The chateau building, which opened in 2000, is designed in a grand European style with pristine white walls, plenty of glass, and a large terrace perfect for eating and drinking with friends and acquaintances. Chateau T.S. also features a steakhouse and a wedding chapel.
Learn about viticulture, wine production at Chateau T.S.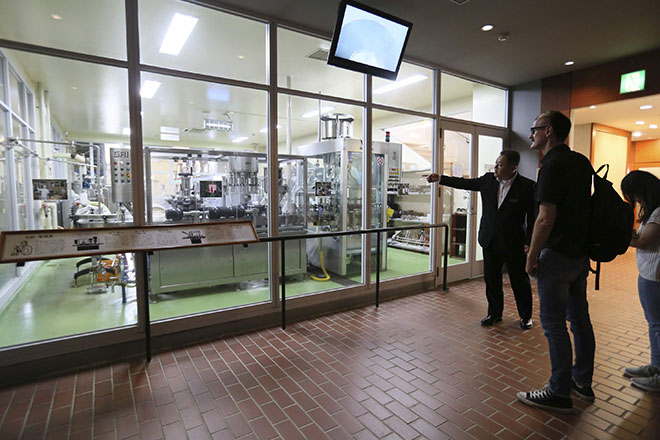 Be sure to sign up for the free guided tour of the winery. Whether you're a vineyard novice or a seasoned sommelier, you're sure to learn something new about wine production in Japan. There's no English support on the tour, but the photographs, diagrams, and fermentation equipment are self-explanatory in many cases.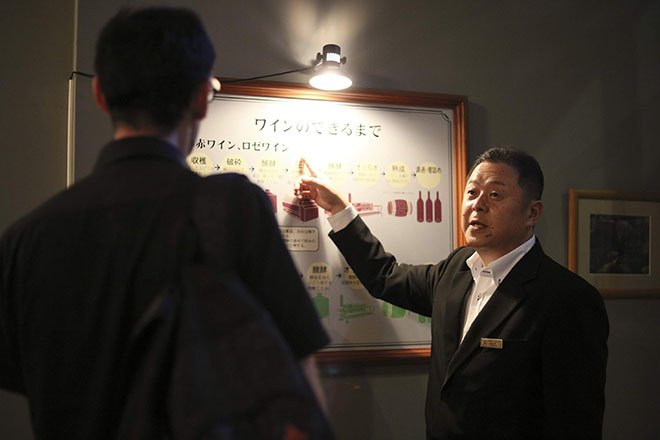 The tour covers the basics of viticulture, the history and working of the winery, and, depending on the tour type, a viewing of the owner's collection of vintage wines. Among the gems in the specially cooled cellar is a complete set of Opus One wine, and a selection of ultra-rare bottles dating back to the mid-nineteenth century. "The owner is happy to display his collection, and guests are delighted to be able to view such rare wines," explains Reception and Shop Manager Katsumasa Saito. "It's a two-birds-with-one-stone situation," he says with a laugh.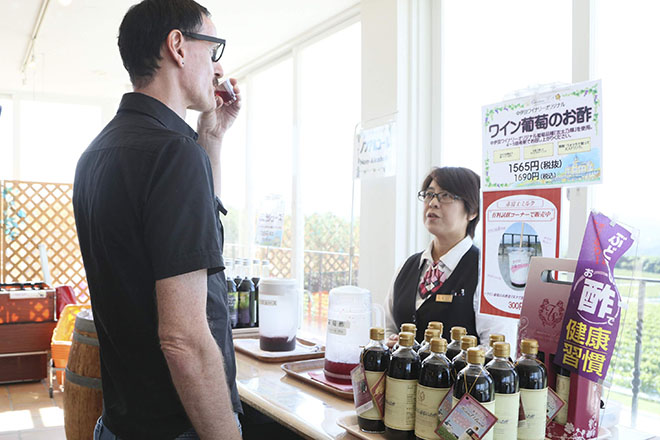 In terms of the tour, the organizers save the best till last - a wine-tasting session in the wine/gift shop (a non-alcohol, grape juice-tasting alternative is also available). The shop is also the perfect place to buy souvenirs and gifts. Wine and wine-themed items abound, but you can choose from myriad other types of goodies, too.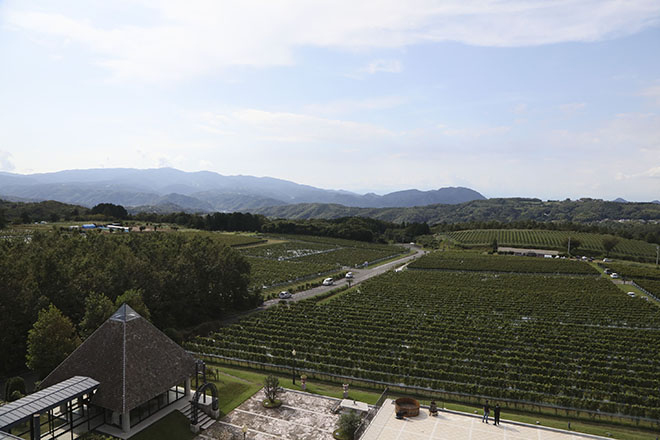 Be sure to check out the view over the vineyards from the terrace in front of the main building. "Our vineyards cover roughly 8.2 hectares, about twice the area of Tokyo Dome," explains Katsumasa." We've got around 35,000 plants, but even so, we do all the harvesting by hand. I guess we produce somewhere between 30,000 and 32,000 bottles of wine each year."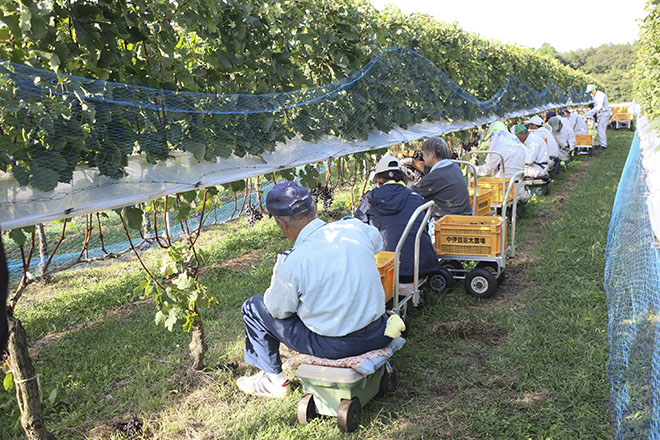 Climb to the belfry, toll the chateau bell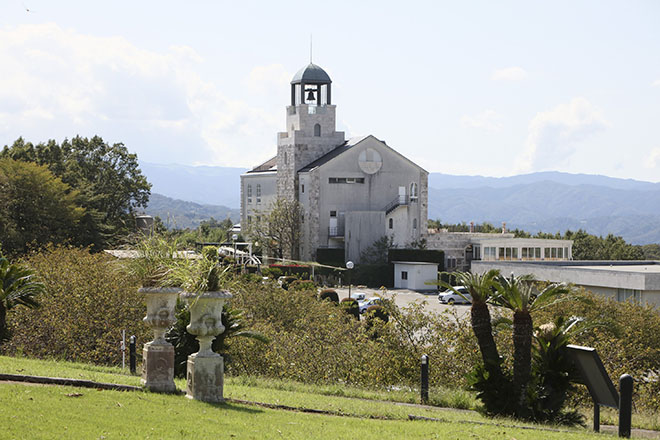 For a special post-wine-tour treat, climb the stairs to the top-floor bell tower, which houses a large, Dutch-made bell weighing over a ton. Happily, visitors are free to make it peal. A word of warning, though - if you use too much force, your ears will be left ringing, too.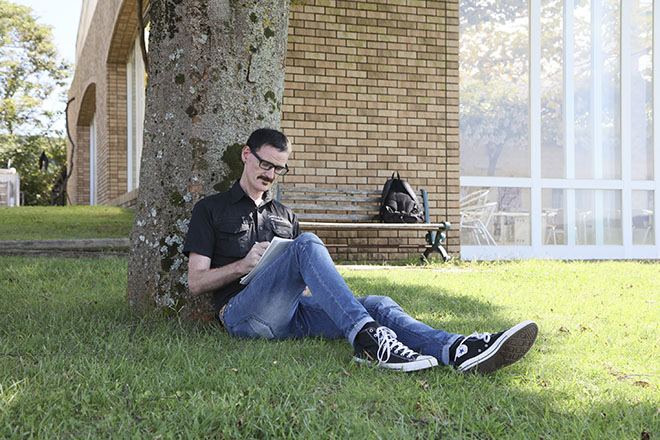 If the weather is fair, it's worth making the short journey up the road to Grappa Hill, where you can sit on a bench or even under a tree and simply enjoy a time-out. The splendid view across the sprawling Izu landscape is an added bonus, and you may even spot Mt. Fuji in the distance.
Organization name:

Shidax Corporation
Organization address:

3-6-3 Chofugaoka, Chofu, Tokyo
Activity:

Winery Guide Tour
Activity address:

Nakaizu Winery Chateau T.S., 1433-27 Shimoshiraiwa, Izu, Shizuoka
Start time:

3:55 p.m.
Fee:

Free
Requirements:

Reservations must be made in advance at Nakaizu Winery Chateau T.S. reception
Tel:

0558-83-5111 (Nakaizu Winery Chateau T.S. reception)
Languages available:

Japanese/Basic English
Saddle up at Sunshine Stables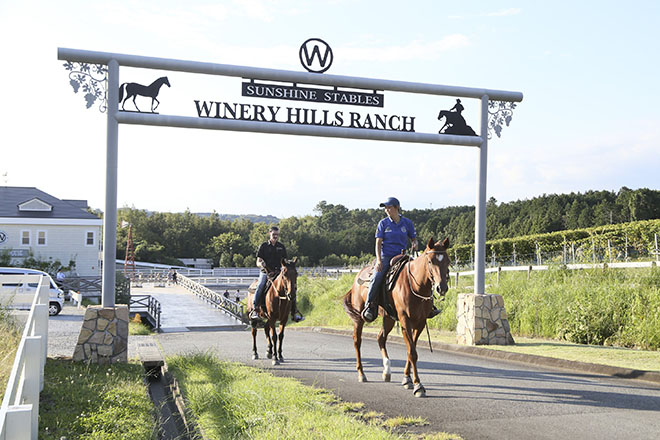 While at the chateau complex, swing by Sunshine Stables on the Winery Hills Ranch - a mere 5 minutes on foot - for the chance to saddle up and trek around the winery's vineyards. (Of course, common sense dictates that you visit the stables before sampling the wine; riding a horse with a bellyful of vino is likely to lead to misadventure.)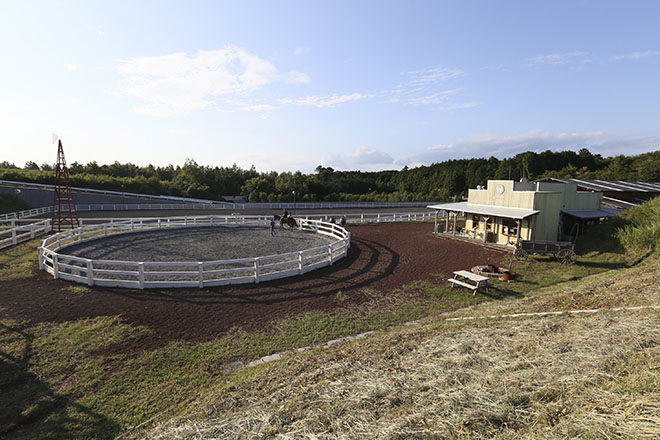 The one-hour-long booking slots are broken down into a 30-minute lesson followed by a 30-minute trek through the vineyards. Staff can tailor lessons to all levels, from those holding the reins for the first time to experienced riders with years in the saddle.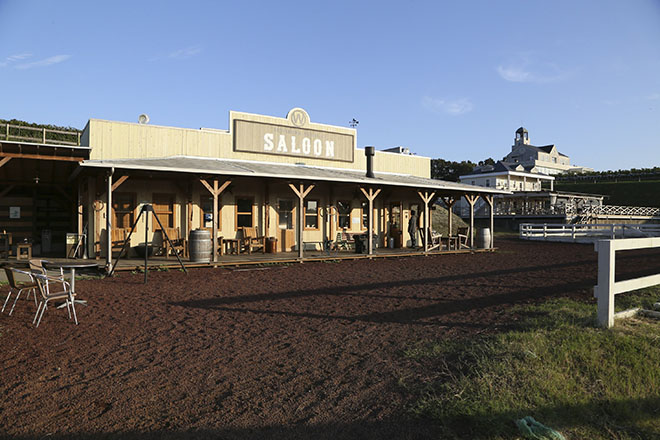 Entering the ranch feels like stepping onto a Hollywood film set, such is its authenticity. Furthermore, the wooden buildings sport numerous light-hearted English signs, i.e., "Cowboy Parking Only" and "Want a Stable Relationship? Get a Horse!" The administrative building, meanwhile, is decked out with a large, shop-front sign that reads "Saloon."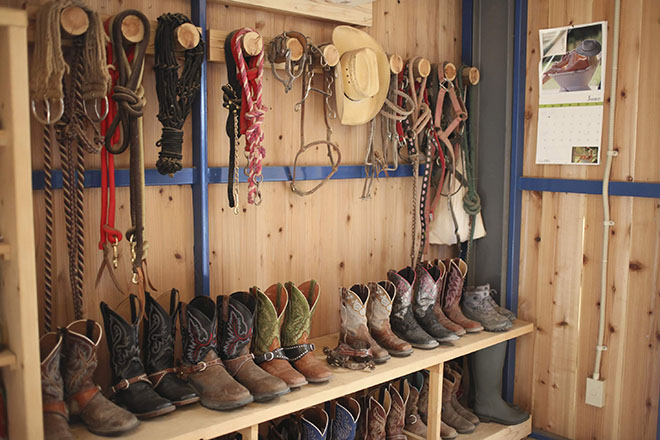 The 15 horses at the Western-style riding school were all trained in the United States. Staff select a suitable mount based on your height and weight, and it isn't long before you're climbing into the saddle in the large, circular training paddock. To enter fully into the swing of things, ask to borrow a genuine Stetson hat and cowboy-style riding boots - both items are available in a variety of sizes.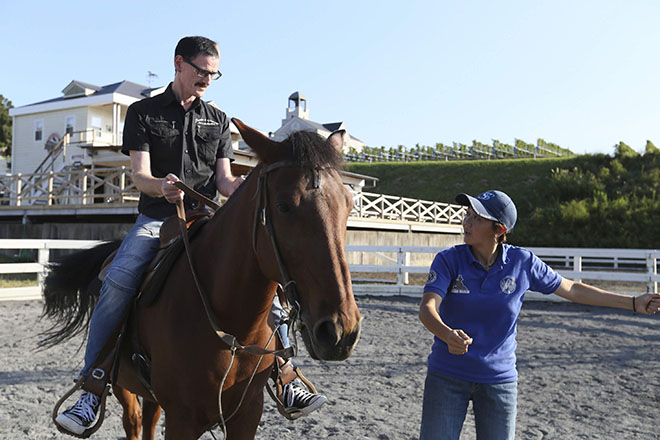 A Sunshine Stables instructor will talk you through the basics of starting, stopping, and turning before you head up to the nearby vineyards to ride through the greenery.
Mosey through the vineyards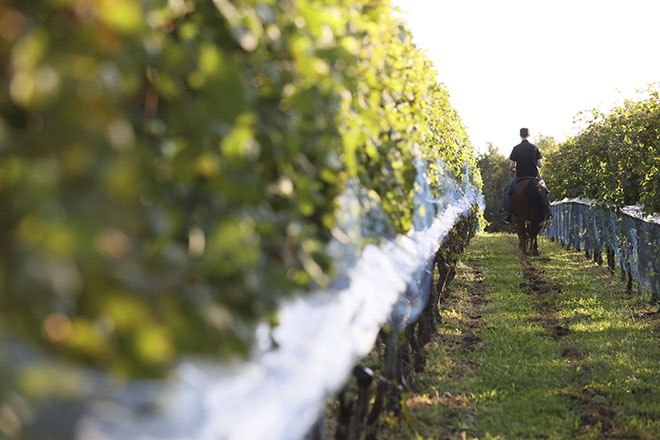 Keep an eye out for mischievous 12-year-old North Light, who likes nothing better than craning his neck left and right to grab mouthfuls of grapevine leaves as he makes his way along the vineyard paths. "Pull the reins! Keep his head straight!" laughs staff member Asuka Nezu in Japanese, while helpfully demonstrating the correct technique.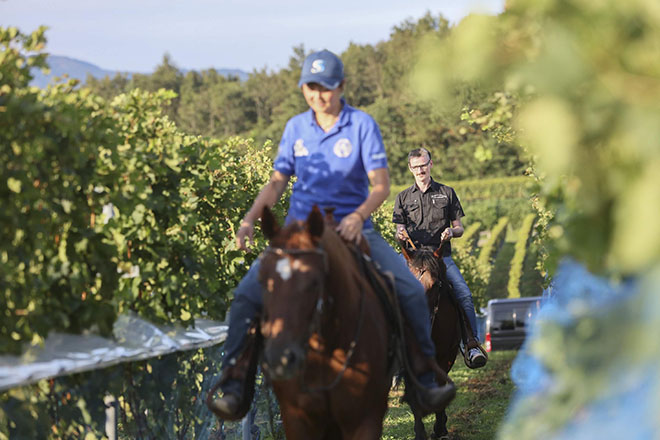 It's difficult to remember you're in Japan as you ride a Western-style horse through Napa Valley, California-style vineyards in the late afternoon haze. The highly enjoyable 30 minute-ride flies by in the twinkle of an eye.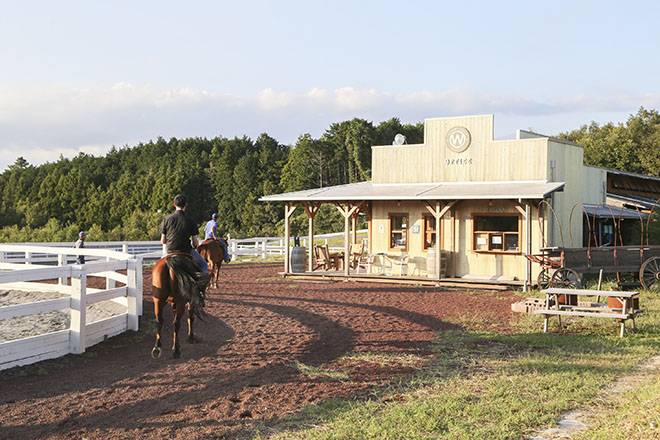 Visitors of all ages are welcome to visit Sunshine Stables, but riders must be at least 1.45-meters tall. Staff recommend long trousers - especially jeans - and boots or athletic footwear to ensure your ride is as comfortable as possible. The stable doors swing open at 9 a.m. each morning and generally close around sunset.
While it's possible to turn up unannounced for a lesson, reservations take priority, so book ahead to avoid disappointment. While English bookings are possible via phone and email, staff stress that their English is less than perfect.
Organization name:

Shidax Corporation
Organization address:

3-6-3 Chofugaoka, Chofu, Tokyo
Activity:

Horse riding at Winery Hills Ranch
Activity address:

Sunshine Stables, 1433-27 Shimoshiraiwa, Izu, Shizuoka
Business hours:

From 9 a.m. (depending on the season)
Fees:

12,000 yen for Sunshine Stables training paddock lesson & vineyard trek; 10,000 yen for vineyard trek; 8,000 yen for training paddock lesson; 1,000 yen for horse-riding experience; 300 yen charge for insurance purposes (all prices include tax)
Requirements:

Participants must be 13 or older and at least 145 centimeters tall
Closed:

Irregularly
Languages available:

Japanese/Basic English
Tel:

0558-75-7660 (Basic English)