The small city of Izumi in Kagoshima Prefecture brims with cultural, culinary, and natural attractions, including the historic Izumi-Fumoto Samurai Residences and the winter migration grounds of over 10,000 cranes. A small number of local farming families open their doors to travelers under the farm-stay program.
Farm stays are bookable at the click of a button on the Izumi City Tourism Division website, Izumi Navi. One such residence in Izumi City is Euchi Shizen Chiyu-no-sato, operated by the Ideue family.
Japanese southern living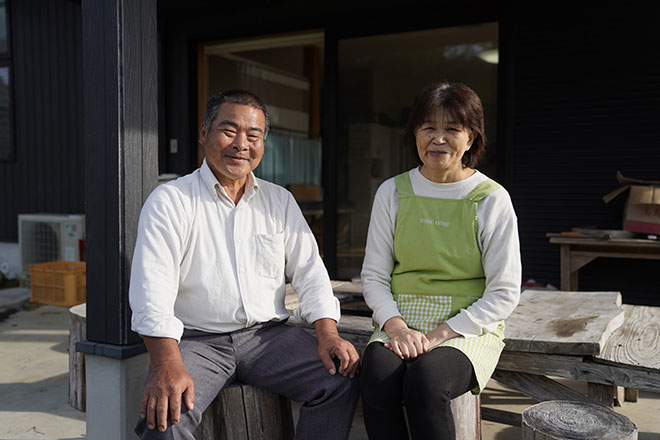 Fumio and Hiroko Ideue are the hosts of Euchi Shizen Chiyu-no-sato. Though now retired, Fumio enjoys running the farm stay and growing and preserving produce. "Running this place has changed my life," says Fumio, just before dinner. "And I have to thank my wife for making such delicious food."
Fumio and Hiroko are dedicated foodies in the purest, non-elitist sense of the word. Their kitchen is filled with jars of all sizes that contain experiments in preserving and pickling their farm produce. Their pantry houses many vegetables and foods considered rare outside Japan, which they happily introduce to their guests.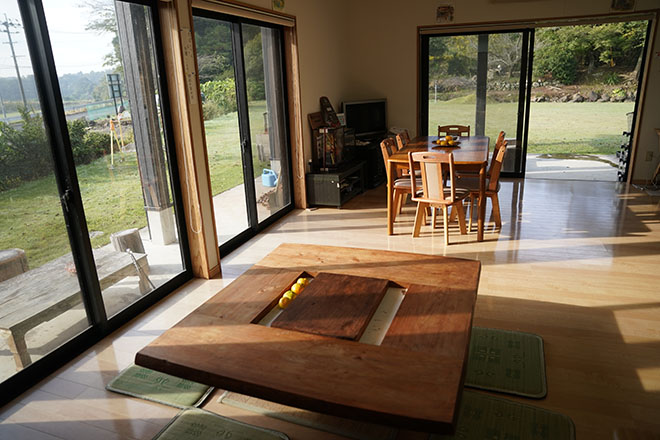 The Ideues' farm residence reflects their love of food, with an open kitchen that adjoins an airy living and dining area. A traditional irori sunken hearth sits in the middle of the room. This is where you'll enjoy your meals as dishes simmer over the fire. The Ideues custom-ordered the hearth from a local carpenter when they built the house.
The house was built with accessibility in mind. The entryway is flat instead of raised, and the bath area is level. There are two guestrooms: one is a small private room, and the other is a larger room that can be divided into two spaces with a curtain.
Experience life on a Japanese farm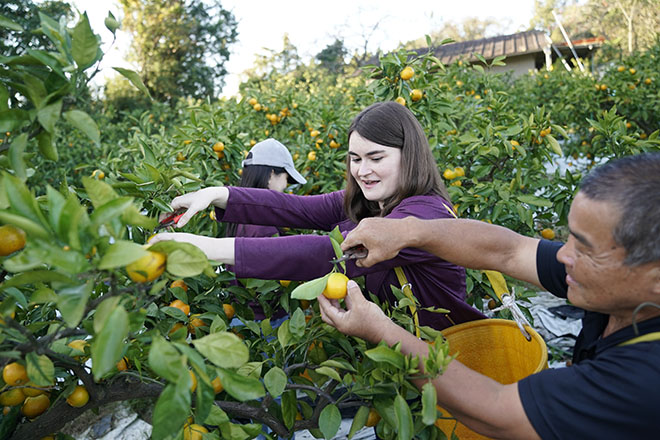 The stay begins with the family picking you up at Izumi Station - a convenient stop on the Kyushu Shinkansen - before heading off for the first activity, which differs depending on the farm-stay facility. Picking mikan oranges is the perfect pursuit for late October when the fruits are perfectly ripe, juicy, and bursting with flavor.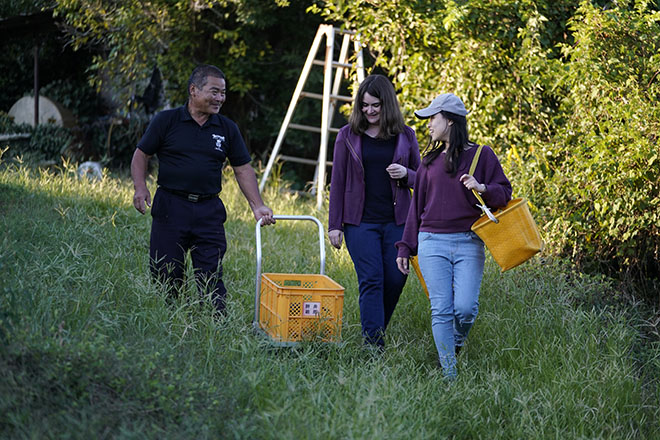 Fumio enthusiastically teaches visitors how to cut the mikan from trees in his orchard, urging them to pick as many as they desire. Depending on the season, guests can pick a range of other fruits and vegetables, including plenty of other citrus fruits, guava, mukago, and wild onions.
Non-farming experiences are part of the package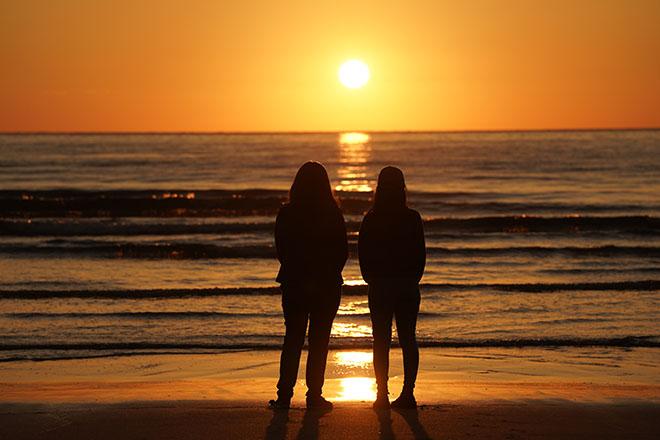 Some farm stays also offers non-farming experiences that you can request ahead of time. Euchi Shizen Chiyu-no-sato will take you to the beautiful Wakimoto Beach to experience a beautiful sunset.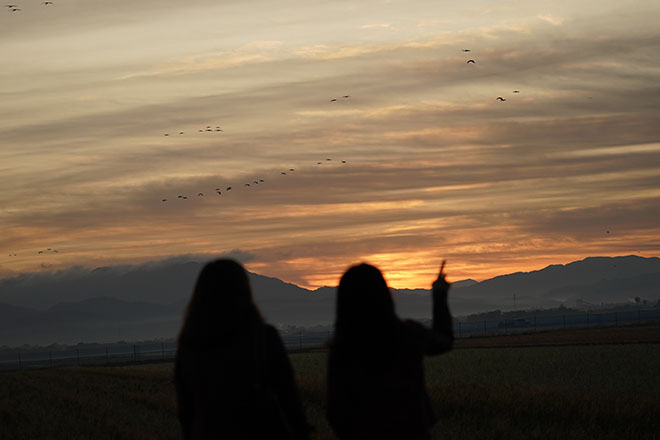 Alternatively, during the winter months (November–March) in a different part of the city, you can experience the spectacular sight of around 10,000 cranes taking flight at dawn. Izumi is famous among birdwatchers around the world for its close access to migrating cranes. The sight of around 10,000 cranes soaring against the backdrop of the rising sun is well worth the early morning wake-up (farm-stay personnel will be happy to accompany you).
Countryside feasts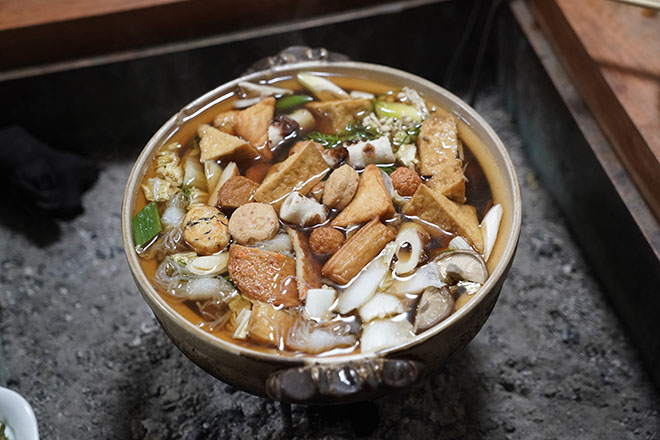 As part of the farm-stay experience, visitors help make dinner at Euchi Shizen Chiyu-no-sato, and the dishes produced are delightful. The Ideue family loves pickling, preserving, and cooking. Most of the dishes include produce picked on the family farm, as well as other local ingredients.
Hiroko's in charge, helping visitors prepare dish after dish of tasty food, while Fumio is both teacher and cheerleader, showing guests how to prepare the local dishes and encouraging them to try new foods. The kitchen is a fun place to be.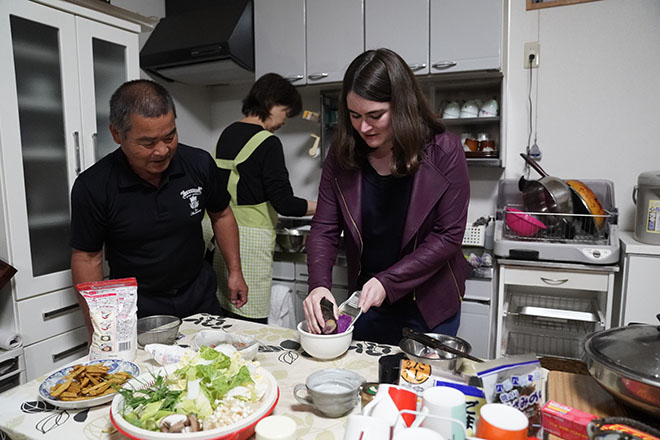 Some of the more unusual offerings include mukago, nobiru, and bright purple tsukune imo. Mukago is a potato-like starch fried to resemble something like French fries. It's picked right outside the house. Nobiru is a plant with a chive-like flavor that grows in the area. It's a delicious addition to the nabe hot-pot stew. Tsukune imo, meanwhile, is another starch, grated to create a marvelously sticky concoction served over rice or noodles.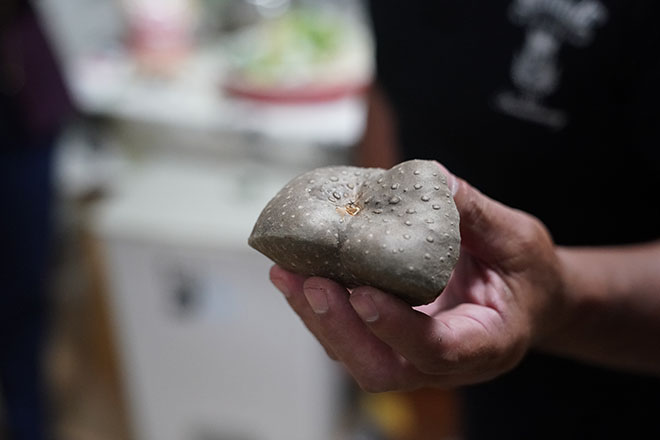 The Ideues delight in introducing their original creations, including pickled shiso, a herb sometimes referred to as Japanese basil. The family also makes super-sour umeboshi pickled plums and green garlic paste that goes very well with sashimi. Fumio also makes his own blend of soy sauce, starting with store-bought soy sauce, then adding a secret blend of ingredients that include koji, an edible mold used in making sake.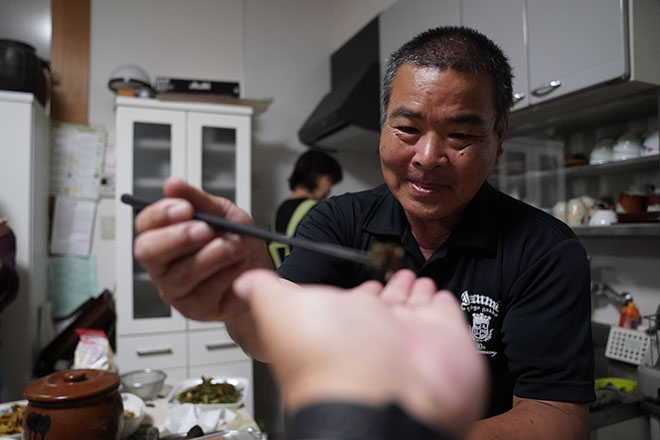 When it's finally time for dinner, sit down at the hearth and start things off with a traditional kanpai toast. Bonito sashimi, fresh green-pepper salad, white rice, seaweed tempura, and a hot-pot stew simmered over the hearth were among the dishes on offer during our visit. In addition to chicken and fried tofu blocks, the hot pot nabe stew included plenty of vegetables, including nobiru, enoki mushrooms, cabbage, and green onions, as well as satsuma-age fried fish paste (a local delicacy).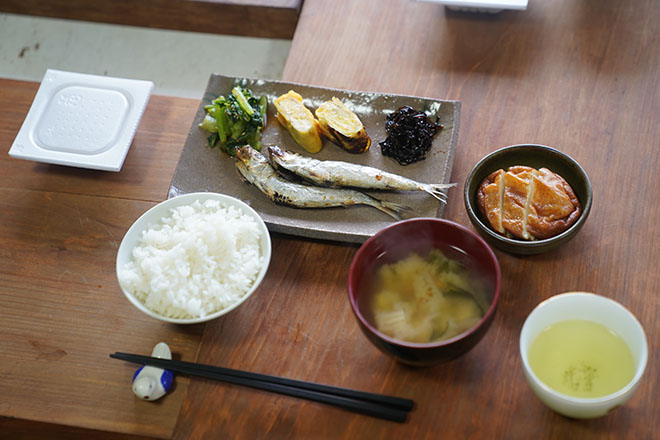 A stay at Euchi Shizen Chiyu-no-sato includes a traditional Japanese breakfast. The more familiar items may include green tea, a bowl of white rice, miso soup, and rolled Japanese-style omelet., and possibly seafood. Our breakfast included satsuma-age fish paste (mixed with tofu for a mild, sweet flavor), local fish that you eat head and all, and hijiki seaweed - delicious atop the white rice. This hearty traditional breakfast is the perfect fuel for a trip to Izumi's historic Izumi-Fumoto Samurai Residences.
Organization name:

Izumi City Farm-Stay Activities Council
Organization address:

1-3 Midorimachi, Izumi City, Kagoshima
Program:

Izumi Farm Stay
Price per person for overnight stay with activities (tax included):

9,900 yen for two people; 8,800 yen for three people or more; 6,600 yen for children aged 12 years and younger
Note:

Activities vary by season, depending on the farm-stay facility
Check-in:

From 2 p.m.
Check-out:

10 a.m.
Languages available:

Japanese/Basic English at one farm-stay facility
Email:

kanko_c@city.izumi.kagoshima.jp (Izumi City Sales Division)