Koshu Valley in Yamanashi Prefecture is just over an hour from Tokyo and the perfect place for anyone looking to learn more about Japan's wine scene. Visitors can take winery tours, go grape-picking, and sample some of the country's finest wine while enjoying stunning views of colorful orchards and the surrounding mountains.
Katsunuma's rich wine heritage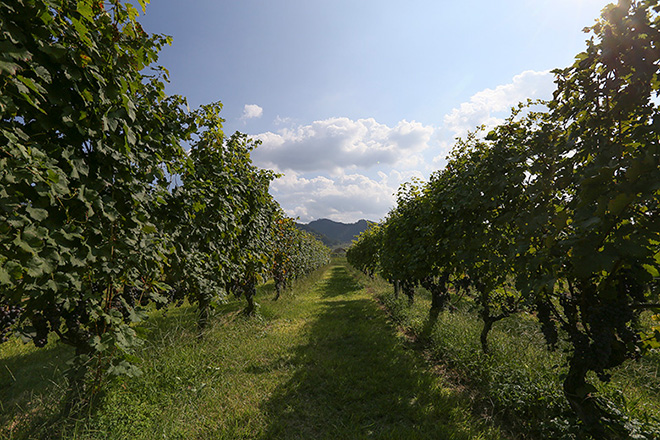 The Katsunuma region is the center of Japanese wine and viticulture. The area's volcanic soils and microclimate make it ideal for grape cultivation. You'll find over 30 wineries here, some with histories spanning back to the nineteenth century, when winemaking first started in Japan.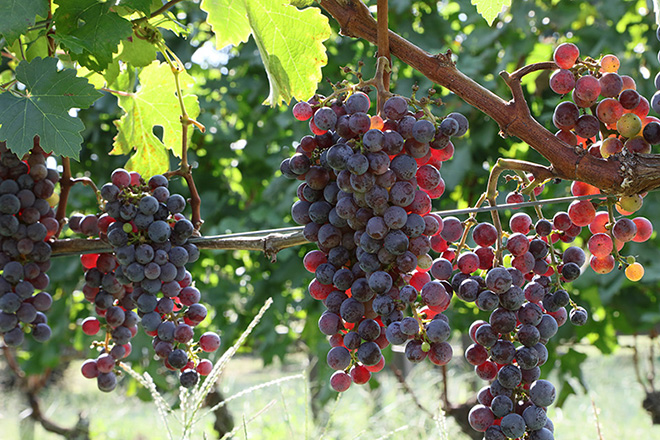 Many of the wines are made with the native Koshu grape, characterized by its distinctive pink color and delicate flavor. Locals gush enthusiastically about these crisp vinos, lauding them as a dinner-table fixture that go very well with Japanese dishes. In recent times, Koshu wines have gained ground in the world of fine dining; some high-end sushi restaurants have even started pairing sushi with wine.
Take a ride in a 'wine taxi'; have a grape day out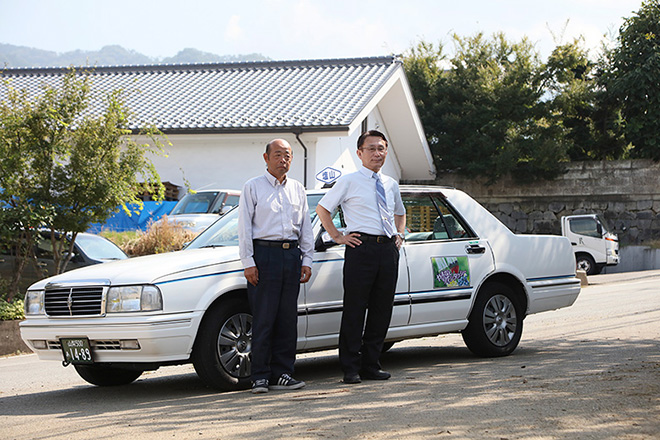 Buses are infrequent in Katsunuma, so if you're looking for a convenient and affordable way to visit a number of wineries, charter a "wine taxi." The Yamanashi Wine Taxi service offers tours around the local wineries with an English-speaking guide. Most tours last about four hours, and the guides can tailor them to the interests of their guests.
Tatsushi Arai, one of the English-speaking guides, is well-versed in viticulture and is happy to recommend his favorite wines to visitors. "Some of the best wines from this region aren't well-distributed abroad," he says. "Just by paying a visit to some wineries here, international visitors can discover new and unique types of wine."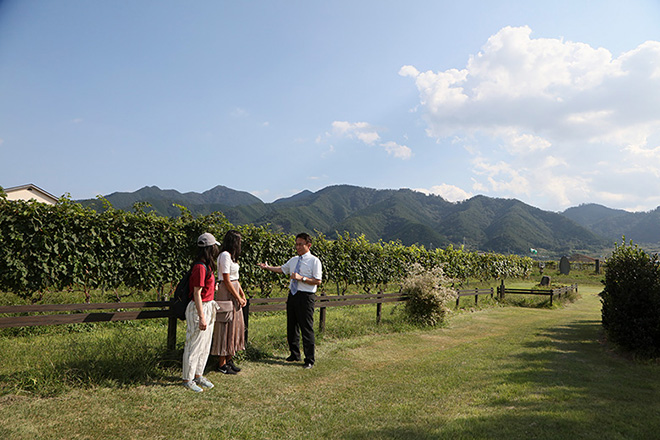 Regarding the optimal time to visit, he advises: "While most people come to Koshu Valley in autumn, I think there's something to see here each season. Many wineries are open for tasting and tours all year round."
Reservations can be made online; it's best to book at least one day in advance. Tatsushi explains that a typical itinerary starts with a pick-up at JR Enzan Station or Isawa Onsen Station, followed by trips to three notable Katsunuma wineries - Marufuji Winery, Château Mercian, and Lumiere.
Organization name:

Yamanashi Tourism Organization
Organization address:

1-6-1 Marunouchi, Kofu City, Yamanashi
Activity:

Winery Tour in Wine Kingdom of Japan (wine taxi)
Meeting point:

JR Enzan Station or Isawa-Onsen Station
Open:

Year-round
Tour time:

10:30 a.m.–2:30 p.m.
Price per person:

About 15,000 yen (tax included)
Languages available:

English/Japanese
Tel:
Email:

m-shimizu@yamakan-sk.jp
Visit a venerated winery with over a century of history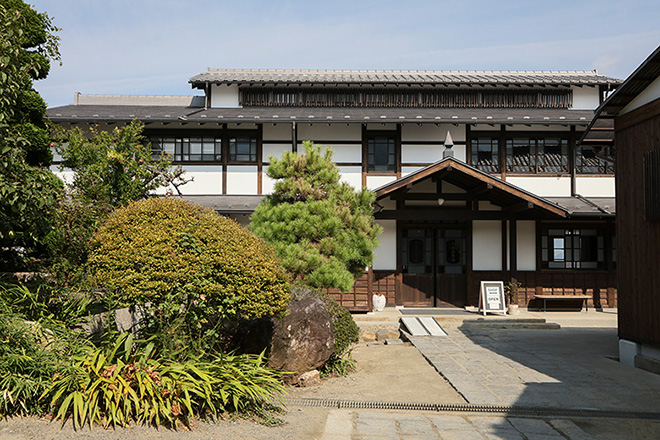 Marufuji Winery offers a wonderful glimpse into the history of Koshu wine. The winery was founded in 1890, and the main building itself is a relic from the late Edo Period (1603–1867). Take the free tour to visit their underground warehouse, a mini-gallery with interesting wine-related artifacts, and a cellar boasting over 90,000 bottles.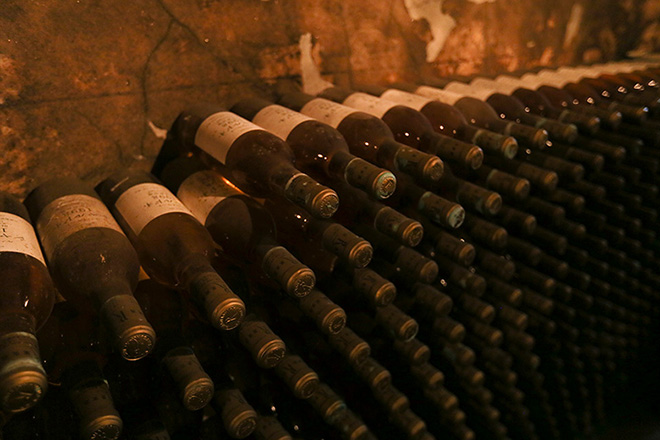 Be sure to stop off at the wine shop for the chance to sample Marufuji's award-winning Rubaiyat series. (Persian poet and wine-lover Omar Khayyam inspired the name of the wine). CEO Haruo Omura takes pride in the firm's traditional wine-producing methods and particularly recommends the Rubaiyat Koshu Sur Lie, a dry white wine with a fruity aroma, made with Koshu grapes grown in the Katsunuma area.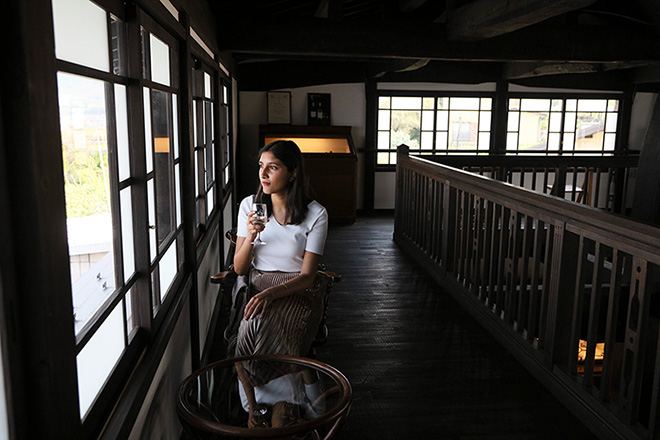 When asked what makes his wines unique, Haruo pours a glass of Koshu Sur Lie. "Taste for yourself," he says with a smile. Haruo suggests pairing the wine with Japanese dishes such as marinated seafoods, sushi, and sashimi.
Organization name:

Marufuji Winery
Organization address:

780 Katsunuma-cho Fujii, Koshu, Yamanashi
Activity:

Wine-tasting
Business hours:

9 a.m.–4:30p.m.
Price per person:

500 yen for five glasses of regular wine (tax included)
Closed:

New Year holidays
Languages available:

Japanese/Basic English
Say hello to your inner sommelier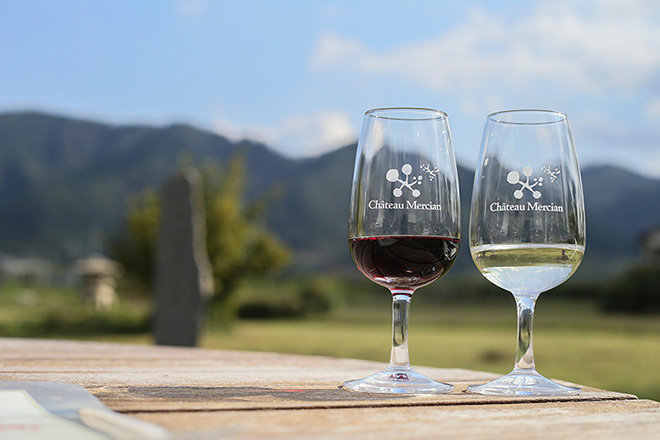 Château Mercian Katsunuma Winery may be one of the oldest wineries in Japan, but step into their premises, and you'll find yourself surrounded by modern, minimalistic architecture. The compound includes a wine gallery, shop, museum, and cafe. The cafe serves as the centerpiece, with a beautiful garden that offers views of the vineyard and mountains beyond.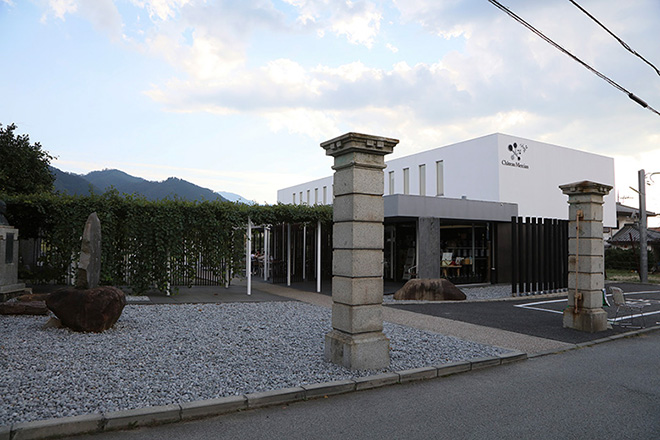 Treat yourself to a time-out by sitting under shady trellises and sampling Château Mercian's finest wines: you can choose from several tasting sets. And, if you're in the mood for extra indulgence, splash out on a platter of French-style canapés or cold cheese fondue to go with your drink (menu items vary according to the day).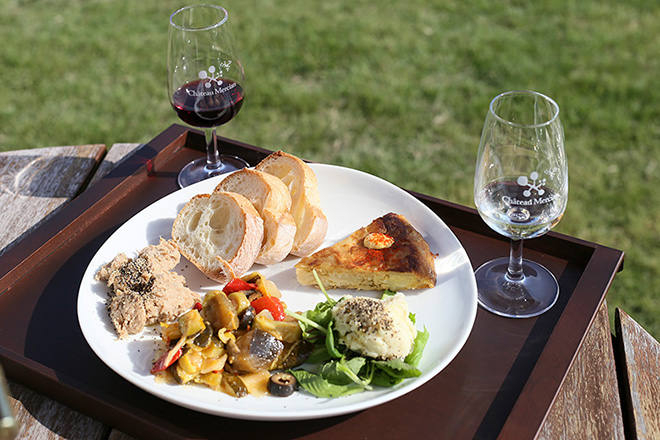 "We get a lot of repeat visitors here because there's just something wonderful about drinking wine at a winery," says Takashi Watanabe, a sommelier and supervisor of the facility's visitor center. "It's a unique experience because you get to chat with the people involved in the wine-making process."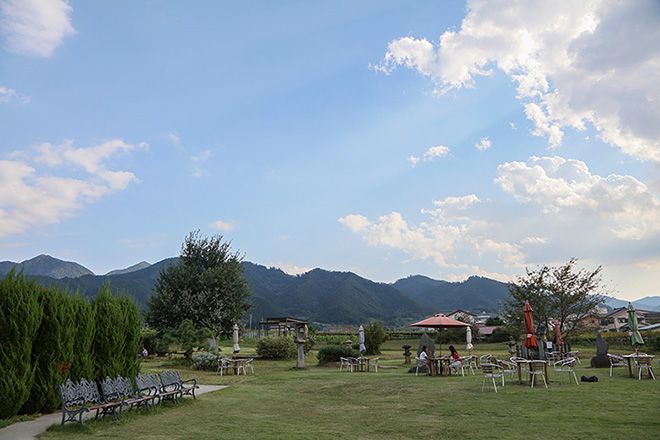 The winery's vineyard grows over 20 types of grapes, many of which are made into limited-edition wines available exclusively at the wine shop. They also source grapes from their vineyards from various parts of Japan.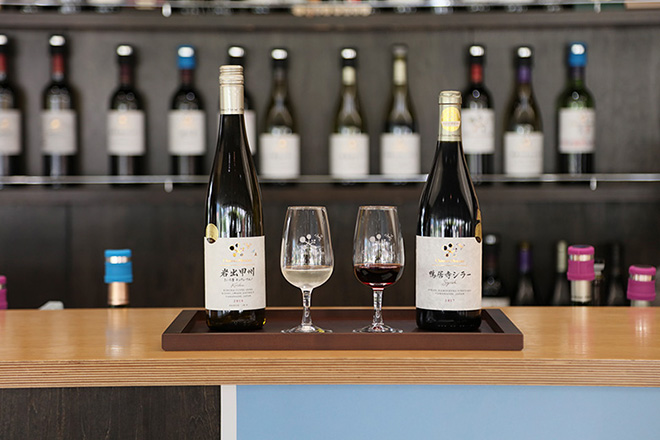 For visitors interested in becoming more familiar with the wine-making process, the winery offers tours guiding you through each step, from grape-cultivation to bottling. While tours are available throughout the year, Takashi recommends visiting in early to mid-April when the peach blossoms are in full bloom in the Katsunuma area.
Vintage building, vintage wines
Château Mercian Katsunuma Winery is the oldest established winery in Japan, and part of it was recently converted into a wine museum. Some impressive articles in their collection include bottles of the oldest existing Japanese wines and relics of traditional wine-making equipment.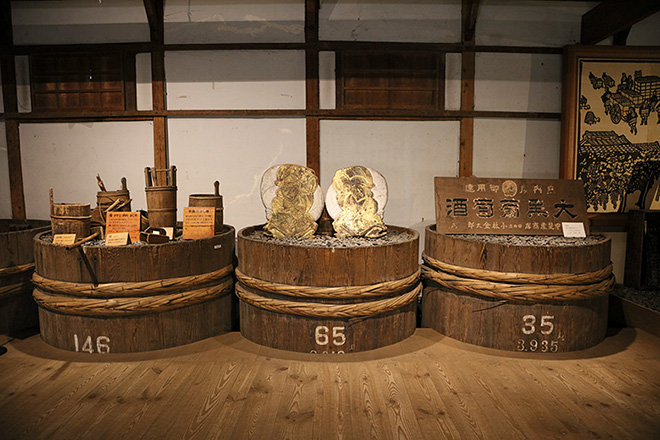 The building itself is designated a Tangible Cultural Property. It has an underground cellar with enormous oak barrels and consistently low temperatures - a great place to cool off if you're visiting in the summer.
Name:

Château Mercian Katsunuma Winery
Address:

1425-1 Shimoiwasaki, Katsunuma, Koshu, Yamanashi
Dates/times:

9:30a.m.–4:30p.m. (Château Mercian tasting cafe open 10 a.m.–4:30 p.m.)
Closed:

Tuesdays (and occasional other days)
Languages available:

Japanese