Centuries ago, the sleepy town of Omori used to be a sprawling area of heavy industry as one of the world's largest silver mines dominated the nearby mountains. The silver might have all but left the UNESCO-designated Iwami Ginzan Silver Mine, but the atmospheric town retains a strong rural charm. Book a stay in one of the guesthouses, including the quaint Takyo Abeke, to discover more about the area's fascinating history and culture.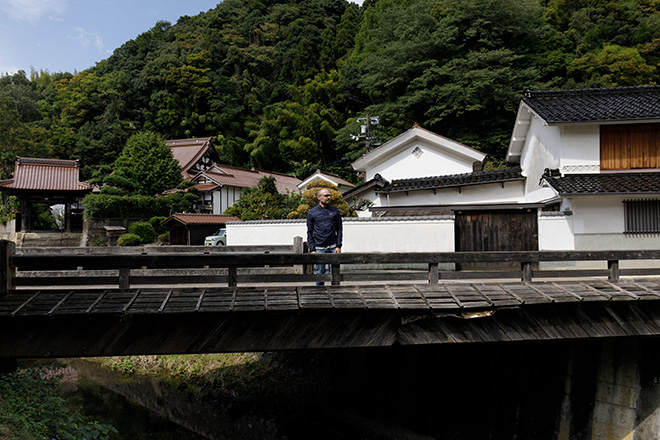 A traditional stay in a guesthouse of modern ideas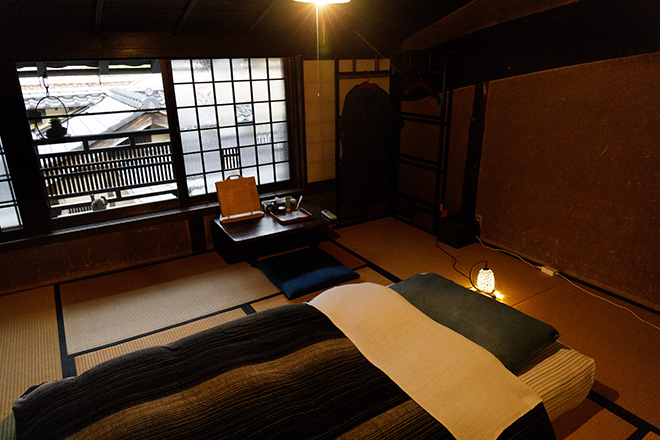 Takyo Abeke is a guesthouse in a beautifully restored building that dates to 1789. It's located in Omori Town, Shimane Prefecture - an area that forms part of the larger Iwami Ginzan Silver Mine and its Cultural Landscape World Heritage site. The refurbished guesthouse might seem quiet and unassuming, but inside the renovated walls - using the same clay from the original construction - is a fierce passion for social change and sustainable living. It also serves as a community hub.
Takyo Abeke is one of several kurasuyado, or "inns to live in" - a phrase coined by Abeke's effervescent owner and community-re-energizing pioneer, Tomi Matsuba. Guests here get more than a room for the night; they get to experience sustainable practices in action. They also gain an insight into the importance and power of tradition and human connection.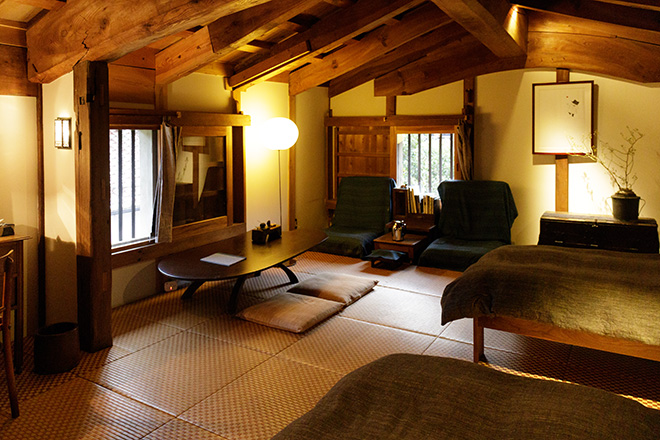 Centered around the large daidokoro kitchen, Takyo Abeke is a warren of rooms stuffed with quirky furniture pieces, sunken floors, steep staircases, porthole windows, and stacked bookshelves. The three main guest rooms each have their own characteristics, including massive beams, distinctive patterned glass, and an eclectic selection of chairs and tables.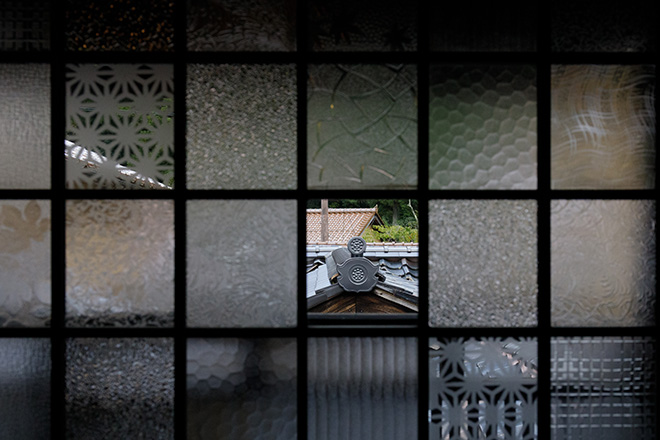 Takyo Abeke's connection to the local community is tangible, and there's a story behind each piece of furniture–the main dining table was refashioned from a staircase from the local school. The original building might be centuries old, but modern touches allow for a more comfortable stay. Guests have the luxury of free WiFi, air conditioners, along with powerful showers and a big wooden bathtub.
Tomi Matsuba - visionary, pioneer, and the ultimate host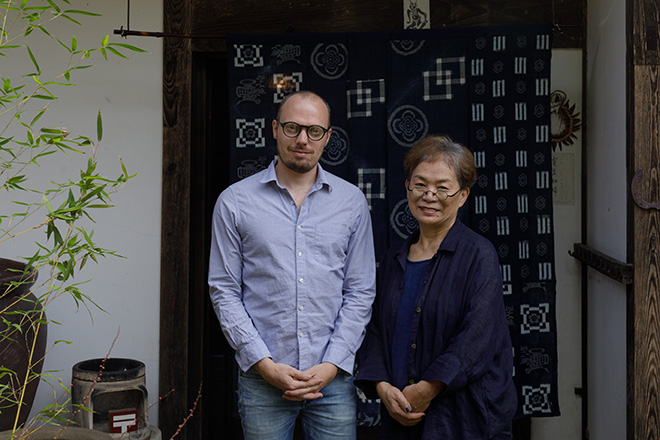 The owner of Takyo Abeke is Tomi Matsuba: head of the Iwami-Ginzan Seikatsu Bunka Kenkyusho corporation. Tomi's history is as compelling, quirky, and varied as Takyo Abeke itself. Among her many achievements and successes, she can claim responsibility for re-energizing the town of Omori. While many young people empty out of the Japanese countryside in search of "a better life" in the country's urban centers, Tomi is responsible for reversing this trend by proving that real happiness and satisfaction are much more than "wealth, convenience, and luxury."
Takyo Abeke has a rich history. It was originally home to the Abe family - a samurai family who came to Iwami Ginzan from the Kainokuni region (present-day Yamanashi Prefecture) during the Edo period (1603–1867). They were a very important family as the head of the household was a government official. However, the house lay empty and derelict for thirty years before Tomi and her husband purchased the plot in 1998. It took years of hard work and dedication to rebuild it into a functioning guesthouse - a process lovingly detailed in the short documentary video that guests are encouraged to watch before dinner.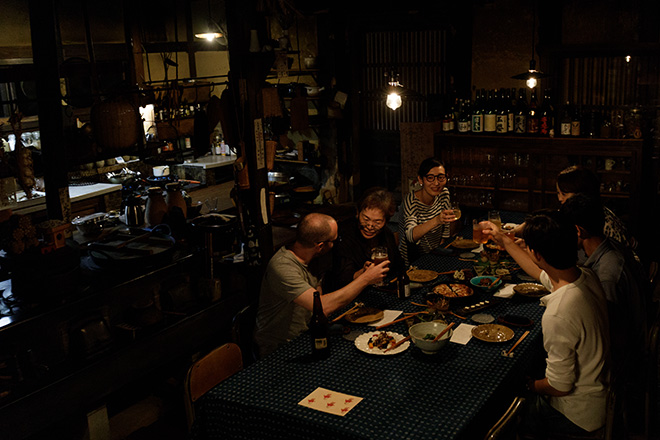 Tomi's energy and passion for developing a "life with roots" is infectious. Over dinner, she details her philosophy on the importance of keeping traditional cultural practices alive and preserving the techniques of the past - be it cooking, building, hospitality, or any other skills - through practical education and setting up a sustainable lifestyle for future generations. Tomi joins her guests for dinner when in town. She's proud to say that they've "created a space where the whole family is satisfied and happy." Quite a challenging thing to do.
The daidokoro - the heart of the house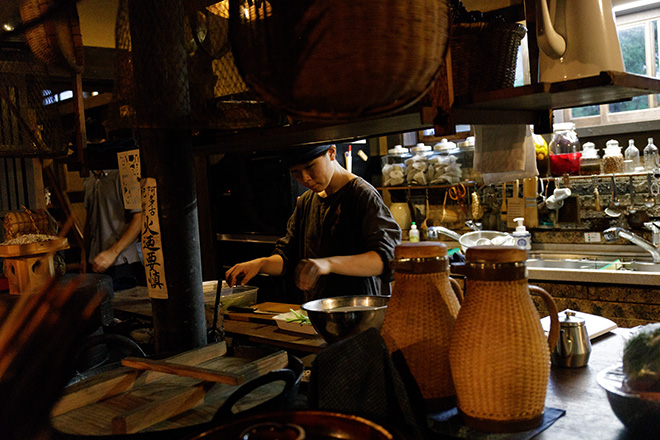 Daidokoro might be translated as "kitchen," but this is doing the daidokoro at Takyo Abeke a massive disservice. The vast room is the beating heart of Takyo Abeke. It's dominated by a large, traditional wood-burning stove and two long tables where guests sit together to enjoy the evening meal. The walls are heaving with large jars of pickled plums and vegetables, syrups, and homemade alcoholic liqueurs; bottles of sake line up on the sideboards and distinctive pots, pans, and plates fill up any space around in a jumbled yet organized homely order.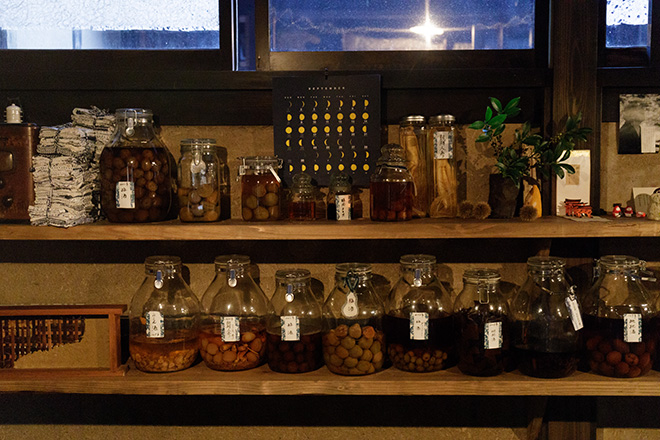 Staff spend the afternoon preparing for the evening festivities, and the whole place is filled with the sounds of jovial camaraderie, clanging pots and pans, and the sizzling and steaming of whatever delicacy will be served that evening. It brings back memories of family Christmases and celebrations, and emphasizes the philosophy behind kurasuyado - "the inn you live in."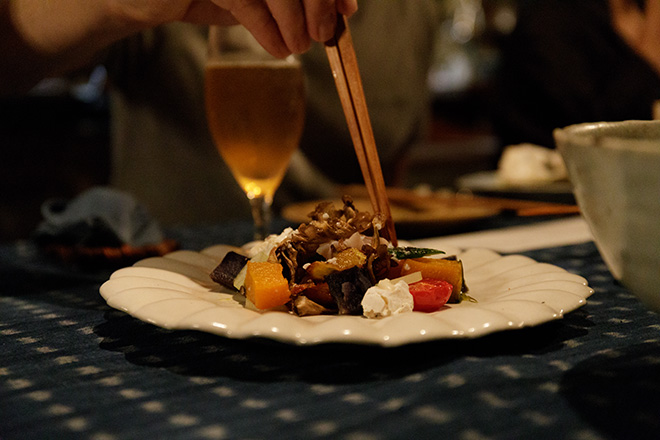 Dinner was a showcase of Shimane delicacies. Some of the highlights were a warm salad of locally sourced vegetables, an original pizza consisting of genmai brown-rice crust, layers of nashi pear topped with cheese, and a beautifully-cooked nodoguro (blackthroat seaperch) with a side of sweet tofu.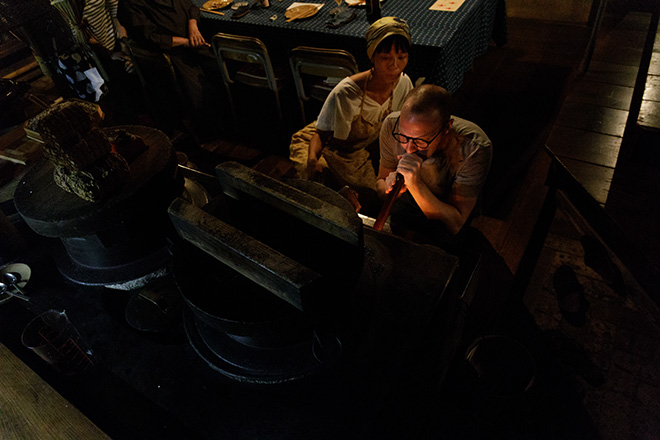 Guests get a chance to be involved in the food preparation process, too. The stove is stocked with wood, and the flames that heat the giant cauldron of rice are fanned by blowing through a bamboo pipe. Visitors take it in turns to crouch down and keep the fires burning. It's a small contribution, but part of the collaborative nature of life at Takyo Abeke.
The traditional Japanese breakfast was similarly beautifully presented. The wild boar paste added a meaty kick to the pristine rice porridge, and local vegetables, fish, and a thick miso soup rounded off the morning nourishment. Coffee is served in a distinctive range of coffee cups and saucers - no doubt, each with their own story to tell.
Bath time - an orderly affair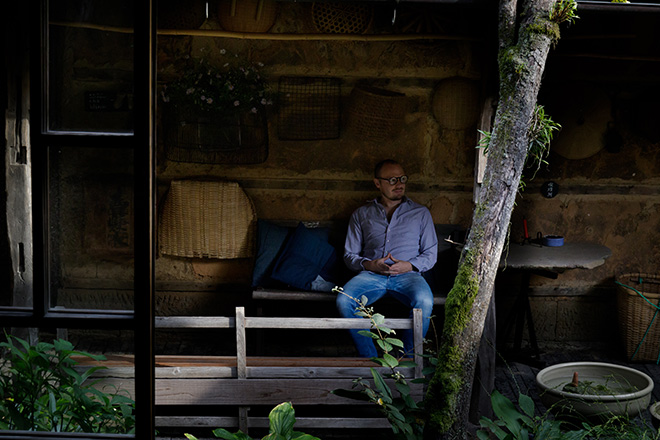 One topic of conversation to have with fellow guests at the dinner table is bath time. The washing facilities are designed for two adults (however, families have enough space for showering and bathing together), so it's important to decide the bathing order. The bathroom is two rooms - a changing room and bathing space equipped with two showers and a beautiful wooden tub. Towels are stocked in the bathroom, so you don't need to bring your own. It's a great spot to relax and reminisce on the day's proceedings (remember that others might be waiting to use the bathroom, too).
Lasting thoughts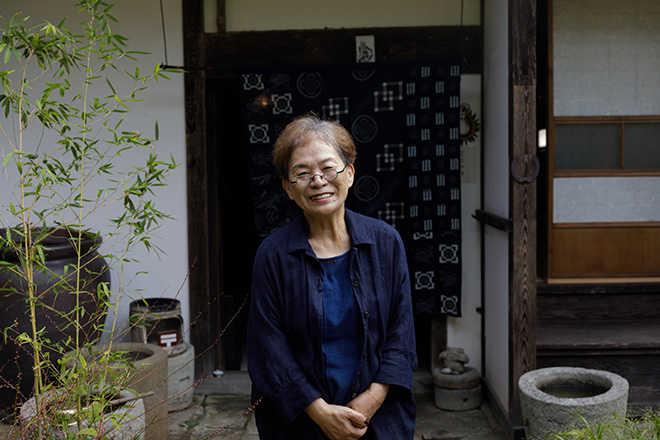 A stay at Takyo Abeke is more than just a night in a quirky guesthouse off the beaten track. It provokes deeper thoughts of sustainability, lifestyle choices, and the meaning of happiness and community. While saying thanks and goodbye on the guesthouse front garden, Tomi offers a little more insight into her philosophy. "This isn't a generation for building new. It's a generation for reuse and renovation." In today's climate of extreme environmental change and fractured communities, who could argue with her?
Name:

Kurasuyado Takyo Abeke
Address:

Ha159-1, Omori-cho, Oda City, Shimane
Check-in:

3 p.m. – 5 p.m.
Check-out:

10 a.m.
Price per person:

A room for two starts at 27,800 yen with half board
Languages available:

Japanese/English
Email:

info@kurasuyado.jp