Odate City is in the northernmost part of Akita Prefecture and offers visitors a rural-Japan experience. The city is a mere 30-minute drive from Odate–Noshiro Airport and has numerous hotels, but if you're keen to sample authentic local life, book a couple of nights in farm-stay accommodation. The fun part is that you become part of the family by making food - such as delicious tanpo rice skewers unique to Akita - harvesting vegetables and other activities. For a super-warm welcome, try staying at Farm Inn Sakekoshimai, run by Toshitaka Yamauchi and his wife.
Stay at a traditional farm inn; visit a warm and relaxing hot spring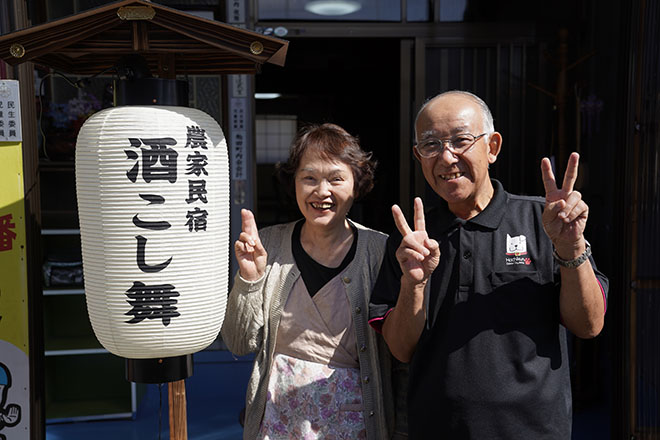 Sakekoshimai is an unassuming farm inn in a quiet part of the Kasuda district. Mr. and Mrs. Yamauchi run Sakekoshimai and extend all guests a warm welcome. The traditional tatami mats in the sleeping quarters and the old family photos that line the walls give the house a traditional, warm and friendly feel.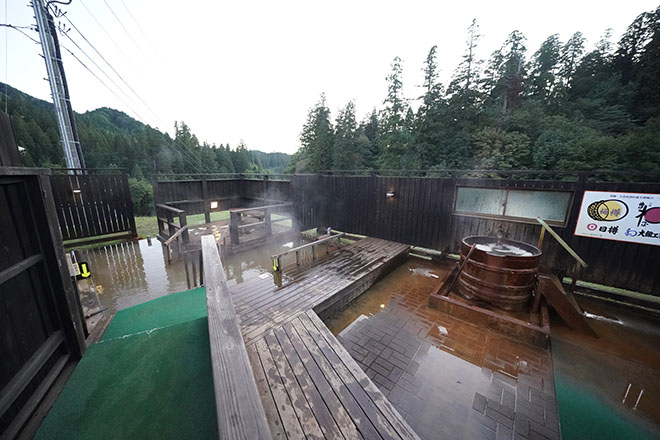 Mr. Yamauchi advises his guests to visit Yatate Heights, a nearby onsen, or hot spring. Located close to the border with Aomori Prefecture, the facility offers food, accommodation, and day-trip passes if you don't plan on staying overnight. You can take advantage of both the indoor and outdoor facilities.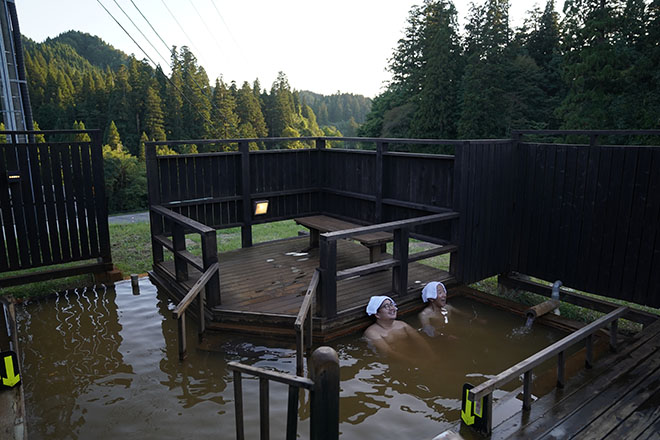 In the outdoor area, there's a lingering air of sulfur due to the properties of the water. This may come as a surprise if it's your first time bathing in hot spring water. Taking a dip here is the perfect way to begin the evening; relax and enjoy the great views of the surrounding countryside.
Say goodbye to hunger pangs with tanpo, a rice-based regional treat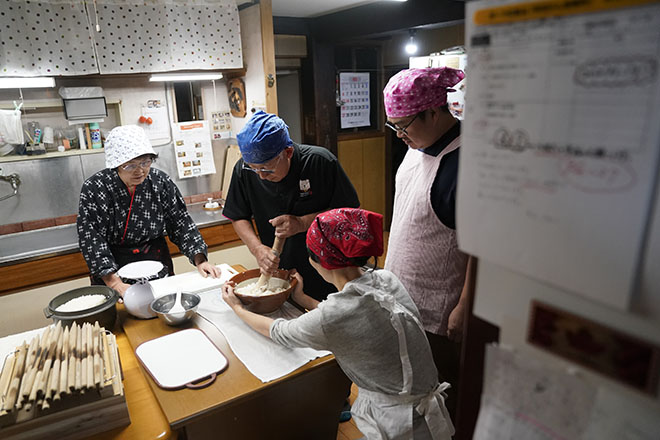 While at Sakekoshimai, you'll have the opportunity to make tanpo, a delicious food unique to Akita. In the kitchen, you'll see written instructions on how to make tanpo (in English and Japanese), but the Yamauchis will carefully explain the process step-by-step, too. First, cooked rice is pounded in a large mortar with an equally large pestle. Take care not to overdo it though; you're aiming for semi-mashed rice. (The written instructions light-heartedly advise that you only "kill it half to death").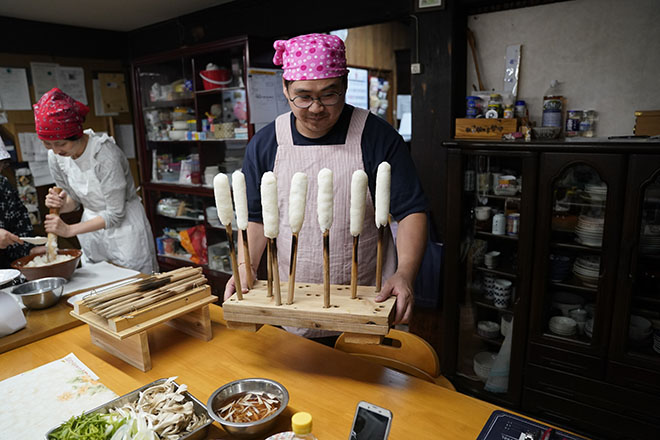 With wet hands, mold around 100-150 grams of rice into a ball shape; scales are available to help you get an idea of the weight. Next, place the ball onto the end of a large wooden skewer and mold it into a sausage-like shape. On some skewers, you'll notice dark burn-marks from previous uses, which will help you approximate how far down the skewer to extend your rice.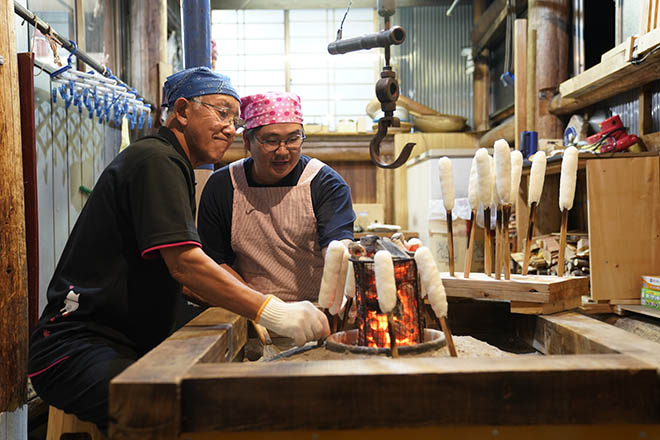 Fill the skewer-holder with tanpo and take it outside to the covered, patio-like area. Mr. Yamauchi prepares hot coals for the fire pit. He'll let you help him but be careful, as the coals are scorching hot. The skewers are then carefully arranged to be very close to - but not in contact with - the coals.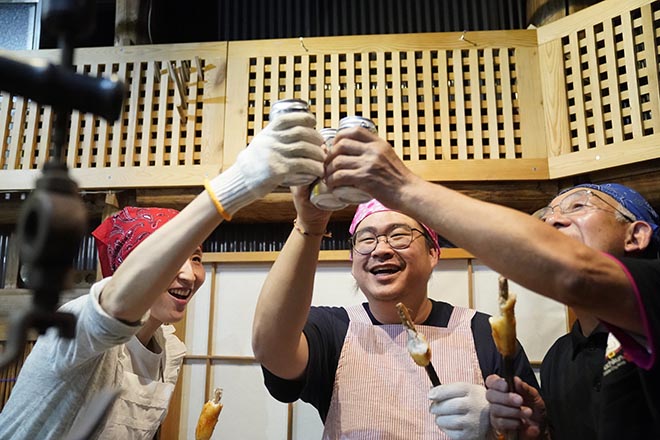 While the tanpo are roasting, Mr. Yamauchi brings out a tray of ayu, or sweetfish, to cook when the tanpo are done. If you skewer the fish in a wave-like fashion, it makes them seem as though they're "swimming." As an appetizer, Mr. Yamauchi brings over a sweet miso paste to glaze over a skewer of tanpo. The result is a crisp layer of roasted rice, creamy inside, with a delicious mix of sweet and salty. It's quite unlike anything else: warm, comforting, and the perfect way to start the evening meal.
Akita chicken hinai-jidori lingers long in the memory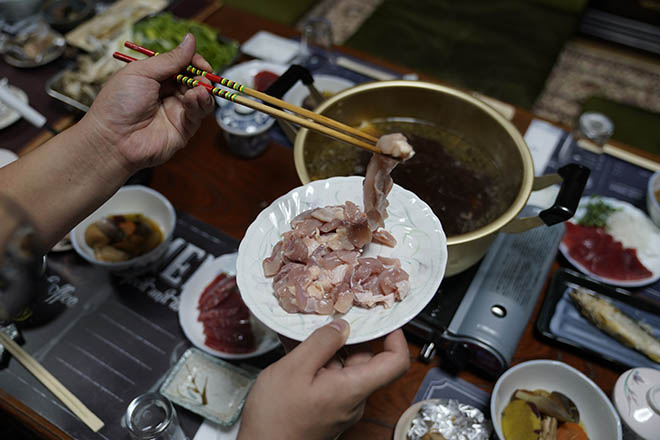 Once all the foods have been prepared, Mrs. Yamauchi transports it all to the table and starts putting together a hearty Japanese meal with all the trimmings. The main attraction is kiritanpo-nabe a hot-pot soup that uses the roasted tanpo as an ingredient (kiritanpo means "cut-up tanpo"). What makes this hot pot so delicious is hinai-jidori, a type of locally raised chicken that's plump, meaty, and chewy.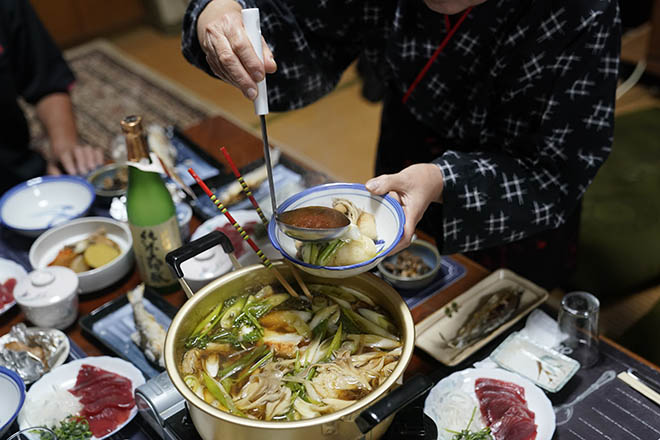 The combination of fresh, local ingredients epitomizes authentic Japanese cuisine. You can dine at any number of local restaurants, but the regional culinary treats served up at Sakekoshimai will likely linger longest in your memory.
After-dinner entertainment, Yamauchi-style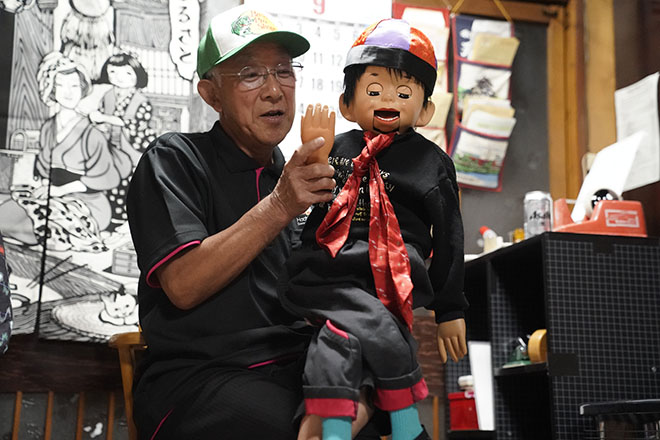 Mr. Yamauchi is a jovial, fun, and friendly guy who likes to entertain his guests after dinner. His ventriloquism, storytelling, and a costume photo-shoot are all fun and memorable. Although the Yamauchis don't speak English, you'll appreciate the effort they put in everything they do - from the food to the entertainment, and beyond.
A morning stroll, local deities, and rice-harvesting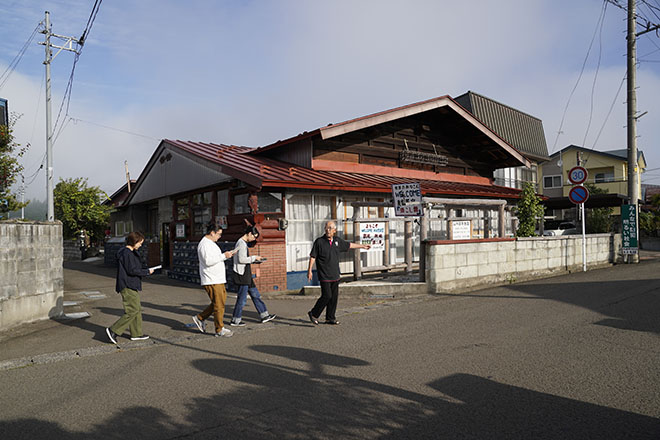 While at Sakekoshimai, take a pre-breakfast stroll around the neighborhood (Mr. Yamauchi can supply you with English maps). Depending on the direction you take, you'll variously encounter other farm inn facilities, turtle figures decorating the walls of a house, and, perhaps most notably, the figure of a female deity said to protect the neighborhood from misfortune.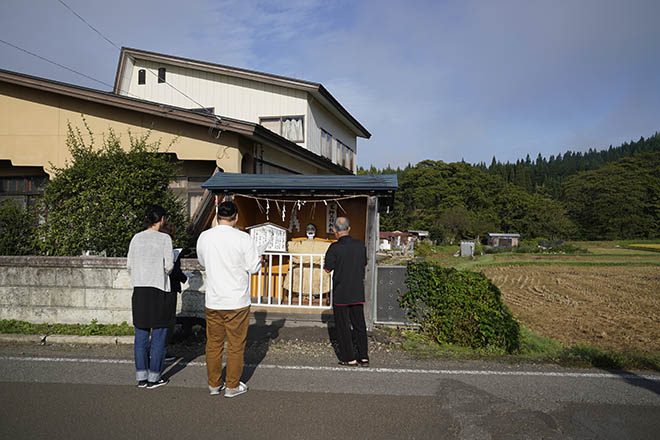 Crafted by locals, the figure - somewhat akin to a scarecrow - adds a unique presence to the neighborhood. On the opposite side of the neighborhood, there's a similar small shrine dedicated to Dosojin, a Shinto deity. After this morning excursion, you'll likely be in the mood for breakfast, which features such hearty fare as grilled salmon, natto (fermented soybeans), and rice. After breakfast, head out to the nearby rice fields for some inekari, or rice-harvesting. Akita Prefecture is famed across Japan for Akita Komachi, a type of rice grown here. It goes well with many kinds of food and is plump, sticky, and delicious when cooked.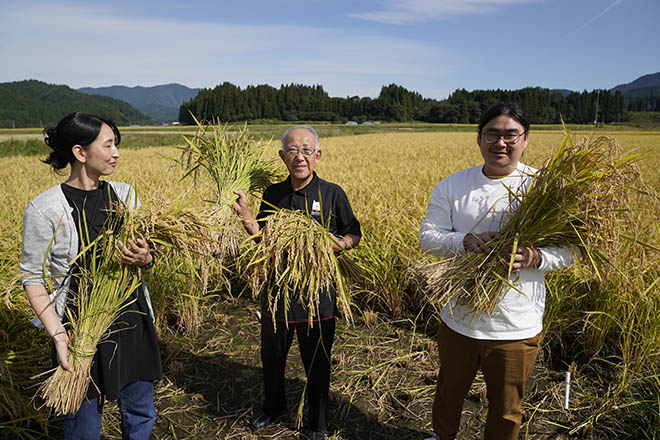 Mr. Yamauchi will show you how to harvest the rice using a machete and some old-fashioned manual labor. It's tiring work, but it makes you appreciate the effort that goes into raising this staple food that accompanies almost every meal here. If you're keen to try your hand at rice-harvesting, book a stay at Sakekoshimai sometime around mid-September to early October - the optimal time to experience inekari.
Name:

Farm Inn Sakekoshimai
Address:

63 Aza Muranishi, Kasuda, Odate, Akita
Check-in:

3 p.m.
Check-out:

10 a.m.
Price per person (including tax):

From 8,250 yen for Standard Plan (half-board one-night stay, kiritanpo-making, hot-spring bathing); from 13,750 yen for Gold Plan (half-board one-night stay, kiritanpo-making, open-air hot-spring bathing, indoor clothing supplied).
Languages available:

Japanese
Reservation:

marugoto.odate@gmail.com (Odate Cultural Activity Promotion Committee)
Tel:

0186-43-7149 (Odate Cultural Activity Promotion Committee)