If you're a dog lover or are interested in riding a rail bike, then Odate City in Akita prefecture should be on your must-visit list. Noodle lovers, too, will likely warm to the city's charms - soba noodles are a major part of the food culture here.
Make your own soba noodles or tanpo at The Cheerful Mother shop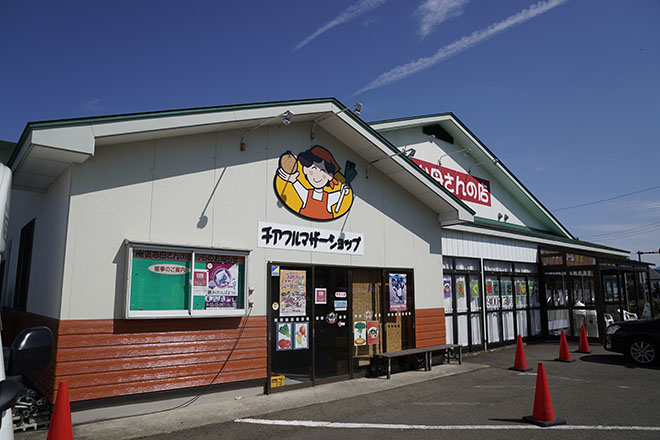 Drive approximately 10 kilometers south of Odate Station and you'll find Youkina Okaasan (Cheerful Mother), a shop that specializes in local produce and fruits. With prominent signage and an endearing logo, you can't miss it. The shop is divided into two sections: the product-selling area, and a smaller building that serves as a classroom for teaching visitors how to make soba noodles and tanpo (a kind of sausage-shaped rice snack). As you enter the main building, you'll notice a variety of locally grown fruits and vegetables. The bright colors of the different vegetables conjure a fresh, visually striking image.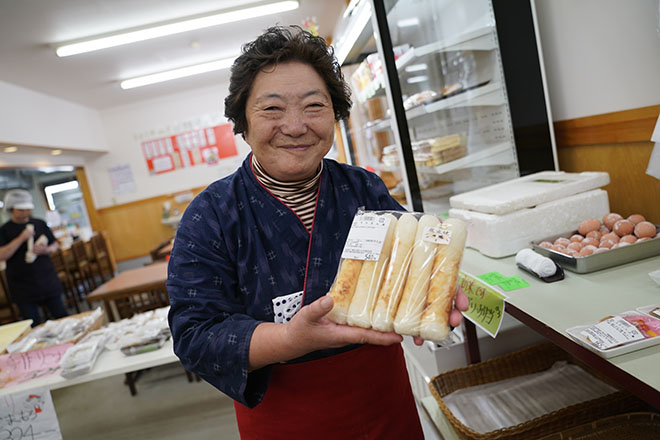 The Cheerful Mother moniker takes its inspiration from Kazuko Ishigaki, the ever-smiling proprietor. "These pears are the northernmost pears grown in Japan that maintain their sweetness," she says, pointing toward a heaving pile of Japanese pears (Pyrus pyrifolia) near the entrance. After taking a bite, it's hard to disagree. The shop also sells ready-made tanpo, takeout lunch boxes, and assorted fruit juices, including a delicious 100% apple juice made with fruit from local orchards. The difference in taste between the locally produced product and well-known commercial brands is striking.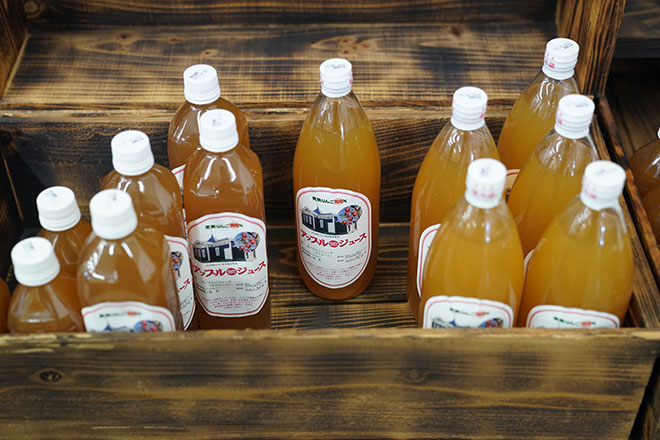 In addition to kiritanpo and Akita Komachi rice, the Odate area is also famous for soba (buckwheat) noodles. Kazuko explains that making soba noodles requires a delicate hand to ensure an even texture when cooked. Guests can try their hand at making their own noodles under Kazuko's tutelage, which is both informative and fun.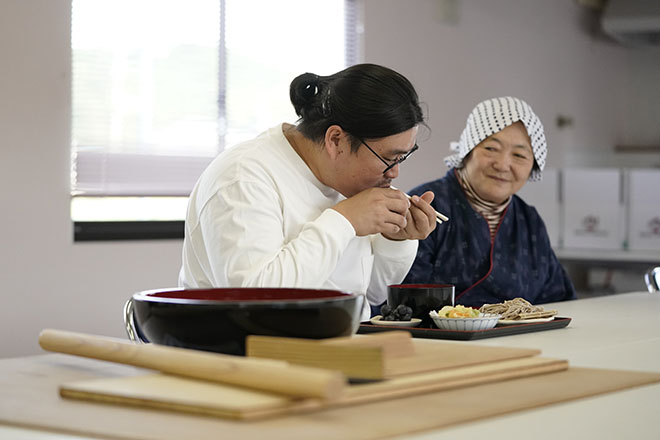 It's customary to eat the cold noodles first, testing a strand for taste before slurping the rest with dipping sauce. Unlike the store-bought versions of soba available in supermarkets, the soba created here has a much chewier texture and brims with freshness.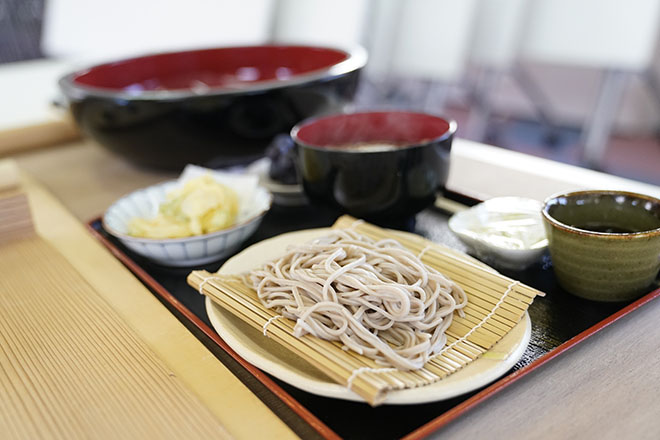 The noodles are served with several pieces of tempura, which help balance the noodles' consistency. The hot version includes a delicious broth with soy sauce flavoring that warms the heart and is perfect for eating on a cold day.
Name:

Youkina Okaasan (Cheerful Mother)
Address:

97-1 Aza Ienoushiro, Magata, Odate, Akita
Business hours:

9 a.m.–5 p.m.
Closed:

Tuesdays (January and February only)
Fees:

2,200 yen for soba-making; 2,750 yen for kiritanpo-making (tax included)
Requirements:

Reservations must be made in advance by email (groups of four or more only)
Email:

marugoto.odate@gmail.com
Languages available:

Japanese
See the local area on a railbike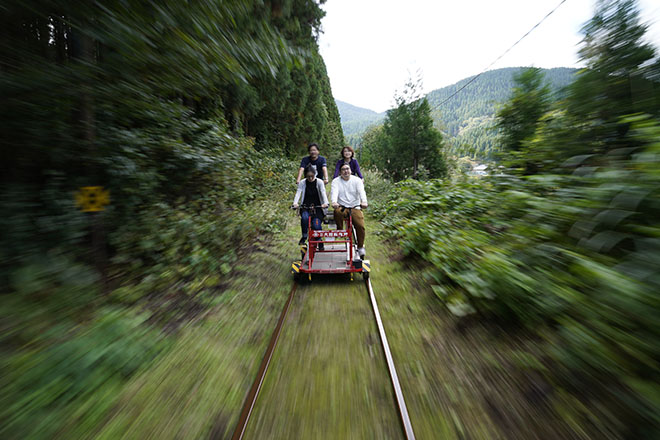 If you'd prefer a more energetic activity, pay a visit to Odate-Kosaka Railbike (around 10 kilometers east of Odate Station) where you can enjoy a ride along an unused railway track. The "bikes" are basically manual trains that combine fun with exercise. There are only a few other places in Japan with similar attractions, including Gifu and Hokkaido.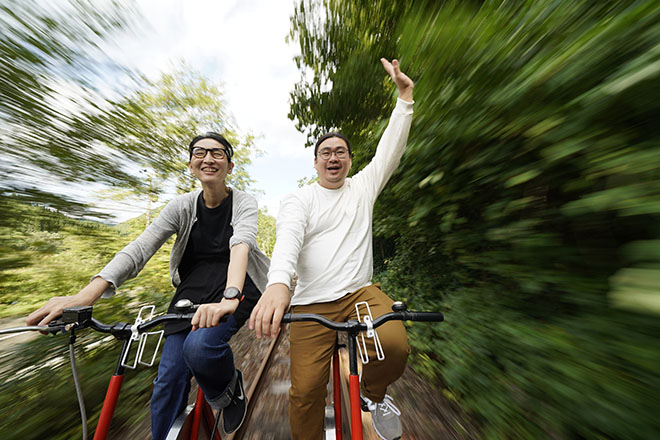 Originally, the track was the Kosaka Smelting & Refining Kosaka Line, which operated between Odate and Kosaka, transporting both passengers and freight (it closed in 2009). The Odate-Kosaka Railbike offers several different types of bikes for you to ride: two- and four-people versions, and a carriage for people who are unable to pedal.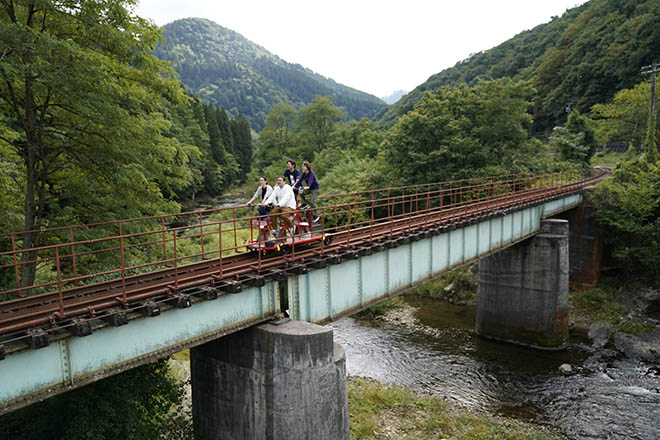 Rail-biking is the perfect activity for family and friends. Not only do you get to enjoy each other's company, you also get to enjoy the scenic views along the trail. Depending on how fast you pedal, you'll likely finish the course within 30 to 40 minutes.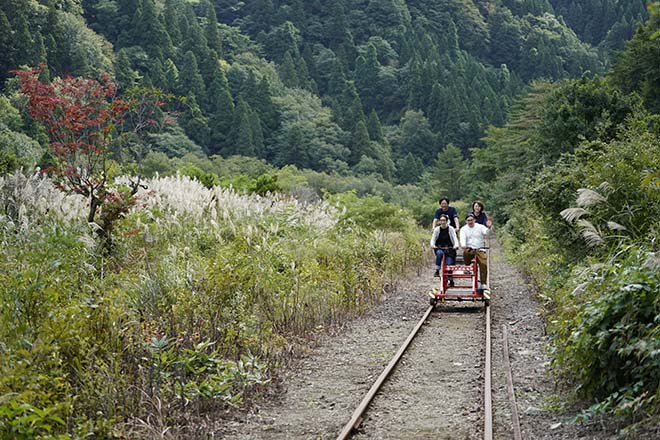 Prices range from 2,500 yen to 3,500 per bike. Note that specific bikes may be unavailable on certain days, so be sure to phone ahead before arrival (inclement weather can also affect services).
Name:

Odate-Kosaka Railbike
Address:

30-2 Aza Otaki, Yukisawa, Odate, Akita
Closed:

Tuesdays, Wednesdays (No service from late November to mid-April)
Railbike fees:

2,500 yen for two people; 3,500 yen for four people; 1,200 per person to ride the carriage
Requirements:

Reservations must be made in advance (website only)
Languages available:

Japanese
Akita Inu no Sato: Celebrating canine loyalty and independence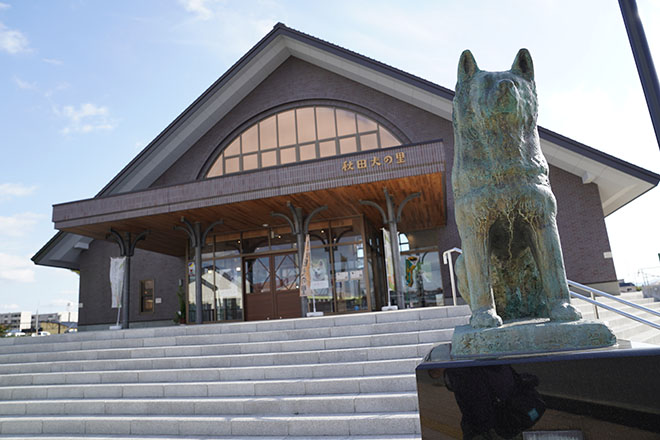 Akita Prefecture is famous for its Akita dog breed. To help promote tourism, Odate City municipal office established Akita Inu no Sato (Akita Dog Visitor Center) in May 2019, immediately across from JR Odate Station. A statue of Hachiko - the most famous Akita dog - sits in front of the building. Hachiko was a loyal canine who waited nine years at Shibuya Station for his owner, Hidesaburo Ueno, following Ueno's death. Due to this loyalty, Hachiko was given the title, "chuken Hachiko" or "faithful-dog Hachiko."
Akita Inu Visitor Center sells a variety of themed souvenirs and snacks. You can also play a game to try and win a stuffed Akita dog by picking a number from a large container. Although a little pricey at 1,000 yen a go, you're guaranteed to win one of four differently sized soft toys.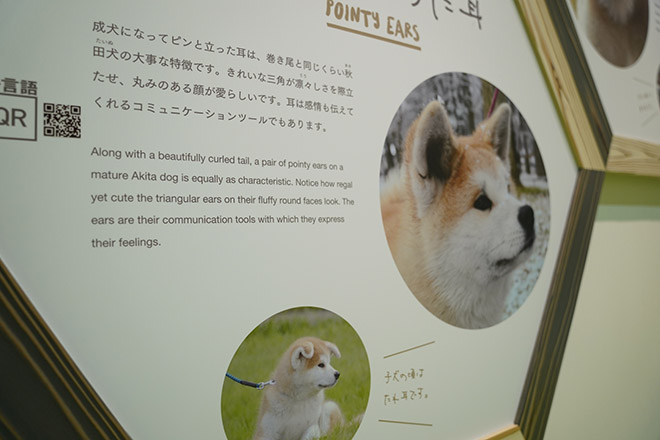 There's also a museum area with explanations (in Japanese and English) about the Akita breed. One of the highlights of the facility is an observation area where you can observe real Akita dogs, though you can't actually pet them.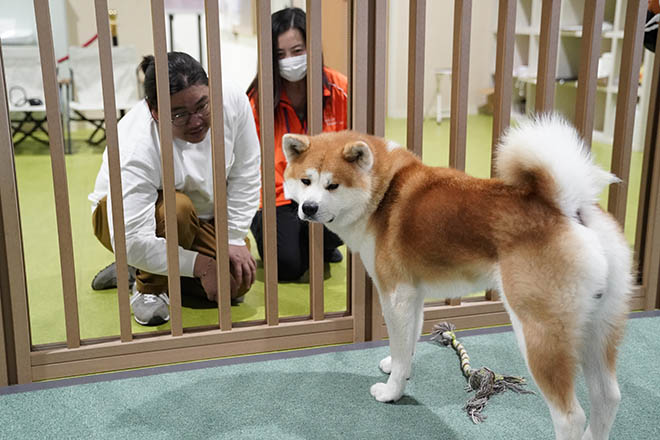 Note that the dogs are brought to the facility by their owners, so there may be times when the facility is canine-free. Nevertheless, Akita Dog Visitor Center is an excellent way to learn more about the breed and serves as a good start or end point to your Akita adventure.
Name:

Akita Dog Visitor Center
Address:

1-13-1 Onari-cho, Odate, Akita
Open:

9 a.m.–6 p.m. (November–March from 9 a.m.–5 p.m.); dog-observation area operates 9:30 a.m.–4:15 p.m. (dogs may not be visible when resting)
Closed:

Dec. 31–Jan 1; dog observation area closed Monday and the weekday following public/national holidays
Fee:

Free
Tel:
Languages available:

Japanese