Kayaking is the perfect way to explore the natural beauty of Shodoshima and the Seto Inland Sea. The sea-kayaking experience offered by Shodoshima Tours takes you on a peaceful journey from a quiet beach in Shodoshima to an uninhabited island. While there, you can relax and have fun on a private beach for the day. The combination of comfortable kayaks and calm waters makes the experience suitable for people of all ages - from first-time boaters to seasoned pros.
Discover a new and unique side of Shodoshima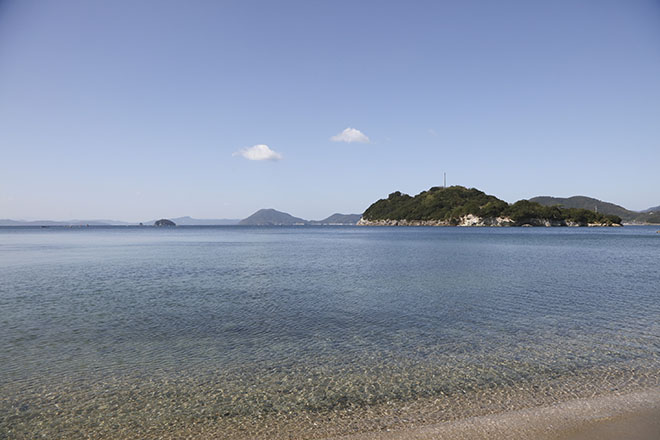 Shodoshima is the second-largest of the roughly 700 islands in the beautiful Seto Inland Sea, following its more famous cousin, Naoshima. The Setouchi region - which includes the Seto Inland Sea and the coastal areas of Honshu, Kyushu, and Shikoku - is well-known for its mild climate, beautiful vistas, and delicious seafood. Shodoshima is no exception. Even though the island remains something of a hidden gem, tourist numbers have been slowly increasing over the years. They come to enjoy such natural beauty spots as Kankakei Gorge with its striking fall foliage, a sandbar known as Angel Road said to bring happiness to couples, and the many panoramic viewpoints dotted around the island.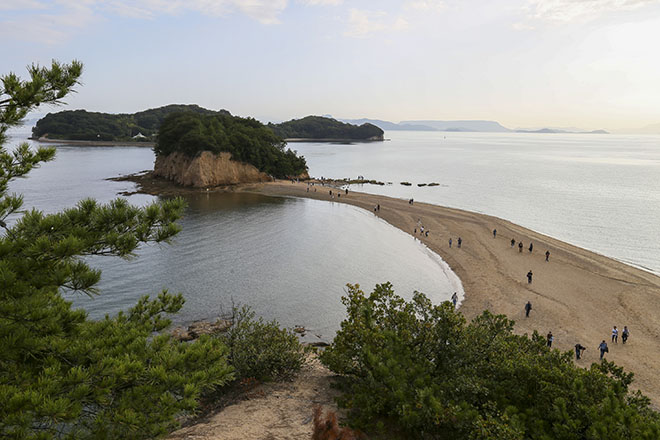 Shodoshima Tours was founded by Teruaki Kubo, who was born in Osaka yet has deep family roots in the Sakate area of Shodoshima. He worked for 25 years as a typical "salaryman" on Japan's main island of Honshu before having an epiphany while snorkeling with dolphins and turtles. He explains: "The guide I was with was so interesting. I realized that I wanted to introduce Shodoshima in the same way. I spent so much time on Shodoshima when I visited my family as a child, playing on the beach. I realized then it was time to go back to my roots in Shodoshima. I started my tour company first and then opened a guesthouse in the house my father grew up in."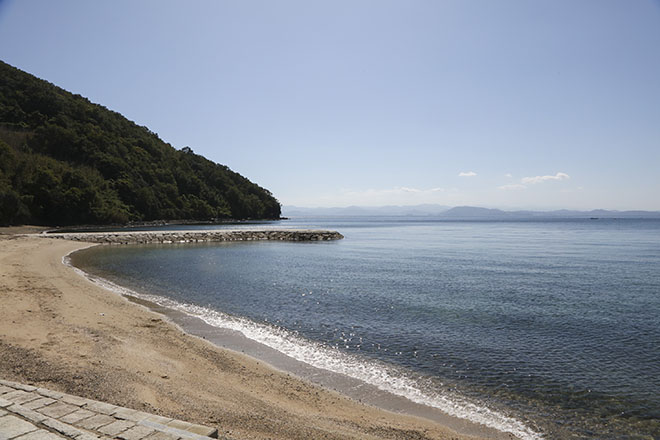 Kubo particularly likes introducing visitors to the sea-kayaking experience. "You're so close to the water, you're practically swimming," he enthuses. "People often like to look out over Shodoshima and the Seto Inland Sea from above. But kayaking lets you see a new side of the island." The tour kicks off at Setonohama Beach in the southeastern area of Shodoshima, where Kubo often swam as a child. It's a quiet beach, and you likely won't see anyone else around. The tour takes you to a tiny island known as Kojima, which has a small beach. It's a great spot to take a dip in the water and admire the view.
Sunscreen, hat, and a cool drink? Let's get out on the water.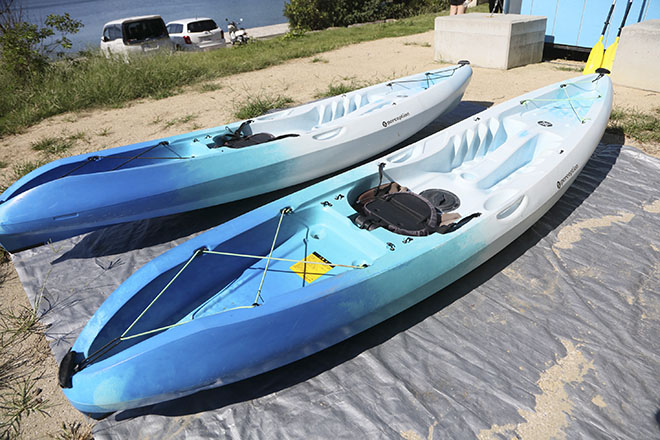 First, make your way to Setonohama Kaisui Yokujo (Setonohama Beach Swimming Area), which is about 1 kilometer east of Sakate Port. If you have private transport, you can park in the area. Those without a car should request in advance to be picked up from the Sakate Port Tourist Information Center. Tandem kayaks can also be arranged if you have an elementary school-aged child.
Once you arrive, pay the fee and get changed in the small ocean-side hut (be sure to wear a swimsuit or clothes and shoes that can get wet). Expect your legs and feet to get soaked, especially if you're a beginner. It's also best to bring a hat and a refreshing drink. Wear plenty of sunscreen, especially on your legs as the kayaks used have no leg covers. There's a limited supply of hats and waterproof shoes in the ocean hut, but it's best to bring your own.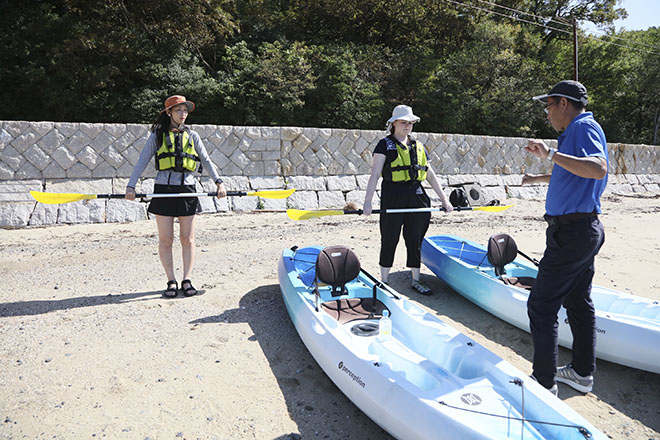 Next, put on your lifejacket and carry the kayaks and paddles to the beach for an explanation from your instructor. You'll get a hands-on demonstration of how to use the paddles, steer, and avoid tipping over. The comfort-levels of the kayaks will likely surprise you. They're very stable, and come with a padded seat, backrest, and drink holder.
Paddling practice comes next. Beginners should use this time to familiarize themselves with the techniques of kayaking, while seasoned paddlers can sit back with their drink and enjoy the scenery. The area also has the most transparent waters around Shodoshima, so be sure to check out the fish as they swim around below your vessel.
Taking to the water for the first time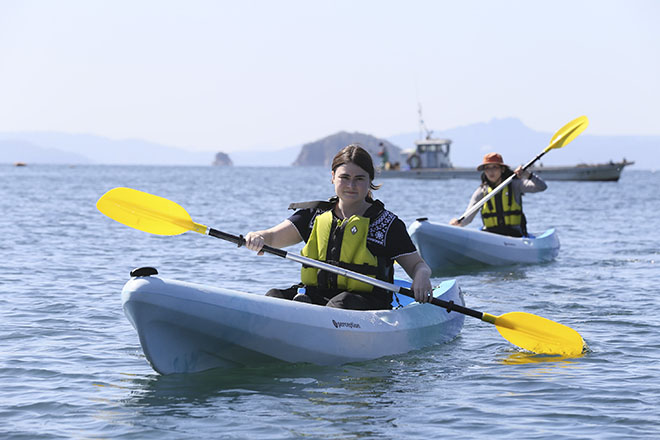 Once everyone is confidently paddling, it's time for the main event - paddling out to the uninhabited island of Kojima. On the way, admire the tree-topped bluff, the soaring sea birds, and the flying fish. Don't forget to wave to the fishermen on their boats, too.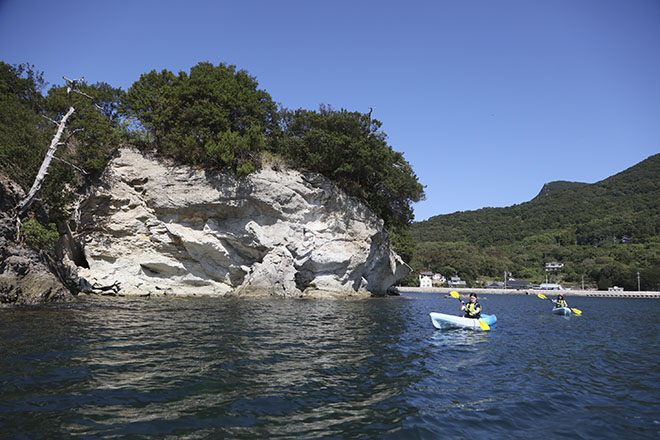 Once you've arrived at Kojima Island's beach, alight from the kayak and haul it onto land, as per your instructor's advice. After all that exercise, it's time to take a well-earned break by sitting on your kayak, which doubles as a kind of sofa. You can also enjoy swimming during the warmer summer months. All too soon, it's time to bid farewell to your temporarily private island and head back to Shodoshima.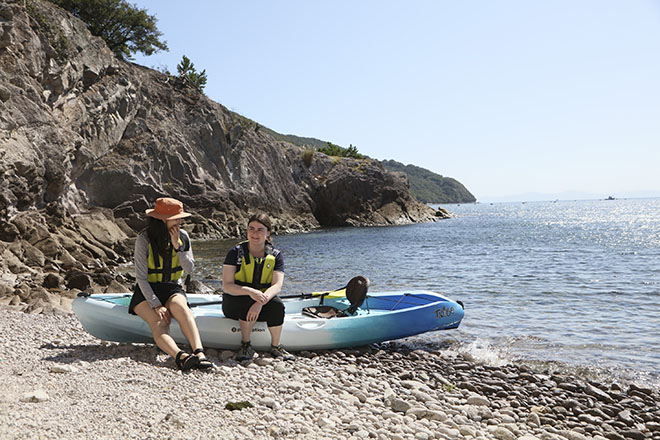 Shodoshima Tours provides a kayak, paddle, life jacket, shower, and insurance. To supplement these items, you should bring along clothes (or a swimsuit) and footwear that you don't mind getting wet, a hat, cool drink, and sunscreen.
Organization name:

Shodoshima Tours
Organization address:

Sakate-ko 416, Shodoshima-cho, Shozu District, Kagawa
Program:

Sea-kayaking
Meeting point:

Setonohama sea-swimming area
Dates/times:

March through September
Fee:

5,500 yen (tax included) for adults, 3,000 yen (tax included) for elementary school and junior high students; Guide fee, life jacket rental, shower, insurance included
Requirements:

Must be 10 or older, must be group of 2 to 8; Reservations required;
Languages available:

Basic English/Japanese
Email:

info@shodoshima-tours.jp
Tel: