The Shobara region spreads across hill and dale in the northeastern corner of the mountainous prefecture of Hiroshima. Located roughly 1.5 hours from Hiroshima Station, and just over an hour from Hiroshima Airport by car, this rural area is a world away from the frenetic hustle and bustle of the cities that make up the main tourist track across the Japanese archipelago.

To reach Shobara, you'll wind along roads that whisk you away from the neon lights of modern Japan to an older, agrarian age. Out the windows, satoyama—small settlements in valleys where the lower hillsides are cultivated—interrupt forests thick with evergreens, deciduous trees, and bamboo. As you reach Shobara, terraced fields of rice and buckwheat dominate a landscape dotted with stately farmhouses.
Drift Across the Calm Waters of Taishaku Gorge's Lake Shinryu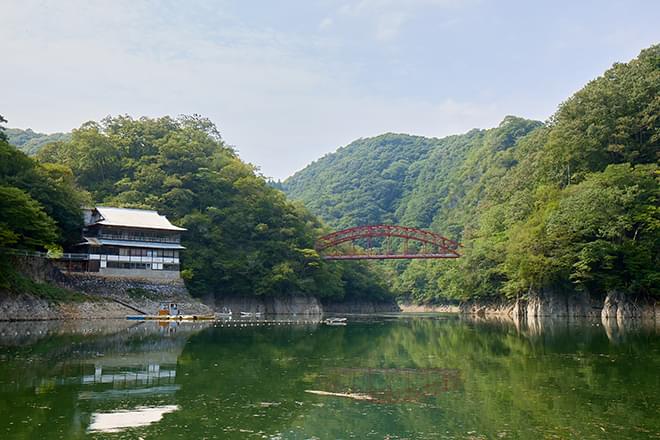 Beyond the satoyama settlements, the Chugoku Mountains of Hiroshima are dense with vegetation. Carved out from the green hills, Taishaku Gorge—part of Hiba-Dogo-Taishaku Quasi-National Park—impresses, with towering cliffs of gray rock that peek through thick foliage.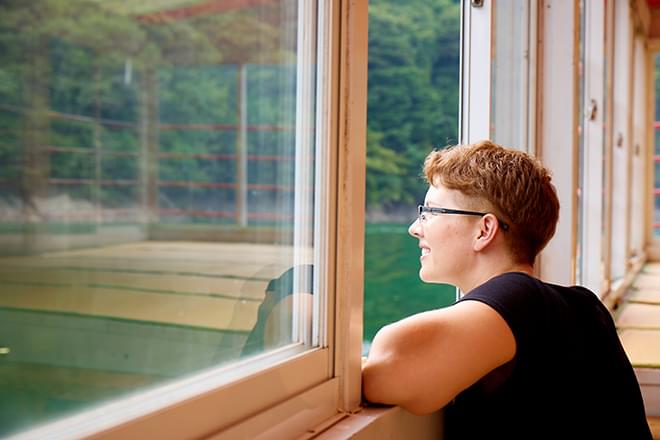 Approximately 40 minutes from the Shobara City metropolitan area, Lake Shinryu, a serpentine manmade lake, offers incredible views of cliffs, vermillion bridges, and hills from the water. Board a boat with tatami seating and cruise the lake, as great cormorants and other waterfowl fly low over the water beside you. Fall in particular offers stunning sights as foliage burns red, orange, and yellow against the gray cliffs.
Name:

Taishaku Gorge Pleasure Boat
Address:

5034-7 Nagano, Jinsekikogen, Jinseki District, Hiroshima Prefecture
Time:

Approximately 40 minutes
Languages available:

Japanese (recorded commentary during cruise)
Tel:
Explore the Wilderness of Taishaku Gorge On Land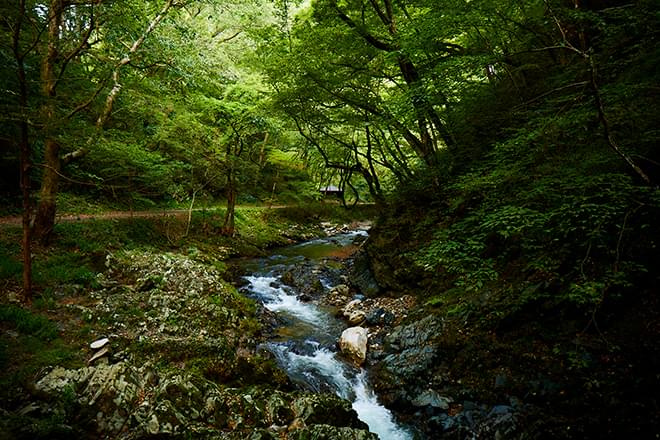 Head deeper into the gorge, either on foot or by bicycle, to Onbashi Bridge, one of the three largest natural bridges in the world, and a nationally designated Natural Monument. Follow the river as it gurgles and splashes over a bed of pebbles, and stop to admire Haku-un Cave, a limestone cavern which extends 200 meters into the rock of the gorge.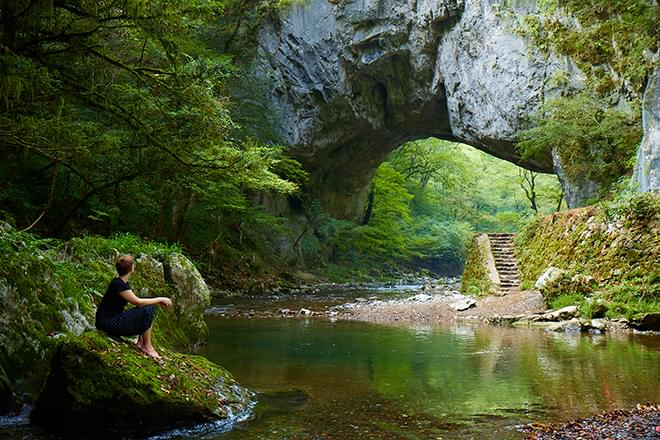 Not far from the cave's entrance, you'll come across the imposing Onbashi Bridge. At 90 meters across, 18 meters wide, 24 meters thick, and 40 meters high, it looms large over its surroundings, and frames the vibrant river valley in light gray limestone.
Name:

Taishaku Gorge, Haku-un Cave and Onbashi Bridge (Kami-Taishaku Dai-ni parking area)
Address:

1940-3 Taishakumido, Tojo, Shobara, Hiroshima Prefecture
Closed:

Irregular holidays (Haku-un Cave and bicycle rental shop)
Spend the Night in a 250-year-old Kominka Farmhouse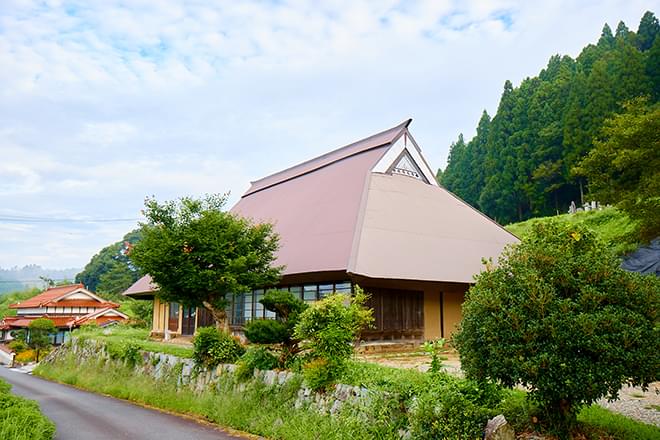 The farmhouses of Shobara range from new to venerable and are topped with shining kawara roof tiles, or else sheet-metal-covered thatch. Head into the countryside to spend the night under one such roof at Chojaya, a renovated 250-year-old farmhouse located deep in a Shobara satoyama.
A packed-earth entranceway welcomes you, while to your left, the cattle shed—once home to the family's treasured draft cattle—is hung with photographs from years past. Drink in the history of the house, from its thick beams, and lacquered sliding doors to the bird carved into a plaster wall by a long-ago householder.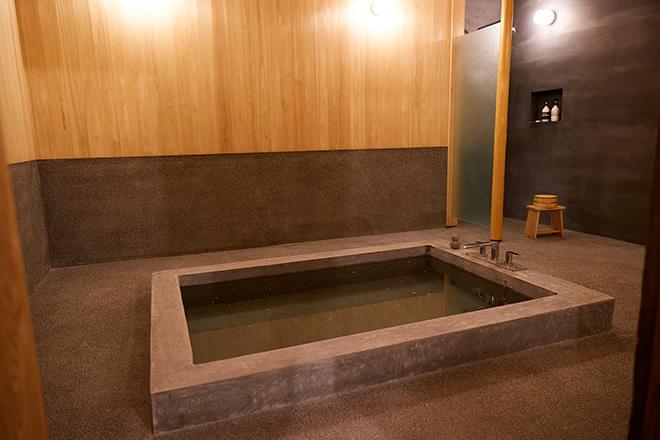 In perfect harmony with the preserved portions of the residence, contemporary comforts—including an IH cooktop-equipped kitchen—abound for your relaxation and convenience.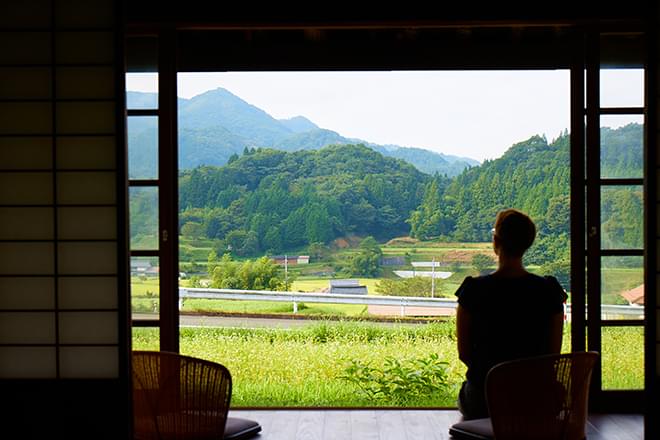 From the engawa corridor, sit back and admire the view of terraced rice paddies and fields of buckwheat. The road that stands between you and the fields is a prime cycling route, and electric-assist bicycles can be rented to explore the area on your own or as part of a guided tour.
Savor Local Cuisine Prepared Before Your Eyes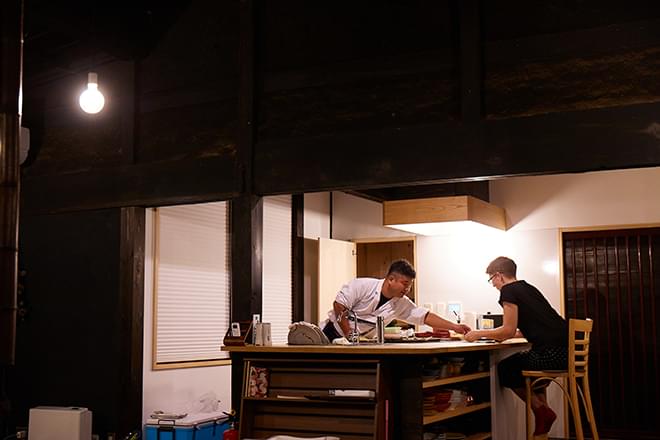 Chojaya, one of several Setouchi Cominca Stays properties, comes with a Shobara Gastronomy dinner option, where a trained chef prepares a meal of local specialties on-site. The Shobara area is rich with variety, and meals include a range of seasonal ingredients. For example, an autumn meal might include wild boar, trout, buckwheat soba-dofu, squash, and a peach-based dessert.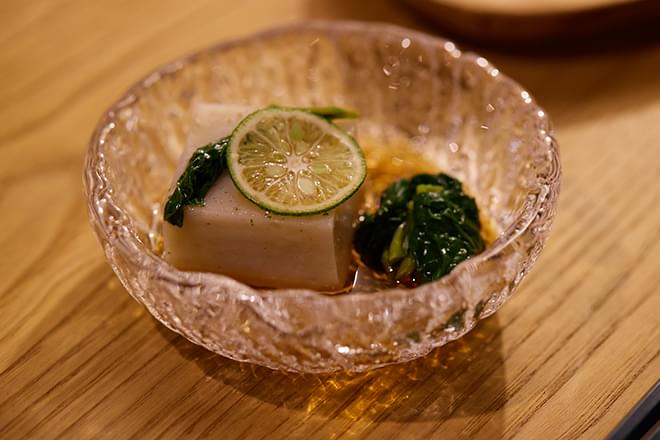 Meals are served stylishly for a feast for the eyes as well as the stomach. Watching the chef at work and inquiring about various ingredients locals have enjoyed for centuries adds a special touch to the already incredible experience.
Name:

Chojaya
Address:

1528 Mitsugaichi, Hiwa, Shobara, Hiroshima Prefecture 727-0311
Check-in:

3 p.m.
Check-out:

11 a.m.
Tel:
Enjoy Colorful Local Culture and a Trip Back in Time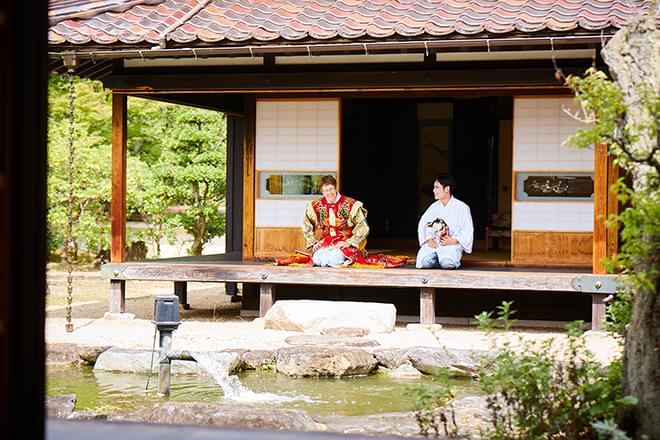 Kagura, an ancient form of Shinto theater, is a whirlwind of music, dance, and fanciful costumes. With minimal dialogue and simple story lines, the performances are easy to follow and are incredible entertainment, regardless of your Japanese ability.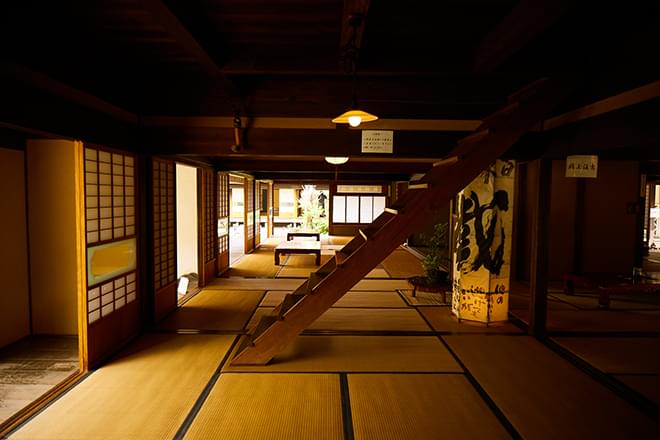 Bihoku Hillside National Park, approximately five minutes from the city center of Shobara, provides the perfect place to enjoy kagura. In addition to weekend performances in the kagura theater, the park is home to a recreated traditional village, with grass-thatched roofs, traditional gardens, cultural activities and workshops, alongside child-friendly playground equipment and fields of seasonal flowers.

At the kagura theater, straw dragons frame the stage, as actors twirl and swordfight, costumes and masks changing as if by magic as the story unfolds.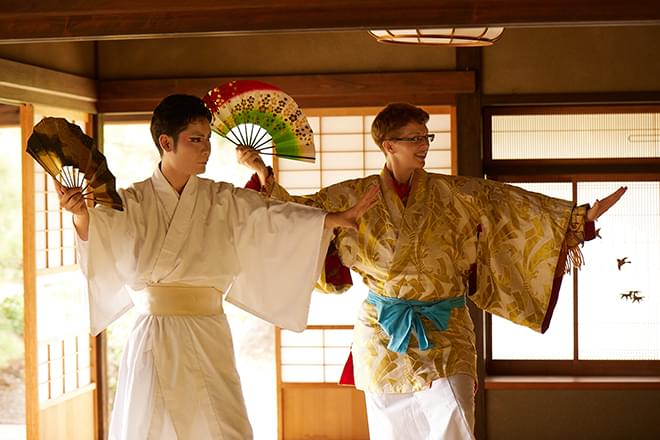 Should your timing be good, you may have a chance to chat with performers after a show— and perhaps even touch or try on their costumes.
Name:

Bihoku Hillside National Park
Address:

4-10 Mikkaichi, Shobara, Hiroshima Prefecture
Tel: