Located about an hours' drive from Utsunomiya City, Tochigi's Nakagawa Town and the neighboring city of Otawara are renowned for their natural beauty and rustic tranquility. With the carefully restored Iizuka-tei residence which sits along the historic main street as well as the unique Gozeniwa Bussan Center, remnants of days gone by live on in Nakagawa Town. In Otawara City, pick fresh vegetables at a local farm and learn from the town's residents how to savor the gratifying moments and slower pace of life in the countryside.
Travel Back in Time at Iizuka-tei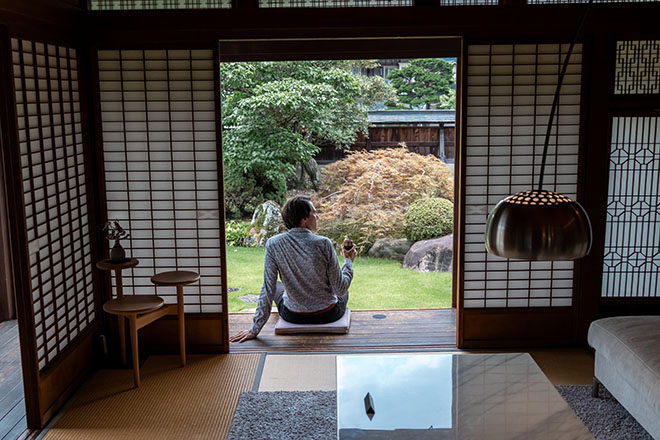 Stretching along the historic main street in Nakagawa Town, the distinctive stone and wood walls surrounding the impressive roofs and pristinely manicured trees of Iizuka-tei give a hint of something special. Shielded by these walls lies a former home of the affluent Iizuka family; village officials in Nakagawa who went on to prosper in the field of banking. With two large residences and two kura (storehouses) built during the feudal Edo (1603-1868) and turn-of-the-century Meiji (1868-1912) periods, the whole estate is a registered tangible cultural property. After the family donated the residence to the local government some 20 years ago, the interiors were completely renovated, and the Iizuka-tei boutique hotel, which boasts six distinctive lodgings, was opened in 2019.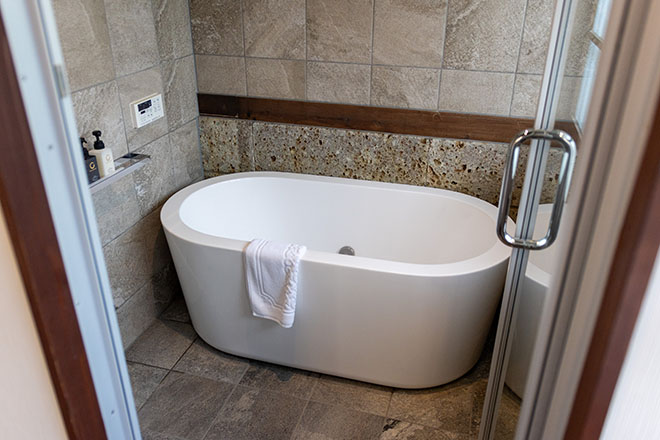 Iizuka-tei harmoniously interweaves the interior comforts and tasteful furnishings of a modern hotel with the singular beauty and appeal of traditional Japanese architecture. While the outside remains untouched for the most part—a must for registered cultural properties—the interior is like something that you've never seen before. Shoji doors, tatami-matted floors, and traditional yukata robes? Yes, you'll find these, along with comfortable beds with Simmons mattresses, state-of-the-art bathtubs, heated flooring, ambient interior lighting, and large, cozy couches. Yet features like the authentic old trunk once owned by the Iizuka family and a pine tree bearing the scars of samurai swords dating back to the eighteenth century are reminders of the years of history that linger here.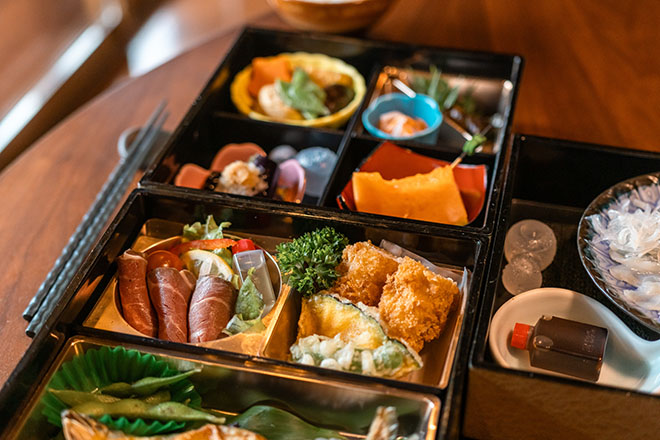 When staying at Iizuka-tei, guests are encouraged to leave their surroundings and interact with the town's residents. The hotel emphasizes connections with the local community, using pottery made by local townsfolk and serving locally roasted or sourced tea and coffee. The contemporary kitchens come equipped with cooking utensils, pots and pans, and high-tech IH (induction heating) stoves for guests who prefer to purchase and prepare their own meals. And in place of a traditional restaurant, Iizuka-tei provides a hassle-free bento delivery service, featuring exquisitely prepared items made by a local dining establishment, such as tora-fugu (pufferfish) and ayu (sweetfish) cultivated in the local Naka River.
Guests can also immerse themselves in rural life by experiencing different activities offered around Nakagawa Town. The hotel provides bicycles for guests looking to explore the crowd-free temples and shrines in the area, enjoy the tranquility of a cherry tree-lined promenade, or ride through breathtaking, terraced paddy fields. While the staff are more than happy to introduce guests to activities like pottery making, they can also organize more immersive experiences—a visit to a local farmhouse where guests can enjoy conversation with the family over a dinner of freshly harvested vegetables, or even a hunting trip, with guests able to enjoy the fruits of their adventure afterward.
Facility name:

Iizuka-tei
Address:

360 Bato, Nakagawa, Nasu District, Tochigi 324-0613
Stay at Momo Farm to Experience Fifteen Generations of Farming Tradition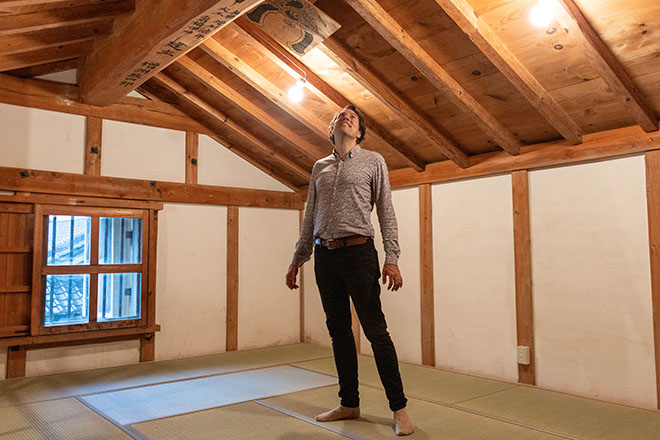 Located deep in the verdant countryside of Otawara, Momo Farm is an expansive working farm made up of about fourteen hectares of rice paddies, and some vegetable fields too. The proprietor, Ms. Tomoko Nishioka, represents the fifteenth generation of her family to farm this land. Having long dreamed of carrying on the family legacy since she was young, she went on to study agriculture at university. After working as a teacher in Shizuoka Prefecture during her early career, she returned to Tochigi with her three children and began to learn the ropes of running the family farming business when her father's health took a turn for the worse. She officially took over the farm in 2013 when he passed away.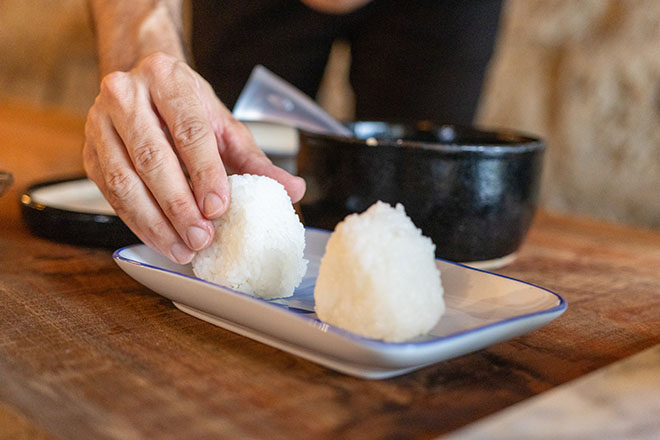 Rather than simply following in her father's footsteps, Nishioka was keen to implement innovative ideas and make an even bigger impact through her farm. One of her early initiatives was to organically grow rice in an all-natural environment. More importantly, she wanted to pass on the joys and rewards of farming to others, and she therefore studied to become a certified green-tourism instructor and coordinator. After this, she went on to renovate several buildings on her property—for example, turning an old two-story storage shed into a rustic space for farming-themed workshops and a place to stay for those looking for a hands-on agricultural experience.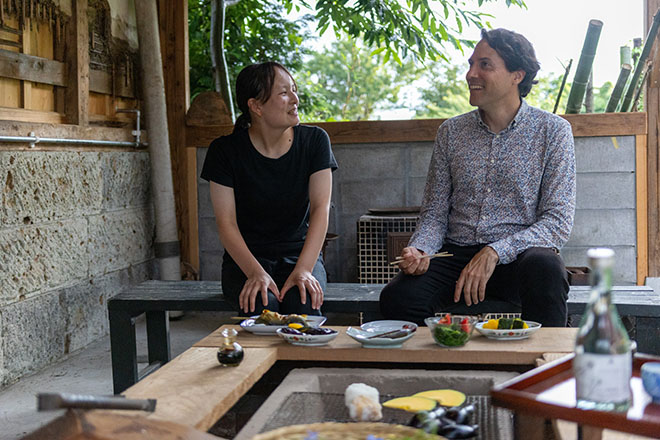 Nishioka currently serves as a local leader in promoting farming and is eager to welcome people from all walks of life to experience Momo Farm. Guests can enjoy sleeping overnight in the remodeled shed or simply come for a one-day farming experience. Depending on the season, Nishioka offers rice planting, rice harvesting, vegetable picking, and even baking classes using komeko (rice flour) made from rice grown on her own farm. Directly across from another storehouse, which dates back more than a century, is a Japanese-style grill used for barbecuing. Sitting around the fire grilling and feasting on fresh, organic food and sipping Nishioka's Arushiroi sake, specially made from her own rice, it will soon become evident why her family has farmed this land for fifteen generations.
Facility name:

Momo Farm
Address:

1187-1 Hanazono, Otawara, Tochigi 324-0023
Make Your Own Noodles at Gozeniwa Bussan Center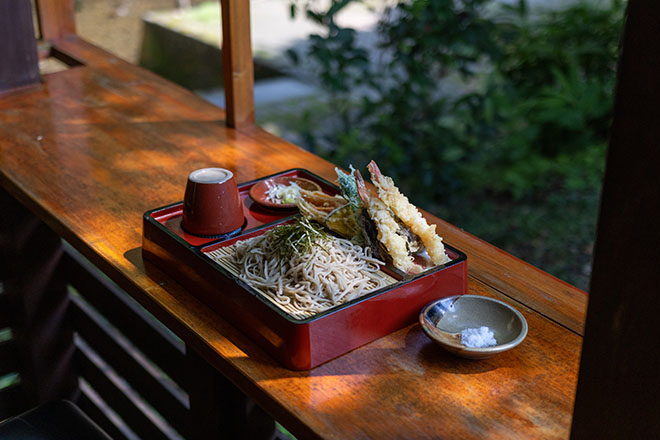 Less than ten minutes from the center of Nakagawa and situated along the banks of the breathtaking Mumo River, Gozeniwa Bussan Center is not simply a restaurant serving tasty Japanese cuisine—it's also a place where you can try making your own soba (buckwheat noodles), purchase locally produced wares, or even enjoy a rather quirky local attraction!

Nakagawa Town is one of Tochigi Prefecture's leading centers for soba production and is renowned for its Yamizo Soba highway, which is lined with shops that use locally produced soba flour. In addition to staples like crispy tempura, Gozeniwa Bussan Center offers specialties such as its flavorful and aromatic soba noodles handmade onsite, wild boar, onsen tora-fugu (pufferfish cultivated in hot-spring water), and a river fish called willow gudgeon.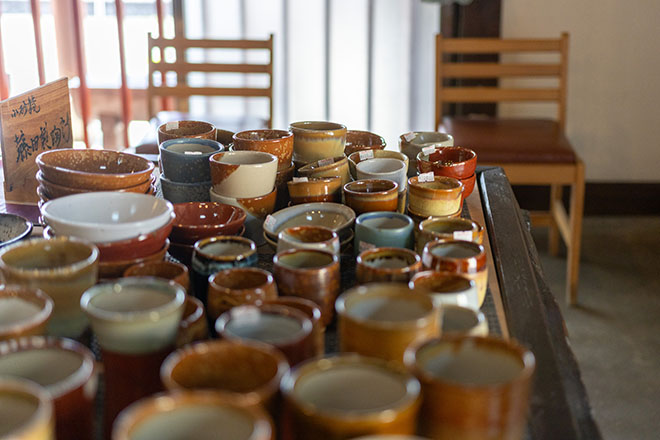 The center's staff will happily walk you through the process of making your own soba noodles. For just ¥1,500, you can mix soba flour with water in a wooden bowl, then knead, stretch, and cut the dough into long, thin noodles. The staff will then boil the noodles for you and serve them together with kakiage-ten (deep-fried tempura) in the center's dining space.

After receiving your food, choose a seat on the shaded terrace, which offers a gorgeous view of the murmuring Mumo River, shallow enough for wading during the warm summer months. In addition to full meals, Gozeniwa Bussan Center boasts a café menu of drip coffee and tea, as well as lemon squash, soda, and other soft drinks.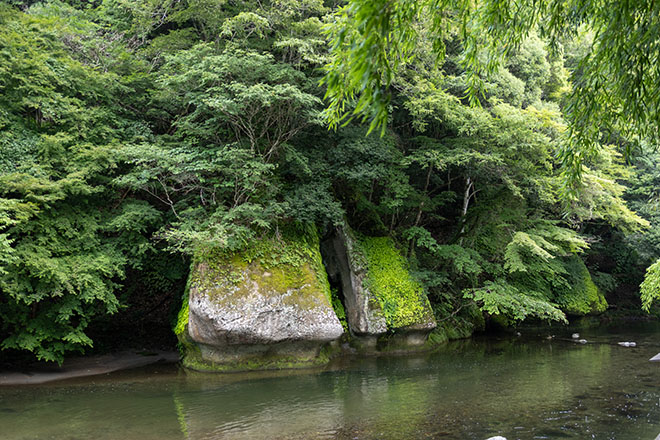 After you've finished your meal, browse the locally made souvenirs in the center's gift shop, including manju (steamed sweets), wooden handicrafts, handmade ceramics, and even some unique alcoholic beverages, such as soba shochu, a type of distilled liquor. Then, just a short stroll upstream is the Gozeniwa itself, a natural rock formation set amidst the tranquil scenery of the babbling river.
Facility name:

Gozeniwa Bussan Center
Address:

2766 Oyamadashimogo, Nakagawa, Nasu, Tochigi 324-0602