Located in Japan's north-eastern Tohoku region, Iwate Prefecture is renowned for its picturesque coastline, stunning nature, and lush green mountains. Iwate has the lowest population density out of any of the prefectures on Japan's main island, contributing to its relaxed, slow-paced way of life.

Hachimantai City, nestled in the mountains of Iwate Prefecture, is the ideal place to experience Iwate's natural beauty and tranquility. From forest explorations to walking tours, it offers a variety of activities for nature-loving travelers, and mouthwatering local cuisine is always on-hand for when you need to recharge between adventures.
Hachimantai Mountain Hotel – The Perfect Place to Rest and Recharge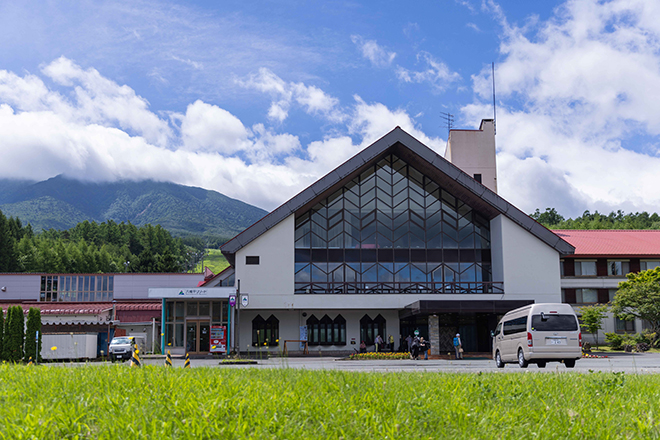 The Hachimantai Mountain Hotel & Spa is a cozy, rustic-style hotel that boasts a majestic view of Mount Iwate and Mount Hachimantai, two of Japan's most iconic mountains. It is easy to reach within an hour by train, bus, or car from Morioka Station.

Set in nature, the hotel is reminiscent of a luxurious mountain lodge, with ambient wood paneling and comfortable European-style sofas. The sprawling lobby with its panoramic windows, coffee bar, and book corner invites visitors to stop and enjoy the scenery outside.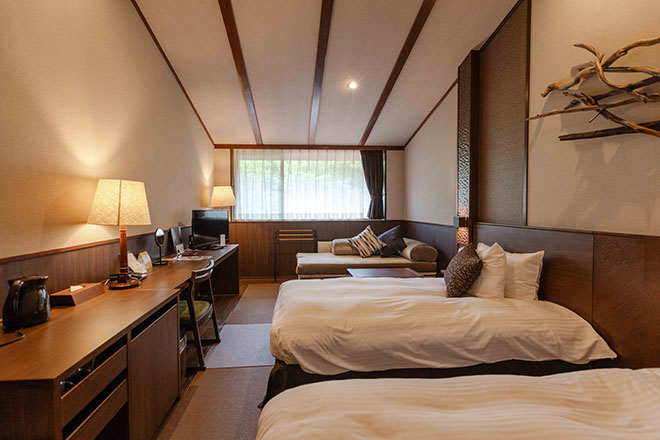 Standard guest rooms come in a choice of Japanese-Western or Western style, both of which offer two beds and a sofa, with the Japanese-Western option having a separate floor area of Ryukyu tatami matting from Okinawa.

The Mountain Room, on the hotel's top floor, is ideal for guests who want a room with unparalleled views of the surrounding mountains and forest. For an extended or more opulent stay, there is the Premium Room, which is twice the size of the other rooms and features a separate living room and bedroom.

Each room comes with a selection of hiking gear for guests to use for free during their stay, including a backpack and a steel water bottle.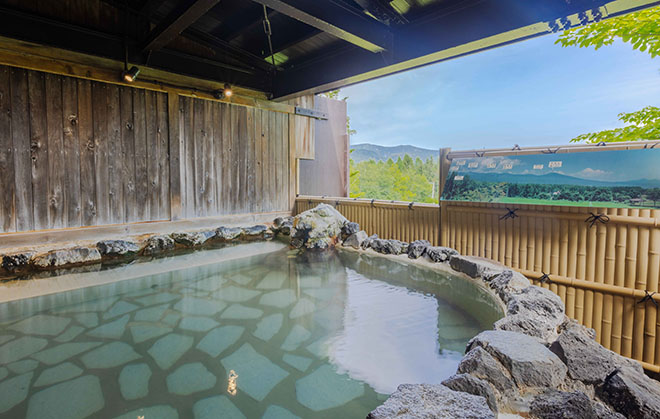 Iwate Prefecture is renowned for its hot springs, which are a necessary feature of any hotel set in nature, like this one. After a long day of exploring the surrounding area, guests can unwind and rejuvenate with a soak in the hotel's hot spring and sauna.

The sulfur hot spring, sourced from nearby, is known to calm skin conditions and relieve tired feet and sore muscles. Guests can enjoy both indoor and outdoor baths. The indoor bath is equipped with massage jets, while the outdoor bath provides a view of the serene landscape outside.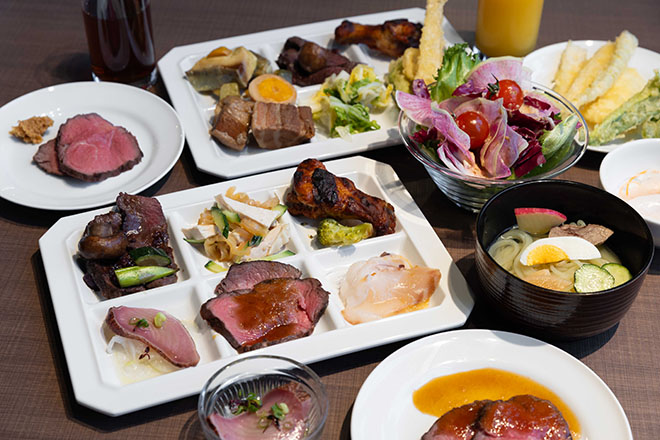 After an adventure-filled day and a hot bath, you do not have to go far to sample the local cuisine. The hotel offers an extensive dinner buffet, featuring a variety of seasonal and local dishes—vegetables, fish, and meat from the Tohoku region, as well as Iwate Prefecture's famous noodles served in a variety of regional styles and broths.

One of the highlight's of the buffet is the oven-roasted beef, a specialty of the area. The open kitchen's stone oven can be seen from the dining room, and cuts of beef are roasted continuously throughout the evening.

The buffet also features a bar selling local beer and sake at an affordable price. Non-alcoholic drinks, such as tea, orange juice, and water, are part of the buffet and can be enjoyed free of charge.
Facility name:

Hachimantai Mountain Hotel & Spa
Address:

Dai 1 Chiwari-509-1 Matsuoyoriki, Hachimantai, Iwate 028-7302
Explore the Area on the Hachimantai Nature-Walk Bus Tour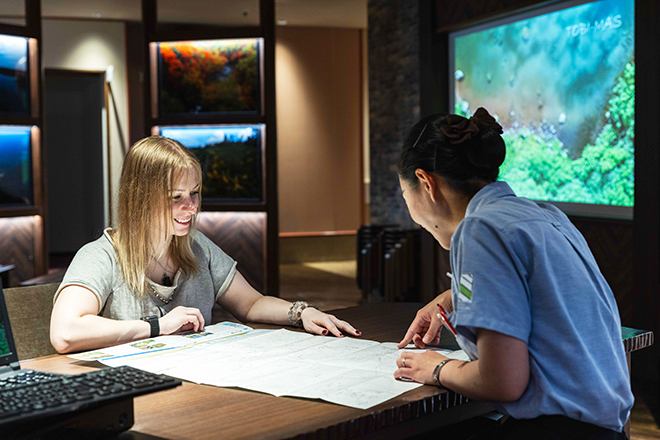 The Iwate Kenpoku Bus Company has a range of guided walking and hiking tours that ensure visitors can explore the Hachimantai region efficiently and safely. While the tour starts at Morioka Station, the bus stops at the Hachimantai Mountain Hotel & Spa to pick up or drop off hotel guests participating in the tour.

Further information about the tour is available at the hotel's concierge and on the bus company's official website as well as local tourist information centers.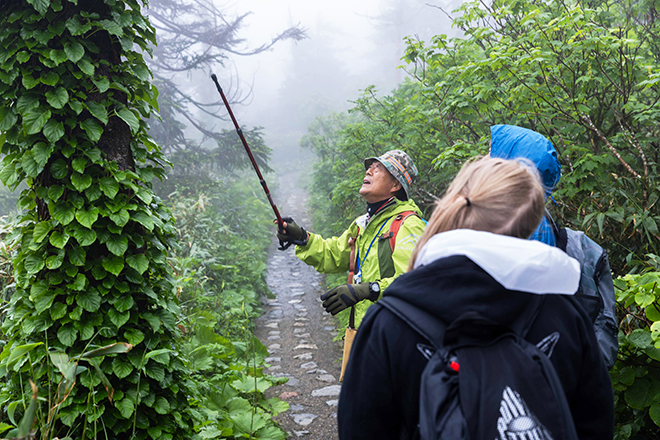 Popular in spring and summer is the Hachimantai Flower Tour which takes you around the Kagami-Numa Lake, located at the summit of Mount Hachimantai. About 30 kinds of unusual flowers grow here and a knowledgeable guide helps tour participants to discover them, especially those that are well hidden.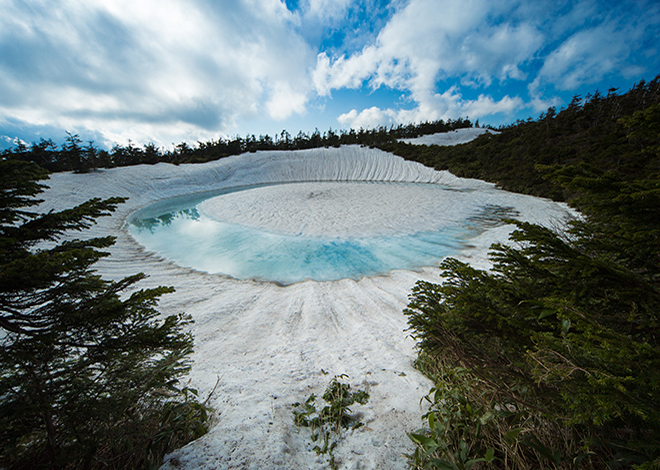 The Hachimantai area is best known for the "dragon eye," a mysterious natural phenomenon that occurs on top of Kagami-Numa Lake usually between late May and early June. The accumulated snow on the lake melts everywhere but in the center, creating a ring that resembles a sparking dragon eye whenever the sun shines on the surface of the lake.

The Hachimantai area boasts stunning scenery no matter the season. In spring, summer, and fall you can enjoy its natural features, including distinctive flora and fauna as well as rivers and streams, while in winter you can ski or snowboard on the area's powdered slopes. Locals particularly recommend visiting in the fall to witness the glorious warm colors of the autumnal leaves against the backdrop of the shimmering emerald green of the rivers. As befitting of an area whose magnificent beauty has led to parts of it being conserved as part of Towada Hachimantai National Park, exploring Hachimantai is an experience that enables you to commune with Japanese nature in a true sense, as well as immerse yourself in the way of life and food culture it has created.

The Iwate Kenpoku Bus tour covers the whole of Hachimantai, and is the perfect way to enjoy the seasonal sights whenever you visit.
Name of bus tour:

Iwate Kenpoku Bus
Location:

Available from Morioka Station and other locations
Exquisite Food and Panoramic Views at Northern Grande Hachimantai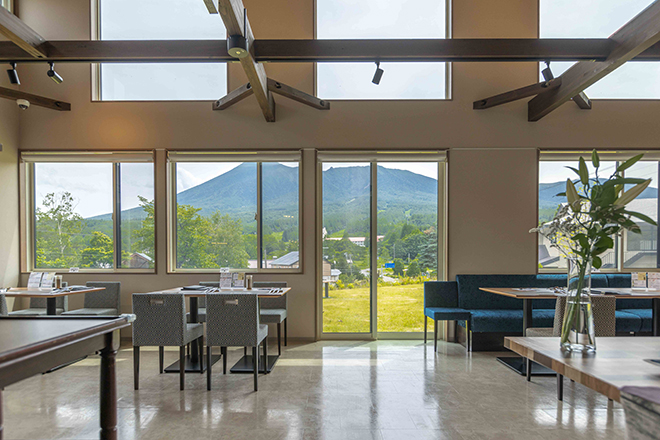 The restaurant Northern Grande Hachimantai is a must-stop for anyone who loves delicious food along with a breathtaking view. This French-inspired restaurant offers a unique twist on Western cuisine made with local ingredients and infused with culinary creativity.

The restaurant is situated on a small hill, a great spot for taking in the incredible view of the mountains and the small village below. Indoor and outdoor seating is available, with large windows allowing guests to enjoy the scenic beauty regardless of the weather.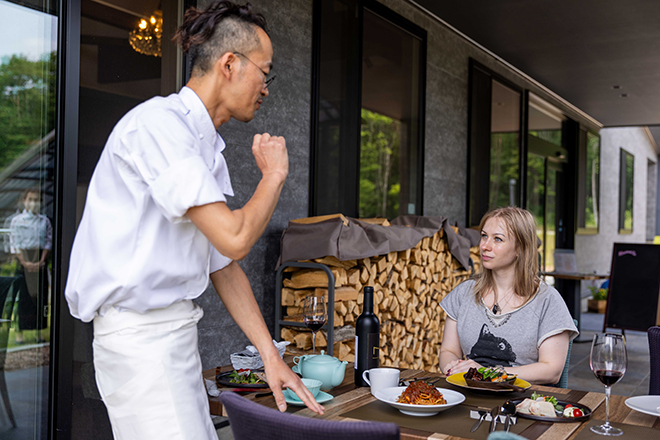 The Northern Grande boasts an extensive, reasonably-priced menu. The dishes mainly showcase local ingredients, while a vegan menu is also available, reflecting the owner's belief that customers with dietary restrictions or preferences should also be able to enjoy delicious cuisine.

The restaurant has recently started offering an afternoon tea that features a stunning array of delectable sweets, complemented by beautiful blue dishware.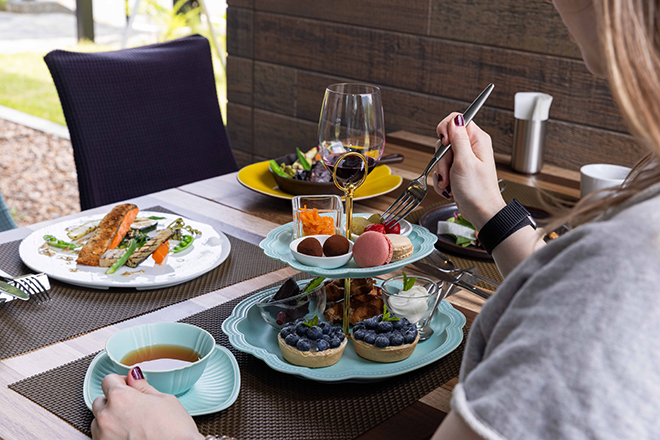 Northern Grande prides itself on its lineup of local alcoholic beverages, including wine, sake, and beer. The house wine is made from locally-grown mountain grapes. Despite being a red wine, it is light and fruity and goes perfectly with meat dishes of the restaurant's menu.

Iwate Prefecture is known throughout Japan as a center of craft beer. Brewed by the local Akatsuki Brewery, Dragon Eye beer is unique to the Hachimantai area. The restaurant offers all four versions: Sky, Sun, Magma, and Snow, with the complex and slightly bitter flavor increasing in depth and intensity from Sky to Snow.
Facility name:

Northern Grande Hachimantai
Address:

Dai 1 Chiwari-590-497 Matsuoyoriki, Hachimantai, Iwate 028-7302